For those in the tourism industry new to social media, tweeting for business can be a challenging feat.
Back in February 2010, Anne Hornyak (@WhosYourAnnie) and Betsy Decillis (@decillis) debuted #tourismchat, a twitter chat allowing those in the travel space to come together to share ideas, feedback and great conversation.
Anne and Betsy host two chats per month and usually solicit topics, or allow tweeters to send in questions beforehand, to discuss.
Highlights from the chats can be found on Anne's blog. For example, recent topics have included QR codes, social media contests and location-based marketing.
While there's a ton of general information out there related to these topics, learning about it specifically for the field you're in can be invaluable.
Sarah Page of Tourism Tech interviewed the ladies about how to chat started, and the responses say a lot: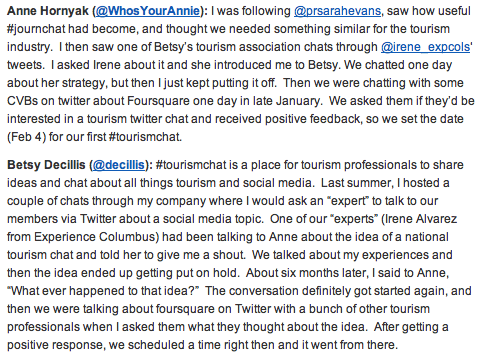 It's awesome to see what initiative can do and how much the chat has grown. The ladies use exclusively social media to promote this initiative, which regularly attracts large crowds.
If you're interested in reading past transcripts or joining in a future chat, follow #tourismchat on Facebook.
What kind of questions have you had about social media and tourism?