The Third Annual Social Media Tourism Symposium is coming up this November and they've taken a unique approach to choosing its location.
After selecting their "sweet 16" top destinations, they held a March Madness-style voting initiative on their Facebook page.
Each destination was numbered 1-16 and pegged against each other to be voted on in pairs beginning March 26.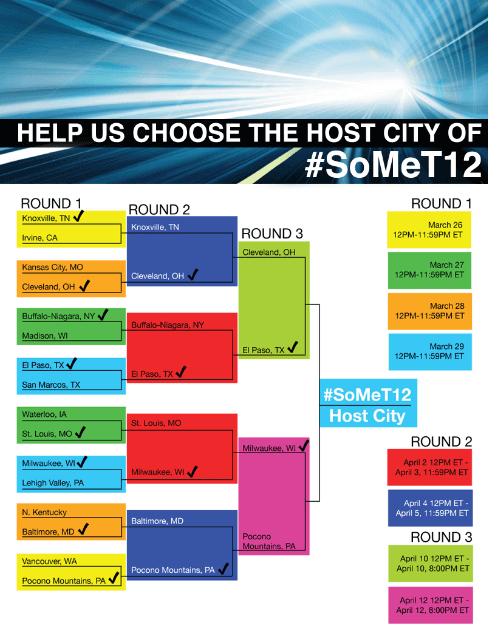 After two weeks, the SoMeT team shared some #SoMeT12/#SoMeT contest stats on their Facebook page:
– 2,934 tweets generated with the hash tags since the competition started
– 52,452 votes cast in the 12 total contests
– highest number of votes was 15,884, where El Paso, TX defeated Buffalo-Niagara, NY – 8,175 to 7,709.
– Facebook fanpage added 7,254 'likes' in the two weeks
Pretty impressive! This was definitely a great move in spreading the word about the event, creating a lot of excitement around it and drawing in fans, uniting users in various cities and making peoples' opinion matter.