When it comes to booking a hotel, vacation package, or other travel plans, customers are unlikely to book on their first visit to an online travel agency no matter how enticing the offer.
This is where travel remarketing can give independent hotels and travel businesses a chance to convert visitors into customers. The term "remarketing" or "retargeting" is a powerful way to stay engaged with your target audience and make sure your travel brand is on the top of a visitors mind when they're ready to book.
BookingCounts is an online resource that excels in booking conversion optimization. They publish content and deliver software tools to optimize travel marketing online.
Their Book Later Button helps achieve higher conversions by leveraging your SEO, online advertising campaigns, and social media efforts by giving visitors a no-hassle option to send a scheduled reminder along with any notes to continue their session at a later time.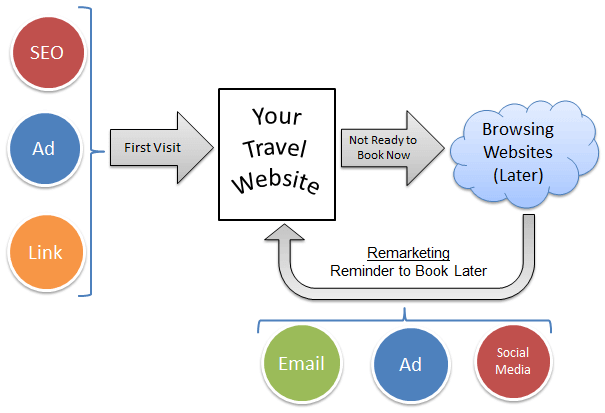 We recently had the opportunity to tinker with the backend content of the Book Later Button web app and saw that its customizable options and easy navigation empowers travel businesses by making second chance marketing more accessible.
Most people consider travel a big-ticket purchase and they're likely to hold off their purchase in search of a bargain. A business spends hundreds of hours and paid search results to keep their online presence on the top of everyone's mind, but unless they capture quality traffic before visitors navigate elsewhere and forget to come back.
BookingCounts is offering a complimentary license to those want a small taste of what it has to offer. Upgraded licenses consist of customized email templates, multiple domains, and more email reminders that can be queued to be sent each month.
What other features or tools would you like to see on travel booking websites?