Imagine being able to visit a single website to peruse a variety of restaurant deals in your city. I don't mean a LivingSocial or Groupon-type site that requires an account, transactions, or expiration dates, but rather, a simple resource where you could go to find deals and then redeem them without hassle. LiveDeal is such a place.
LiveDeal is a real-time, online marketplace that connects you with local restaurants that are offering deals right now.
Unlike daily deal sites, LiveDeal will never flood your inbox with irrelevant offers. No more teeth-whitening products, no more belly dance lessons. Instead, LiveDeal only publishes limited-time promotions and deals from popular restaurants that want you as their customer.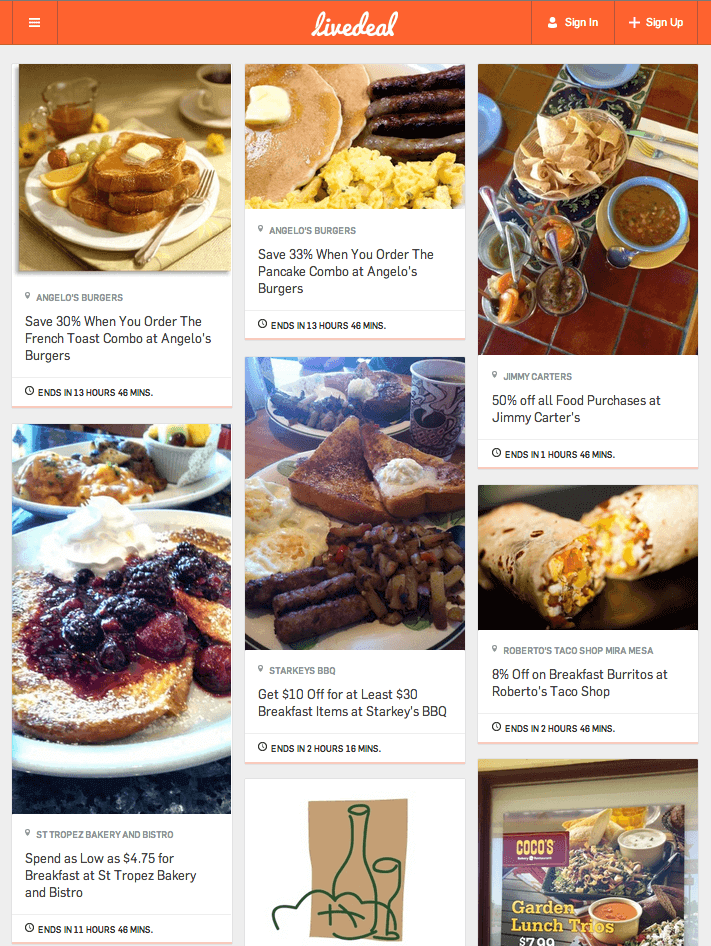 Best of all, you won't have to stress about expiring vouchers or prepayments. With LiveDeal, you don't buy vouchers online. Rather, you pay each business directly – at the point of sale.
Restaurant owners can promote their establishments on LiveDeal totally free of charge. They're able to customize their offers and run deals that are valid only at the locations of choice. With superior geo-targeting capabilities, LiveDeal can publish discounts that are visible only to users within a certain radius of your live promotion.
[youtube gQc5utUqcyY]
I had the opportunity to interview Jon Isaac, CEO and President of LiveDeal, to get the inside scoop and learn more about the company and its vision. The below are his comments regarding the inspiration for LiveDeal; what differentiates it from similar sites like Groupon and LivingSocial; as well as plans for the future.
There's a big disconnect in communication between merchants and consumers. On a Monday night, a restaurant manager with a half-empty restaurant is likely willing to discount his menu items if he can entice people to come in. However, there exists no clear, easy, and instant/real-time medium to communicate that message with nearby hungry patrons. 
The market is also flooded with daily deal sites that bring no value to restaurants. Groupon and LivingSocial's pitches are: "Dear restaurant owner, please discount your goods by 50%. We then will take half of whatever we collect from our users. We might send you 5,000 new patrons, however, we don't care if your restaurant can only accommodate 30 people at a time. Also, people who buy the vouchers will all visit you on days and times of their choosing. They might come in on your busy nights, such as Saturday night. It's their choice, not yours as to when they come in. Also, don't expect to be paid for 60 or 90 days, since we must hold the funds in a reserve in case of refunds. Finally, please know that most of our users' buyers are coupon chasers, going from one deal to the next. So, don't expect to build a loyal following unless you plan on running with us again, which by the way, is limited to 3 times per year. Good luck."
The above is no exaggeration. Restaurants are hurt every day by these big publishing companies who promise big and deliver little. The big publishing companies have failed to listen to these business owners to truly understand what their needs are, which is "I need business on certain days and on certain times, without giving away the house."
This is how LiveDeal was born. We bring value to restaurants by allowing them to segment and schedule when they'd like their promotions to run- whether that's every Tuesdays from 12pm to 8pm, or every day from 11am to 4pm. The restaurants make their own schedule. Further, the restaurant sets the maximum number of vouchers they're willing to accept. This helps them manage their traffic and avoids having 100 people show up to their 20-table restaurant. It also allows restaurants to immediately publish promotions on the fly, on their own self-serve dashboard. No need to call in advance or make arrangements in advance. Reservation cancel? No problem. Log in, create a promotion, and instantly publish to nearby patrons.
LiveDeal truly bridges the gap in communication between hungry for business merchants, and hungry consumers. It currently helps many save every day at local restaurants in the San Diego area, though the company plans to expand into multiple cities in the next coming months.
We have no ideal type of restaurant; all types are participating. However, we do plan on personalizing results for users based on their past behavior. Our goal is to display deals to each user from highly relevant places. Therefore, a sushi lover might see different deals when she logs in to Livedeal than would a steak lover. Our ability to track user preference brings value not only to users, but also to restaurants who can then create custom offers for 'steak lovers' only.
The system is free for restaurants to publish as many deals as they'd like. The company plans to release a paid version of the site in the future where restaurants can elect to promote their deals in premium places within the site. We will always have a free version of the site for restaurants.
Big thanks to Jon for his time and for providing this first-hand account of the business and its goals!
What kinds of deals would you most like to see on LiveDeal?