From launching their own hotel food truck to a trip-planning service on Pinterest, Four Seasons has had many noteworthy endeavors that have been highlighted. The luxury hospitality brand has consistently done a stellar job setting the bar when it comes to out-of-the box marketing, on social media or elsewhere.
I came across another promotion their New York property did on Facebook. The case study provides a comprehensive example of an integrative hotel social media campaign across various platforms with the all-to-familiar goal of putting heads in beds.
Let's take a look:
GOAL
GENERATE BRAND AWARENESS AND BOOK ROOMS
Viewed primarily as a choice for business travel, the team looked to tap into a different demographic for the summer to increase revenue. With a family- friendly and child-focused Facebook Contest called #MaxineTakesManhattan, the Four Seasons Hotel New York aimed to generate awareness about the hotel and increase weekend bookings for families during the summer months.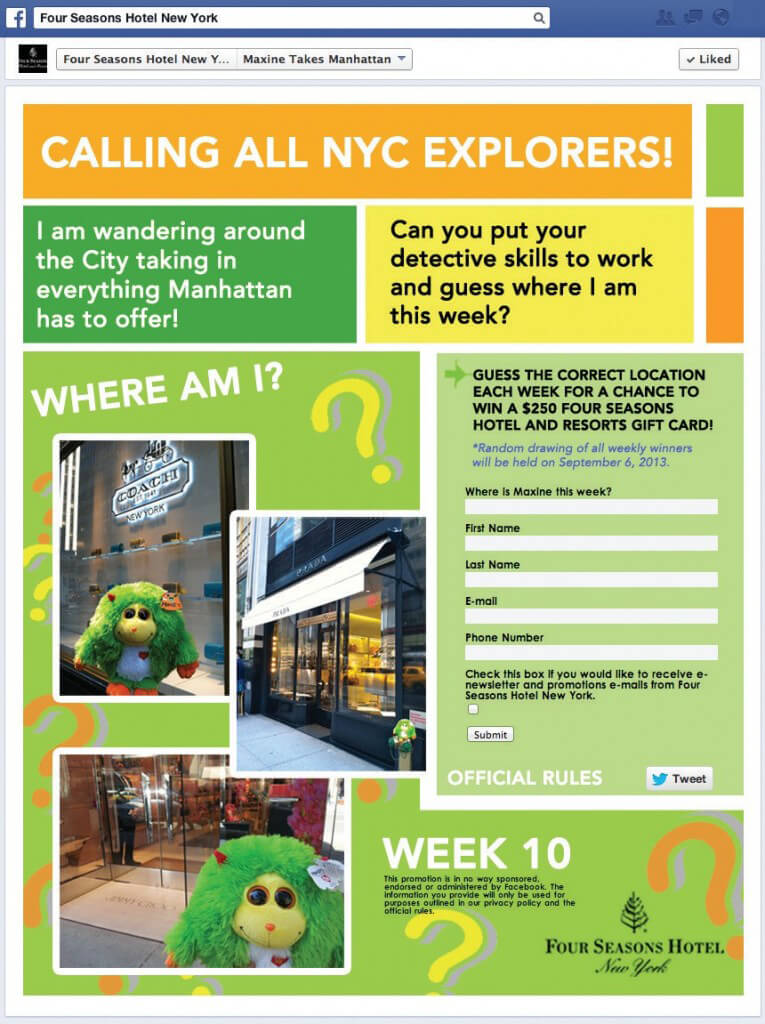 CAMPAIGN
INTERACTIVE AND INTEGRATED SOCIAL PROMOTION
The friendly mascot, Maxine, a green fuzzy plush toy from the TY Monstaz collection, was selected to travel around New York City on extraordinary Big Apple adventures. Each week for 12 weeks, Maxine traveled to a new destination and Four Seasons fans guessed the location on their Facebook page. The hotel added each correct entry into a weekly random drawing and awarded one lucky winner a Four Seasons Gift Card.
As well as online promotions including Facebook posts, cover photos, a Pinterest page, and unique hashtag, Four Seasons Hotel New York also promoted the contest at hotel check-in by taking photos of the family with Maxine, which turned into a postcard that appeared on their pillow with turn-down service. The team supplemented the contest with Instagram posts and kicked off the promotion with Maxine's own Vine Video over Twitter and Facebook. Maxine coloring pages accompanied children in the restaurants and more than 25 pictures were added to a Maxine Facebook album.
RESULTS
5% REVENUE INCREASE AND 10%+ FAN INCREASE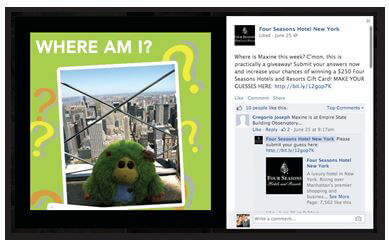 After launching the contest, the team noticed a significant boost in customer awareness online and an increased level of engagement in their Facebook community. Well-known "Mommy Bloggers" also picked up the contest and spread the word about Maxine and her travels and the family-friendly options at Four Seasons Hotel New York.
With more than 190 contest participants, an increase in family travel during the summer, and guests asking about Maxine at Reception, Four Seasons Hotel New York declared the promotion a huge success.
HOW SHOUTLET HELPED
Four Seasons Hotel New York utilized Shoutlet's Social Canvas™ and Social Contests features to implement and manage the Maxine contest. The team developed the creative and entry pages in advance and scheduled each weekly contest to publish automatically, allowing the team to set it and forget it. Social Contest management made it easy to track contest entries, page views, and overall fan data and analytics.
The Shoutlet platform empowered the team to collaboratively create and manage a complex and dynamic contest, allowing Four Seasons Hotel New York to increase weekend
bookings, position themselves as a NYC travel expert, and create a fun experience for their new guests.
What stands out most about this campaign?