I'm thrilled to be a media sponsor for the upcoming Independent Lodging Congress taking place October 4-6 at the William Vale Hotel in Brooklyn. The Independent Lodging Congress (ILC) is a place of discovery, collaboration and idea generation for owners and operators of independent hotels.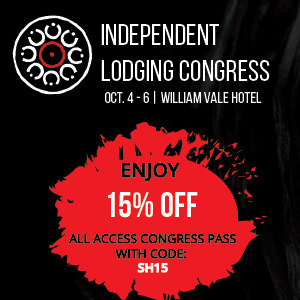 Through three days of meaningful and relevant panels, deep dive breakouts, and of course, great food and beverage, they strive to connect visionaries and thought leaders inside (and outside) the independent lodging sector for the betterment of the industry and the guests it serves.
I chatted with Andrew Benioff, President & Chairman of ILC. Mr. Benioff has 15 years' experience in the operation and management of luxury hotels. He is also is the Founder and Managing Partner of Llenrock Group, LLC, a real estate investment banking and advisory firm, and principal at Linden Lane Advisors, LLC, a value-added real estate investment firm.
During our conversation, Mr. Benioff shared the inspiration behind ILC's name, mission, and history.
What inspired the name "Independent Lodging Congress"?
There are a lot of hospitality conferences, and they're all pretty similar and have similar names. "Lodging" is an interesting term used less than "hospitality."
We then went to "independent" to be different from "boutique" and "lifestyle" – which are often overused. Independent fits well because the hotels we represent and talk about are independent from larger systems. Something we talk about is the indy spirit; the spirit of being independent. Even many hotel brands contain properties boasting that independent spirit.
Congress is the collection of hotels – not just a conference.
We want all voices to be heard and we encourage views of all people at the congress. We hope to create more of a group interaction feel than a traditional conference feel.
How did you come up with the ILC concept – creating a different, distinct lodging event? What separates ILC from other, similar hotel events?
We want it to focus more on bringing together industry minds. Other conferences, larger conferences, do the same thing the same way. Many are comfortable with that; they want to not be surprised — Same speakers, topics, format, food, etc.
We want ILC to feel different every year. We make sure to have high-end food and drink, and move it around every year. We create fun opportunities to socialize including yoga, a dine around, and parties. We want to create a community while you're there.
We don't want ILC to be the same hotel people talking about hotels. We explore new territories to understand what other people are doing then bring that back to lodging. ILC covers different subjects that are not hospitality-focused. Many leaders in other businesses come too – they're leaders in culture or other aspects of society.
If you want to improve your hotel and make your guests happy and create a great experience, it's a great idea if you know how things are changing and what the latest trends are in society and culture. Then bring all that back to design, management, operations, development, F&B, for your properties.
"If you're creative and interested in learning something cutting edge, then come here."
What do you hope are the main takeaways from the event?
Networking and connecting, learning NEW things, learning that independent hotels truly are indepdent. If you want the same, not for you. If you want to perhaps dramatically change what you're offering, this is where you should be.
"You have to be comfortable being uncomfortable."
You have to be constantly thinking about what everyone else is thinking about, wondering, "What are the main things we should be considering while we're running or designing these hotels?" We want to frame frame everything in the right way and encourage being open to new ideas and change.
"Each year, we get rid of every panel we've had in the past and look at right now."
If you're interested in joining us in Brooklyn for the event, use Social Hospitality's promo code SH15 for 15% off!