Amidst the current COVID-19 pandemic, there is a lot of negativity online and in the news. The hospitality industry has been hit hard, and it can often be difficult to see silver linings in immense uncertainty and tragic circumstances. Nevertheless, some brands have demonstrated how to be good to their customers, associates, healthcare providers, and communities during this time. Here are 10 inspirational ways the hospitality industry is embracing positivity during COVID-19.
Hotel Trundle Shares Stories of Happiness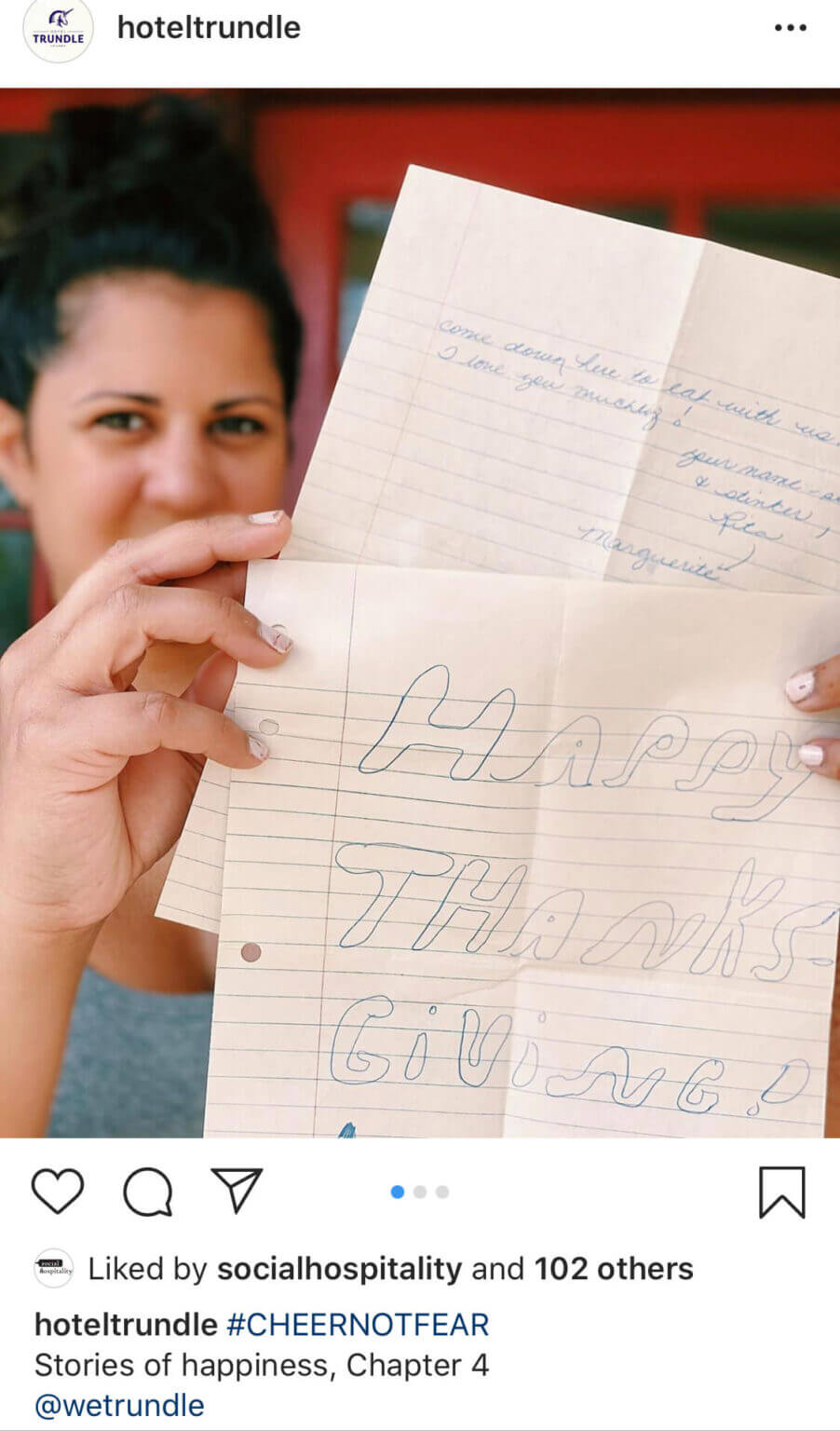 Since relatively early in the COVID-19 shutdown process, Hotel Trundle launched a #CHEERNOTFEAR hashtag campaign. They use this hashtag to share stories of happiness on Instagram. People submit their positive stories using the hashtag, and the brand re-posts them. The stories range from Easter traditions to pets and small business owners.
Hotel Trundle has done a fantastic job of staying positive with their online presence. Recently, they've encouraged followers to play outside and also thanked nurses for their service. The brand's personality remains light, cheery, and quirky. Note they're not doing much explicit selling; but rather, showcasing what their brand is about and staying connected to their communities at this time.
JetBlue and United Airlines: Free Flights for Medical Volunteers
Long Island City-based JetBlue and United Airlines are offering free round-trip flights for medical volunteers traveling to New York City to join the frontline in the battle against COVID-19.
"Our healthcare workers are heroes, and right now they need reinforcements to save as many lives as they can," de Blasio said. "I am calling on all medical professionals from across the country to come to New York City and help us win this fight. This invaluable partnership with JetBlue and United Airlines will ensure we can provide transportation to these fearless warriors at no additional cost."
The Mayor's Fund to Advance New York City and New York City Emergency Management will work closely with JetBlue, United Airlines, and other carriers to coordinate travel for medical professionals who are selected to provide their services in the city's time of need.
Four Seasons New York: Housing Healthcare Pros
The Four Seasons Hotel in Manhattan is providing free rooms to doctors, nurses and other medical personnel. The luxury hotel, where rooms typically top $1,000 a night, closed at the end of March and is not taking new bookings.
"Many of those working in New York City have to travel long distances to and from their homes after putting in 18-hour days," said Ty Warner, the founder and chairman of Ty Warner Hotels and Resorts, which owns the property. "They need a place close to work where they can rest and regenerate."
The Four Seasons Hotel on 57th Street will provide FREE lodging to doctors, nurses & medical personnel currently working to respond to the #COVID19 pandemic.

Thank you @FourSeasons.

The first of many hotels we hope will make their rooms available.

— Andrew Cuomo (@NYGovCuomo) March 25, 2020
MGM Resorts: Delivering and Storing Test Kits and PPE Items
MGM Resorts is helping deliver and store 250,000 rapid COVID-19 test kits and has donated essential personal, protective equipment (PPE) items such as gloves and masks for healthcare workers in the state of Nevada.
"We are leveraging the resources of our company to make a difference by delivering much-needed support and product where it is most required. We are committed to providing relief to medical staff and others who are on the front line of this global battle against COVID-19 as well as the volunteer organizations on the ground serving local communities," said Bill Hornbuckle, Acting CEO and President of MGM Resorts International. "We are fully mobilized and doing all we can to support as many people as possible during this difficult time."
MGM Resorts also pledged $1 million to an employee emergency grant fund and donated the equivalent of 400,000 meals across the United States.
Omni Hotel Dallas: Inspiring with Words
Since opening in 2011, the Omni Hotel in Dallas' 23-story façade has been a regular subject for photographers, thanks to dynamic light shows, timely sports shout-outs, or advertisers looking to brand our city's iconic skyline.
A few weeks ago, however, the Omni's messaging took on a different tone. And, though most had already begun to shelter in place as concerns about the coronavirus finally hit the city, the Dallas skyline was still easily glimpsed from a cellphone screen. The LED message making the virtual rounds was simple and to the point: "Wash Your Hands."
Similar displays followed, including "Stay Home," "Be Kind," and "Alone Together," branding our city's skyline with simple and universal messages of hope and reassurance.
Yum Brands: Supporting Employees
Yum Brands, parent to KFC, Taco Bell, Pizza Hut and The Habit Burger Grill, will give a bonus to all company-owned restaurant general managers. Yum Brands CEO David Gibbs will forgo all salary for the balance of 2020. Gibbs was set to earn a base salary this year of $900,000. The salary will be redirected to general managers and an employee relief fund that will provide $1,000 bonuses to the nearly 1,200 restaurant general managers "to acknowledge their efforts managing teams and business continuity affected by COVID-19."
Social Kitchen & Craft Bar: Giving Back to the Community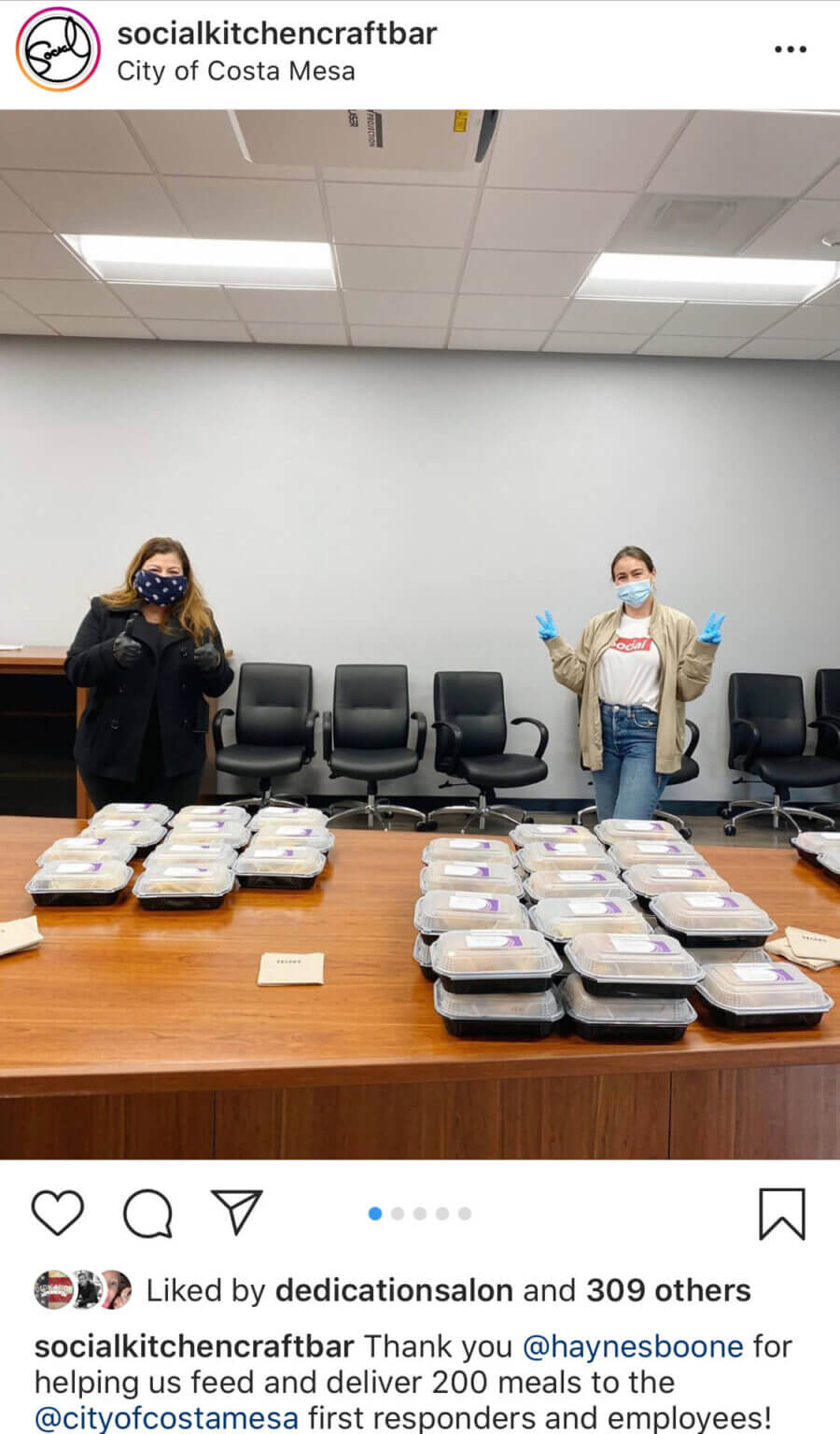 While many restaurants are ramping up their takeout options, some are going above and beyond to serve the community. Social Kitchen & Craft Bar in Costa Mesa, CA is providing free meals to feed all laid-off and furloughed hospitality workers. Workers can swing by each Thursday-Saturday between 4-8:30pm to receive the restaurant's famous Drive Thru Burger & Fries, Brussels Sprouts, Bottled Water and Toilet Paper.
Social also donated and delivered 200 meals to Costa Mesa first responders. Those interested in supporting Social's efforts during this time can donate to their GoFundMe.
LGO Hospitality: Raising Money for the Team
Restaurant group LGO Hospitality started a Worker's Relief Fund via GoFundMe to help its employees whose livelihoods were impacted by the COVID-19 pandemic. Funds collected from the online fundraiser will go directly to the more than 600 culinary and service/bartender staff of LGO Hospitality restaurants that are unable to work in light of the government mandates ordering all dining rooms and bars to close to the public.
Donations of all sizes are welcome and appreciated. Additionally, LGO Hospitality has built a series of tiered gifts in return for larger contributions, starting at $500.
"LGO restaurants are neighborhood fixtures with many guests that are invested emotionally in our people. The GoFundMe idea came from a number of those loyal guests, many of whom were asking how they could help the staff more directly," says Bob Lynn, Founder/CEO.⠀
Starbucks: Free Coffee for First Responders
Starbucks is serving up free coffee for first responders and healthcare workers dealing with the coronavirus pandemic. The coffee giant announced that through May 3 "any customer who identifies as a first responder or frontline worker supporting our healthcare system" will receive a free tall brewed coffee, either hot or iced.
The offer is for police officers, firefighters, paramedics, doctors, nurses, hospital and medical staff and medical researchers. In a blog post, Starbucks said around the world its employees have been delivering coffee to hospitals, grocery stores, nursing homes and first responders.
Balboa Bay Resort: Bringing the Experience Home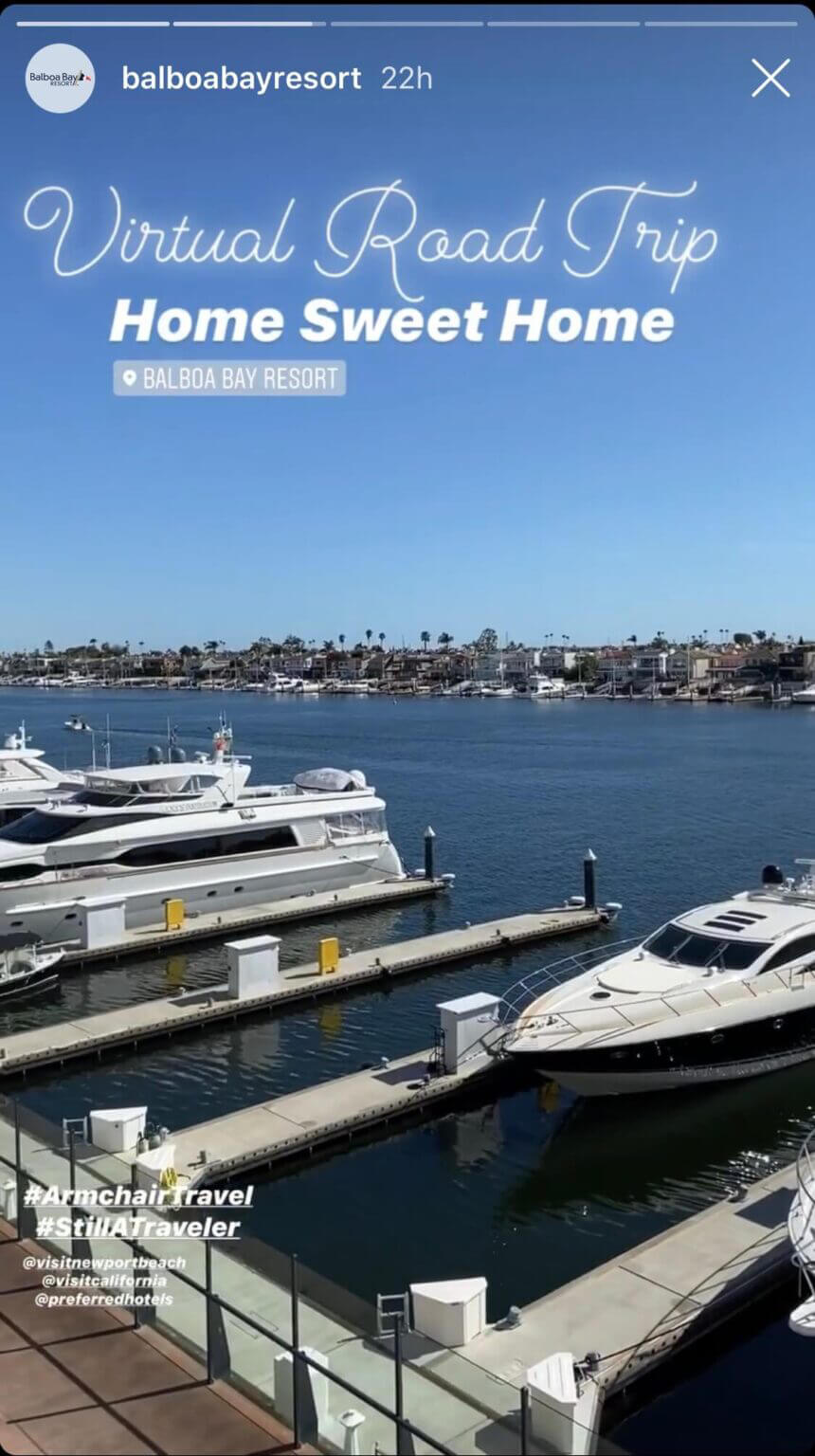 Balboa Bay Resort has implemented a variety of immersive, at-home experiences for their social media followers. This is great since it makes the luxury brand approachable and keeps it top-of-mind during this time of limited travel. The resort is regularly posting virtual road trips in their Instagram stories, allowing followers to feel immersed in the experienced of visiting Southern California.
The resort's Executive Chef Octavio Sabado does regular cooking demonstrations at home with his daughter. Their bartender also performs cocktail demos. Balboa Bay resort also stimulates positivity and engagement by holding contests, like asking followers to share stories of the heroes in their lives. Users are asked to nominate a hard-working nurse, doctor, grocery store worker, first responder (and more!) who's keeping us safe and prepared.