In the vast world of social media platforms, a new contender has emerged. Threads, the latest creation from Meta, seeks to offer users a fresh perspective on digital interactions. Since its debut last week, Threads quickly carved its niche in the ever-evolving realm of online communities. Rather than being a stand-alone social network, it works as a companion app to Instagram, seamlessly integrating with the existing user base. If you're interested in Threads but aren't sure how to get started, check out this great overview of Threads in The Guardian.
What Makes Threads Different?
At its core, Threads seems to be striving to be a more interactive experience (and less about general noise). Unlike platforms that focus on superficial connections or endless scrolling, Threads encourages users to engage in "threads" – ongoing conversations centered around user-generated topics. By allowing users to explore and participate in these threads, the app fosters in-depth discussions and enables users to connect on a deeper level based on shared interests, passions, or expertise.
Threads also emphasizes intimacy more than traditional social networks that focus on accumulating large follower counts or broadcasting content to a wide audience. What sets Threads apart from other platforms like Facebook or TikTok is its commitment to thread-based conversations. Threads allow users to create dedicated spaces for specific topics or interests, where they can engage in ongoing discussions, share content, and collaborate.
As previously noted, Threads is integrated with Instagram. This means users can seamlessly connect with folks they already know there. However, where Instagram is an image-based platform, Threads is text-focused. Sure, you can also share photos, videos, and other media if desired. But being more text-based provides a different experience and a deeper opportunity to foster real-time and authentic communication.
Of course, everyone's talking about the battle between Twitter and Threads. Many features are indeed the same – the ability to like, reshare, and follow users. However, in recent times, Twitter has diverted from what it once was. The space is often diluted with news, politics, misinformation, and negativity. And many users want a less hectic or more positive experience when it comes to social media. One of Threads' features is the ability to make a list of hidden words to prevent such from showing up in  your feed.
While Threads provides a conceptually similar approach to Twitter from a functionality standpoint, there are numerous differences. As of now, DMs, ads, and topic searches don't exist on Threads. This adds to the more exclusive element of people only connecting to those with whom they had a former connection or explicit interest.
How Businesses Can Use Threads
Businesses have recognized the potential of Threads as a powerful marketing tool. With its emphasis on close-knit communities, brands have found unique ways to engage with their audiences on this platform. So far, there hasn't really been much explicit selling. Many companies are leveraging Threads to show their personalities and curate humorous content. This approach fosters a sense of belonging and enhances brand loyalty, leading to increased customer satisfaction and advocacy.
For instance, American Airlines has posted thematical debate content as well as puns to get users engaged and keep them entertained.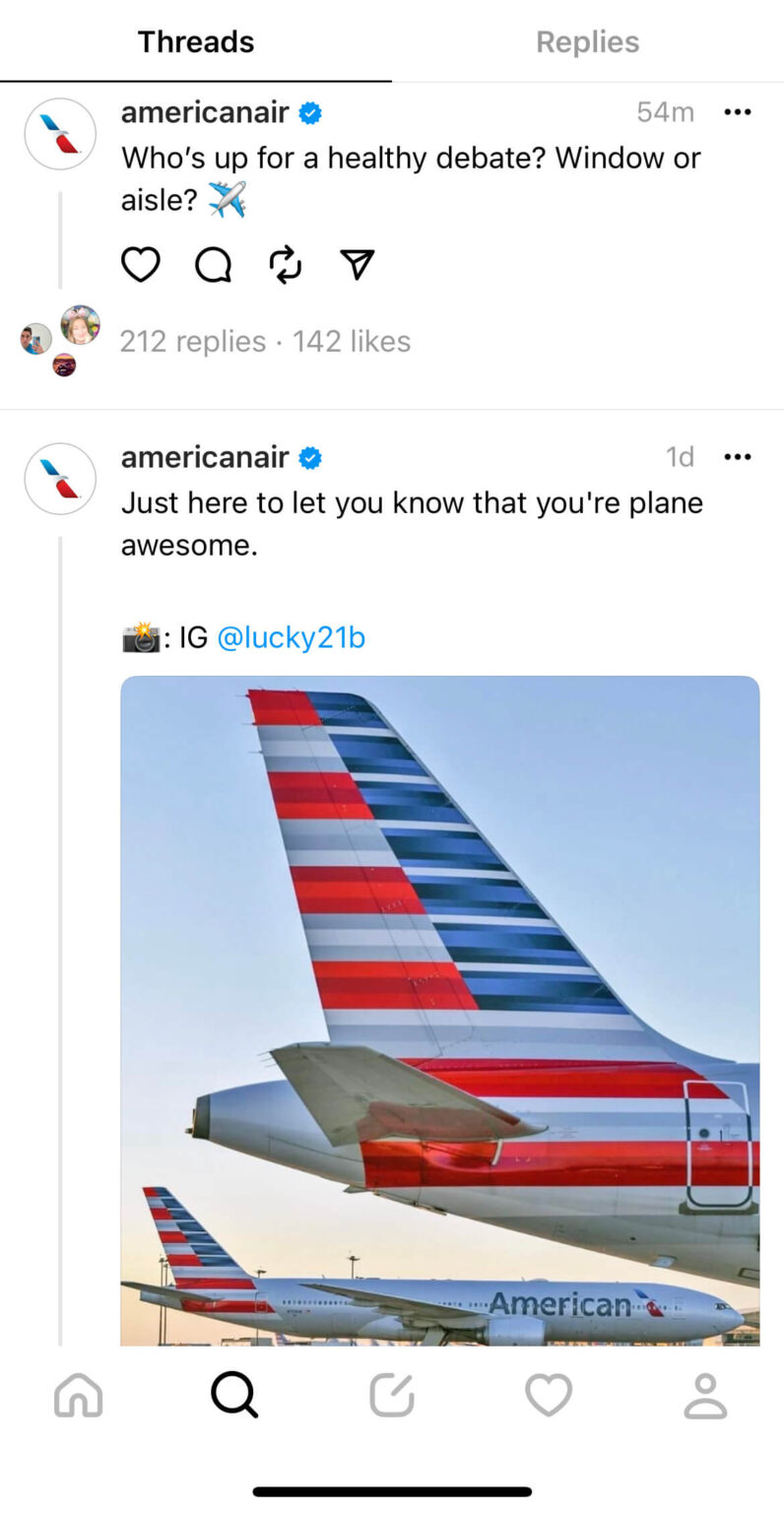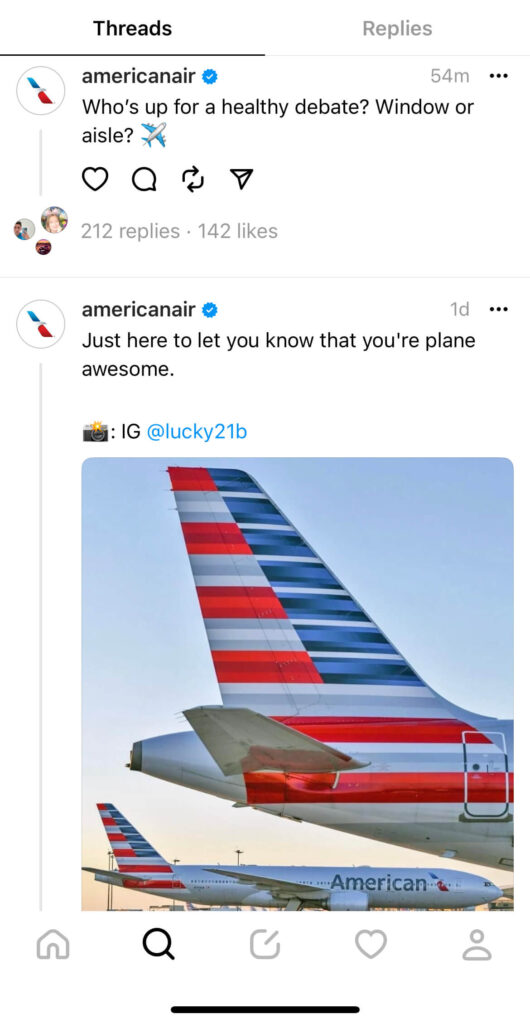 Many brands that may be traditional competitors are "playing" with each other, too. For example, a trend started where each business simply says its own name. Then, others began to share and do the same. It's a silly concept, but one that conveys co-creation and collaboration.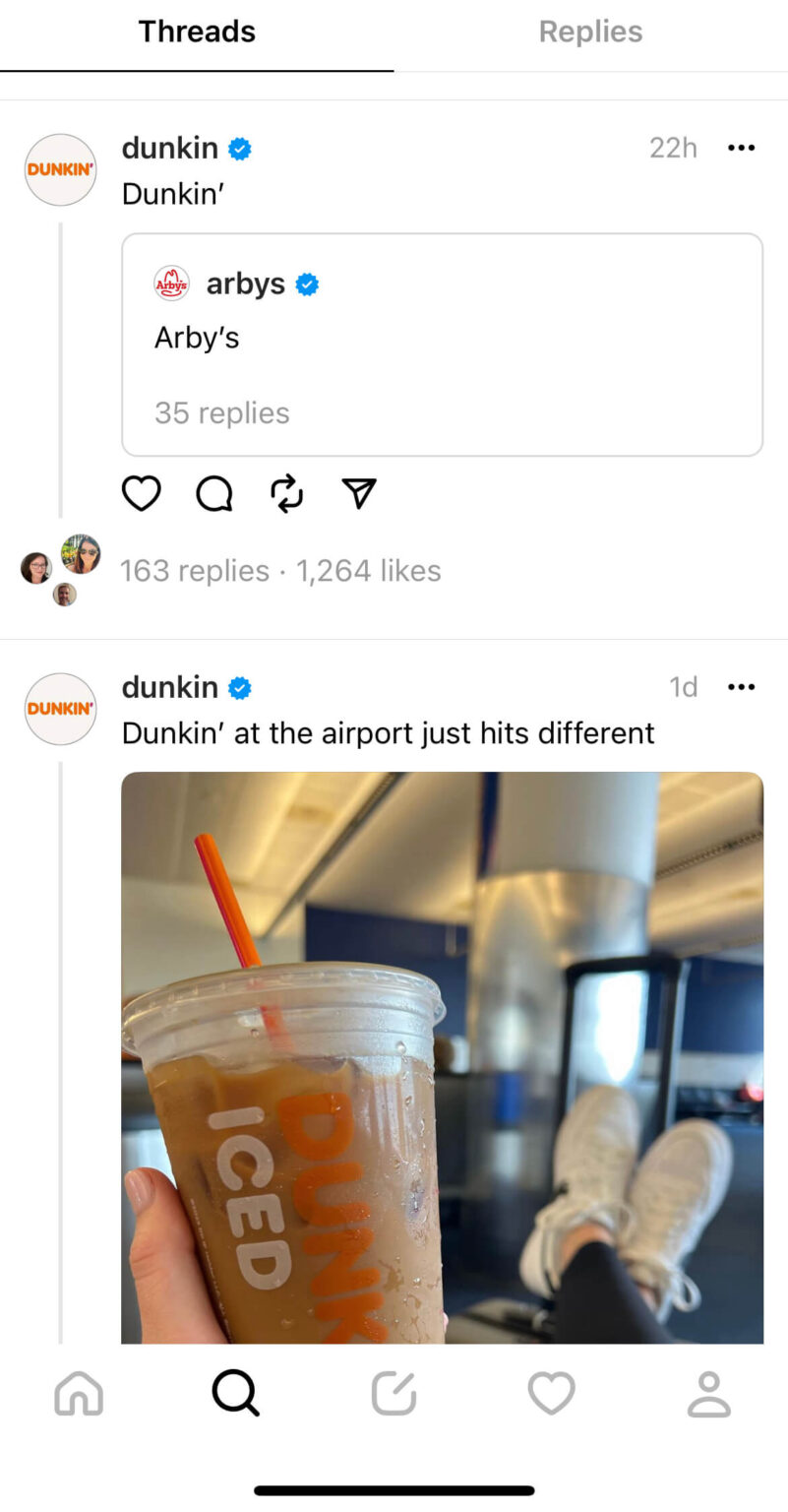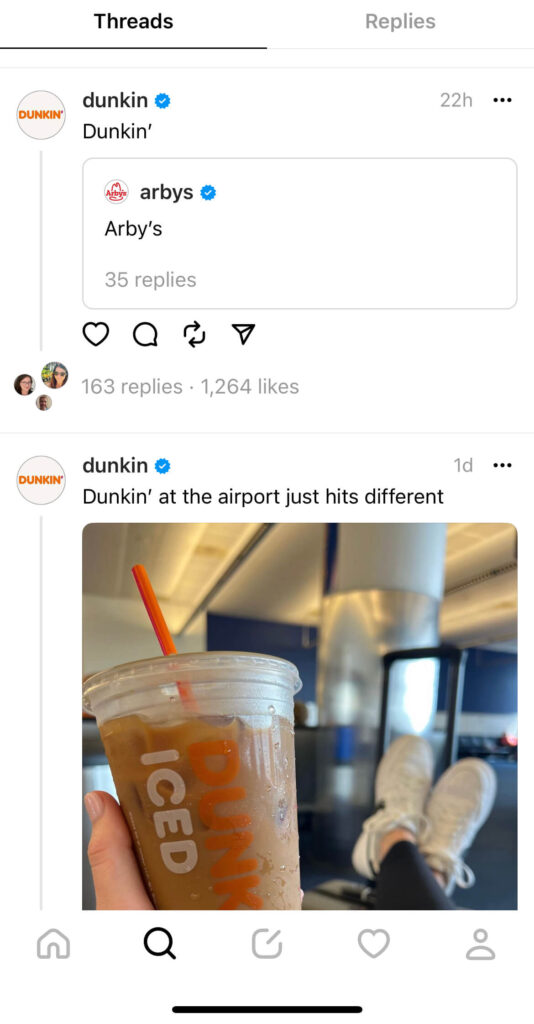 Brands also invite customers to participate in threads dedicated to product feedback, ideation, and discussions, allowing them to have a direct influence on the brand's decision-making process. This inclusive approach not only strengthens the bond between brands and customers but also helps companies to gain valuable insights and improve their offerings based on real-time feedback.
Conclusion
Threads represents a refreshing departure from conventional social media platforms, focusing on meaningful conversations. It encourages users to form communities around shared interests, fostering genuine connections. The popularity of Threads can be attributed to its intuitive design, seamless integration with Instagram, and its ability to provide a more personal experience within the broader social media landscape.
The platform's rapid growth and user engagement indicate its potential to become a significant player in the social networking landscape. As brands embrace Threads as a marketing tool, they can find innovative ways to connect with their audiences and harness the power of intimate conversations. With its unique features and promising trajectory, Threads could refine how we engage, connect, and share in the digital world.