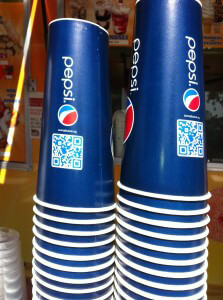 Pepsi has added QR codes to their regularly-distributed soda cups. I'd never really seen them in this "mass" capacity before, and thought it was actually quite brilliant since it only requires the development of one QR code, yet the distribution is gargantuan in scale.
Pepsi seems to be really embracing social marketing trends in other ways as well. If you check in to various "summer venues" (beaches, amusements parks, sports venues, etc.) on Foursquare, you could unlock the Pepsi Summer Fun badge and a chance to win Pepsi Summer Party Kits or a trip to the 2011 MLB World Series!
This helps cross promote those venues and well as create an aura around the Pepsi brand that associates them with more than just a beverage, but with fun and summer-related activities.