Expedia.com®, the world's largest online travel company, today announced the Expedia® Viewfinder Film Contest, open to travel bloggers. In partnership with the National Film Festival for Talented Youth (NFFTY), one winner will get the chance to travel to one of five pre-selected destinations with a NFFTY filmmaker.
Expedia worked with NFFTY to determine five iconic cities often seen on the silver screen, including: Australia, Paris, Morocco, London, and Seattle. The Expedia Viewfinder Film Contest starts today, June 5 and the entry period will close on June 30, 2013.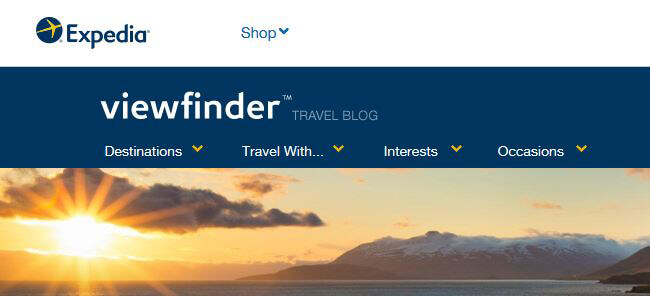 Expedia's partnership with NFFTY continues to evolve and the Expedia Viewfinder Film Contest is the newest phase of the growing relationship. To enter the contest, participants will write a blog post on their respective sites, mentioning the Expedia Viewfinder Film Contest, and specifying which destination they would find most ideal to shoot a Find Yours™ video.
Introduced last year, Expedia's Find Yours campaign illustrates putting personal relevance and emotion back into the travel space. The footage is real, unique and told from the viewpoint of individual travelers.
To enter the contest, travel bloggers must write a blog post on their own blog about how they would "find theirs" in one of the locations above if they were chosen for the star of a 2-3 minute film  then share their blog post URL on the Expedia Viewfinder blog.
After the entry period closes, a panel of judges will evaluate the entries based upon the following criteria before selecting and announcing the winner in July:
Incorporation of the contest elements (chosen destination and Find Yours)
Creativity
The Focus or theme of the entry (for example: culture, adventure, food/wine, family-friendly travel, budget-friendly travel, luxury travel, etc.)
One blogger, along with a NFFTY representative and an assigned NFFTY filmmaker, will win an all-expense paid trip to the winning destination to create a "Find Yours" video.
Visit the Expedia Viewfinder blog for official terms and conditions.
About Expedia.com
Expedia.com is the world's leading online travel site, helping millions of travelers per month easily plan and book travel.
Expedia, Expedia.com, Expedia Viewfinder, Find Yours and the Airplane logo are trademarks or registered trademarks of Expedia, Inc. in the U.S. and/or other countries. © 2013 Expedia, Inc. All rights reserved. CST # 2029030-50
About NFFTY:
NFFTY is the largest and most influential film festival in the world for filmmakers age 22 and under. NFFTY 2013 sponsors include Volvo Cars of North America, Expedia, vitaminwater®, Chipotle and more.