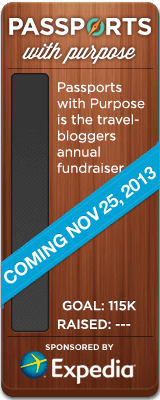 Expedia.com®, the world's leading online travel company, has agreed to serve as the platinum sponsor of Passports with Purpose, a community fundraiser powered by travel bloggers.
Passports with Purpose aims to raise $115,000 for buildOn – relying on the support of thousands of travel enthusiasts – to fund the construction of three primary schools and support three adult literacy programs in Mali, Africa. This is the program's sixth year.
Passports with Purpose will run from November 25, 2013, to December 9, 2013.
Throughout the fundraiser, participating bloggers write about Passports with Purpose as well as a donated prize they secured for the event.  Bloggers direct eligible donors to the Passports with Purpose site, where for each $10 donated they will be entered to win a prize of their choice.
After the fundraiser ends, a winner will be randomly selected for each prize. All of the funds raised go to buildOn. Past prizes included vacation packages, electronics, gear and amazing travel experiences.
"Our community of travelers is among the most passionate and dedicated base of consumers in the world," said Sarah Gavin, director of public relations and social media, Expedia.com.
"Passports with Purpose channels the energy of the travel blogger network in support of community-building work in different regions of the world, and we're thrilled to partner with them."
For more than two decades buildOn has mobilized rural villages in countries around the world to build more than 500 schools. This year the funds raised by Passport with Purpose will go to build a school in Sikasso, the southernmost region of Mali, 200 miles south of the capital Bamako.
"We're thrilled to be partnering with Expedia again and are excited about our beneficiary, buildOn," said Mara Gorman, Passports with Purpose founder. "Using our collective networks, we are making long-lasting, positive changes for the children and families in Mali and empowering them to live better lives."
For more information about prizes and the fundraiser please visit: www.PassportswithPurpose.org.