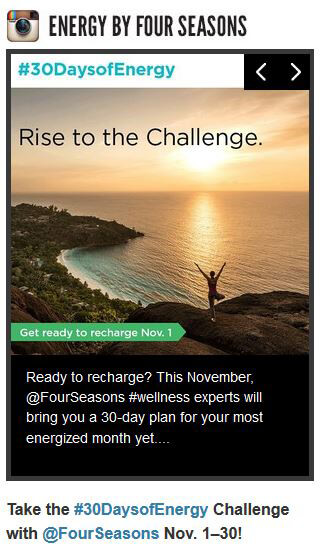 Four Seasons recognizes that in today's fast-paced world, there's one thing travelers need more than ever: energy.
With this in mind, Four Seasons' experts around the world have come up with a month's worth of unique energy-boosting tips and techniques to inspire their community.
Four Seasons is launching Energy by Four Seasons and, in conjunction, the Four Seasons #30DaysofEnergy Challenge will launch on November 1, with a new "challenge" shared each day on Instagram, Facebook, Twitter and Google+.
Participants are encouraged to complete each activity and share their experiences along the way using the challenge hashtag; Four Seasons will share favourite participant posts to showcase energizing efforts around the world.
The challenge calendar will be unveiled on Four Seasons social channels on the first of November. To join the action, participants can follow the hashtag #30DaysofEnergy — and get set to recharge.
Guests seeking an integrated and customized approach to wellness will now have access to a locally-inspired collection of spa treatments, dining options and other energy-boosting solutions curated specifically to promote greater overall well-being both inside and out, and allow guests to make the most of each day.
Maintaining optimal personal energy levels is becoming increasingly challenging.  As part of a commitment to innovation and meeting the evolving needs of guests, Energy by Four Seasons seeks to mitigate the impact of daily stress on energy levels with a deepened commitment to offering simple and effective energy-boosting solutions.
"Since opening North America's first hotel with a full-service spa in 1986, Four Seasons has been a leader in holistic wellness," says Simon Casson, Chairman, Global Spa Task Force at Four Seasons Hotels and Resorts.
"Recognizing that each guest has a unique journey to rejuvenation that encompasses both mind and body, we've not only developed new and innovative treatments at our world class spas, we've also created nutritious food and beverage options. This, complemented by our exclusive customizable sleep experience launched early this year, truly creates a sanctuary for guests where they can successfully relax and recharge and experience energy-enhancing benefits well beyond their stay at Four Seasons."
Spa: Whether in search of a little luxurious pampering or in need of restorative treatments, guests can choose from a number of unique, exclusive and locally-inspired spa experiences. Four Seasons Safari Lodge Serengeti, Tanzania offers the Mbuyu Experience, which incorporates the exotic baobab fruit of the African savannah. The vitamin and antioxidant-rich fruit is used in a sequence of treatments including juicing, massages and a baobab tasting, all designed to rejuvenate the immune system and promote mental clarity. Four Seasons Resort Maldives at Kuda Huraa uses lunar energies that correspond to the moon's four phases to align the body's natural rhythms, while Four Seasons Hotel Beijing works with leading doctors of Traditional Chinese Medicine to restore the body's Qi to stimulate vitality, and eliminate toxins and tensions with Tibetan singing bowls.
Food and Beverage: Because poor food choices can lead to a lack of energy, wellness must be addressed from within, beginning with nourishing and healthy foods.  By embarking on a 24-hour detox at Four Seasons Hotel Hong Kong featuring cold-pressed raw juices, smoothies and "mylks" that boast an abundance of essential vitamins and minerals, guests are offered a variety of revitalizing and rejuvenating food and beverage options. At Four Seasons Resort Seychelles, healthy meals are designed for each guest according to a guest's Yi-King master element, served to enhance the benefits of a hilltop fusion massage.
Services and Amenities: Understanding that fitness is a fundamental part of achieving optimal health and benefits mind, body and soul, Four Seasons has elevated the experience of exercising by offering guests new ways of achieving their personal fitness goals for optimal wellbeing. Guests can participate in the ancient Chinese art of Tai Chi at Four Seasons Hotel Hong Kong, ocean-view yoga at Four Seasons Resort Maui at Wailea, or antigravity yoga in Four Seasons Resort Maldives at Landaa Giraavaru, to name just a few.
Don't miss the social media campaign throughout the month of November and take advantage of these new Four Seasons offers next time you visit one of their properties!