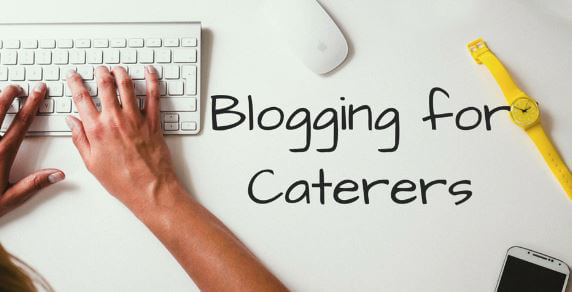 Just like any other business, catering requires marketing and advertising. Word-of-mouth and offline methods of marketing can only get you so far in this digital age.
One of the best, and easiest, ways for you to improve your chances of being seen by potential clients is to start blogging. Here are a few ways caterers can use blogging to enhance business.
To Let People Know that You Know What You're Talking About
Your catering business is much more than it appears to be on the surface. It's not just a service. It's a collection of people, ideas, opinions, information, recipes, events, and other things that make it unique.
You are an expert on those things. Why not share those things with the world at large. You have a business and a service that you have authoritative information about. Things that you should consider sharing are: recipes, photos of events you've successfully pulled off, photos of famous foodies tucking into one of your dishes, and photos of the dishes themselves.
Publishing this information will drive engagement, keep people informed, introduce people to new aspects of your business, and showcase your expertise. You can use a blogging platform to highlight what you do and talk about the industry in general. It is generally the best idea to host the blog on your domain itself, but if you don't have a website, then a WordPress or blogger blog is perfectly acceptable until such time as you do have one.
To Attract Visitors and Potential Clients with Dynamic Content
As you post and update your blog, you will grow in ranking on popular search engines. People looking for catering information of all types will find you via the related verbiage in your blog content.
A great way to maintain and even grow your search rankings is to reach out to foodie bloggers to share guest posts on their blogs, which will send more link power back to your own.
Dynamic content works better than simply having a static page with an address, phone number, and other contact information. While that static page is important as well, it's likely not going to move anywhere in search engine rankings without some dynamic content.
To Create Ongoing Conversation with Your Peers and Potential Clientele
Those posts and updates will prompt people to have something to say. Blog comment sections are important. The replies you make to people's queries will show others that you really do know what you're talking about. These small blurbs are sometimes just as important as the content itself. Comment on other peoples' blogs, and that will encourage them to check out your blog, which will result in them commenting back.
These days, people expect their businesses to talk to them, not just exist. That's why most businesses embrace social media. Your blogging platform should be the centerpiece of your social interactions. Stick to putting out at least one new blog post a month, remember to add a picture to each blog post and use as many tags as possible.
To Remind People Your Business is Active and Doing What You Say It Does
A blog gives you the perfect way to let people know about what your business is up to. For example, if you specialize in catering weddings, then blog about weddings. Make posts about the difficulties of wedding catering. Post about what people should expect from a catering service. Post pictures of weddings you catered or create videos showing how to set up in odd or confined spaces. If you don't have time to blog regularly, creating a specialized landing page like Noosh Catering does for wedding catering business is also a good idea.
Remember that you're an authority in your niche. It's not enough to tell people that you do this or that. You can also show them that you are actively doing this or that with your business. And you can do all of that with a simple blog.
—
This post was contributed by Sarah Smith, a blogger, foodie, and marketer. When she's not eating or whiling her hours away on the internet, she like to get out and about by travelling Asia and sampling the best food the region has to offer.