Earlier this week, I had the privilege of catching Cirque du Soleil's IRIS, a journey through the world of cinema, followed by a Q&A afterward with some of the creative staff and performers.
The Los Angeles theater production presents an imaginary journey through the evolution of cinema – from the foundations of the art form to the bustle of the soundstage – through optical effects and film genres.
IRIS transposes into a language of dance and acrobatics displaying all of cinema's splendor, inventiveness and, above all, its sense of wonder. It conjures up a place between motion and picture, light and sound, that shifts constantly between reality and make-believe, to explore the limitless possibilities of cinema.
By combining dance, acrobatics, live video, film footage and interactive projections, the show illustrates both the mechanics of cinema and its extraordinary power to deceive the eye.
Needless to say, IRIS defies being visually stunning and thoroughly entertaining. The company does a fantastic job of keeping the audience engaged, whether it be through physical obstacles or intentionally silly humor. The stunts are phenomenal and I can't imagine the amount of strength, balance, coordination and other physical capacities that go into mastering them.
The artists arrived in Los Angeles in April, and rehearsed on a daily basis, oftentimes from 9am-10pm, for three months through the show's soft opening in July. It's been in the planning stages for three years. There are actors as young as 17 in the show's 12 acts, which include aerial performers, film strips, comedy bits, trampoline sketches, contortionists, etc.
The film strip act was honestly one of my favorites. The timing is impeccable and it evolves from an already-awesome display to a film strip then ties in actual film in the background, interacting with the live performers. There is no way I can attempt to do it justice in words, but it's a major trip to watch.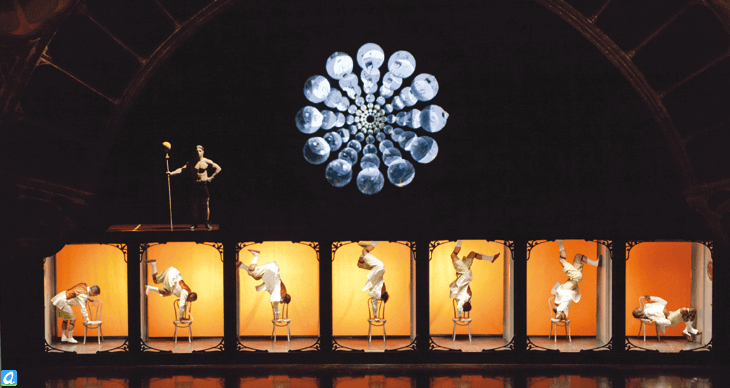 The show evolved from the cinematic theme and the acrobatic skeleton, then the incorporation of those two things together.
It features over 350 props all created specifically for this production, many of which are animated and remote controlled, and many of which serve actual purposes in the show in addition to their aesthetic value. Nothing is off a shelf — everything was specifically designed. Similarly, over 200 costumes from 1000 sketches were also created.
The music was composed by Danny Elfman, whom noted this project was different from assigning tunes to film since, for a movie, he gets to put music to a finished product, whereas here, it's never really a finished product; it's constantly evolving. Live musicians performed music in conjunction with recorded tracks, aligning with each segment.
IRIS was created exclusively for the Kodak Theater and will remain a resident production, Kodak's only in addition to the Academy Awards. (This means the show will only be performed in this location; it will not travel like other Cirque shows.)

Proudly presented by Sun Life Financial, IRIS was written and directed by French stage and film director, artistic director, dancer and choreographer Philippe Decouflé.
Tickets can be purchased online, or visit IRIS by Cirque du Soleil on Facebook, Cirque du Soleil on Twitter, and #Iris for additional information, clips, tidbits and more.