Video marketing was once something that was seen as the reserve of bigger brands and companies with big marketing budgets, but thanks to the runaway growth of ever more affordable tech and hardware and the continuing growth of platforms like YouTube, it is now possible for any sized company to create a professional looking video and to share that video to a potentially massive audience.
Web Domination
In a 2013 report published by Digiday, 50% of all mobile traffic relates to video content, and a recent study by Invodo suggests that by 2017, a staggering 74% of all web traffic (not just mobile) will be video.
Video content is not just useful as a promotional tool, it is a huge catalyst for e-commerce – especially if you can use it to reach mobile and tablet users who are increasingly using these devices to shop online.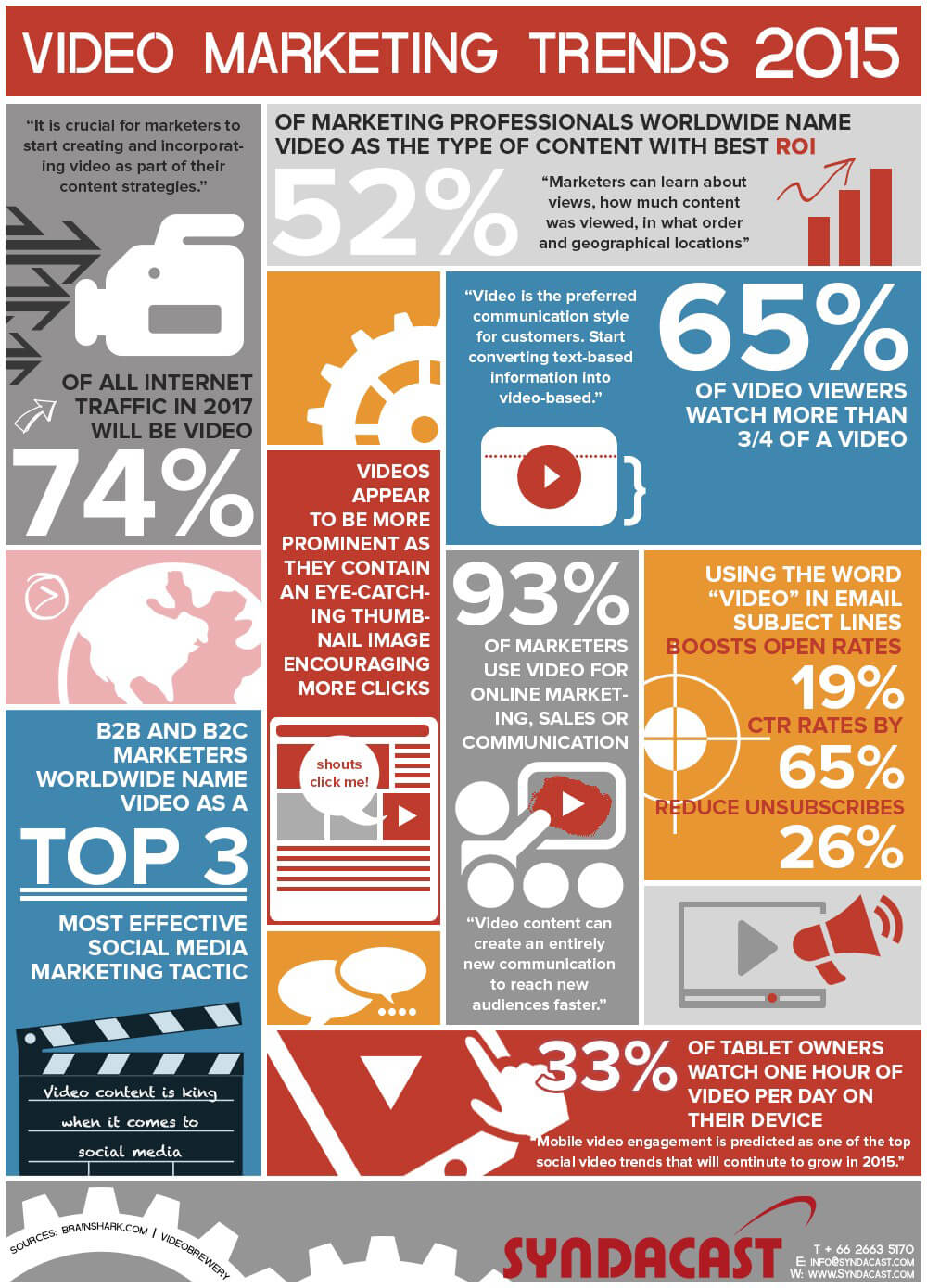 Although many companies are slow on the uptake, for many consumers video is actually the preferred method for consuming information and has been for some time. Online video is no longer just something that people watch to pass the time.
The engagement of video speaks for itself. Around 65% of web users actually sit and watch at least three-quarters of each video that they open.
Compare that to the drop off rates for text and it's not hard to see why, in January of 2013, 51.9% of marketing professionals surveyed told eMarketer that video was the content type with the best ROI.
Getting People to Watch Your Videos
Getting people to watch your videos is easier than you might think. Simply using the word "video" in the subject lines of your email marketing messages can improve their open rate and CTR significantly, and over time will reduce the unsubscribe rate too.
Adding video content to Facebook and sharing it on Twitter is also an easy way to build engagement.
Why do you care about this engagement? Well, video content is more memorable than text or image content.
With 73% of consumers more likely to make a purchase after watching a video and 96% finding it helpful when making purchasing decisions, people who watch a video are far more likely to recall not just your brand, but also your message.
Depending on your industry, you may need several contacts with a prospect to convert them to a customer, but video content gives you a significant advantage over your competitors in terms of purchasing funnel.
Tips for Making Great Video Content
Although anyone can make a video, small and medium-sized businesses are starting to learn the importance of investing in it. In 2014, online video advertising spending grew to $5.7 billion in America, up from $4.1 billion the year before.
Despite the obvious benefits in terms of ROI, video was cited by 49.8% of marketers as the hardest content to create according to eMarketer.
It's why investment in growing a joined up and well structured video marketing strategy is essential.
Professionally produced videos that have been optimized for e-commerce consistently outperforms user-generated videos by 30%, generating a 24.7% lift compared with 18.7% for the user-generated content, according to Comscore.
But despite the challenges, it's important to remember that the best video content is often simple, concise, and engaging and it needn't be expensive running your own do-it yourself YouTube video marketing campaign.
Try to keep your videos short enough that they can be watched by a mobile user in a typical viewing session. Make sure that your videos entertain and inform before they sell.
Focus on showing the user why the products or services you are talking about are so exciting and worry about selling later.
It's essential that the audio is clear and that the lighting is good. You can use tools such as the free video stabilization feature that YouTube added to its video editor in 2014, to tidy up a lot of problems with your videos.
Sometimes, the best sales content is content that is aimed at existing product owners.
If you offer a series of tutorials that show people how to get the most out of a particular product, then there is a chance that someone who has not yet bought that product will watch it, thinking of it as a kind of review.
This is especially true with technology-related products – people will want to see the product in action and a how-to video is a great way to find out how versatile the latest gadgets really are.
You could even convert your old text guides to video. This may not only help to increase traffic, but also boost your brand in the mind of consumers.
Attracting new potential customers to your business website is only half the battle. Keeping them engaged once they get there is key to building your brand and converting sales, and video is undoubtedly proved the best way to do this.
—
This article was contributed by Jon Mowat who used to make documentaries for the BBC. Now, he can be found running video production and marketing company, Hurricane Media, based in Bristol, England.