The hospitality industry is one of the fastest-growing in the nation thanks to a rise in domestic travel and more international visitors. It's expected that thousands of positions in the next 10 years will come available for hospitality workers who have optimal training in a wide range of skills.
Chicago's Kendall College hospitality program is geared toward giving its students real-world experience so they can hit the ground running, filling the roles their employers need.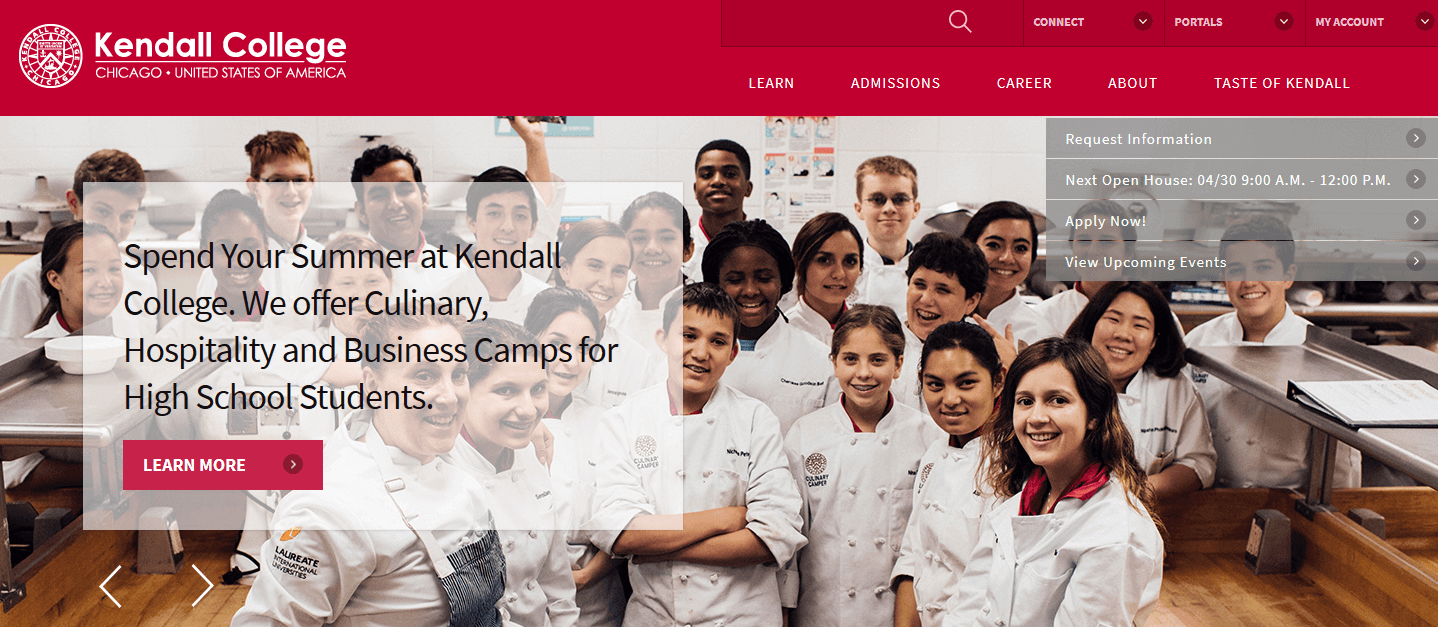 Here's an overview of the program and its practices:
Main Specialties
Students in Kendall's program usually work toward a Bachelor of Arts in Hospitality Management. There also are continuing educations opportunities and a program for studying abroad.
Students enjoy a wide range of training in their regular coursework, including finance, cooking, marketing and dining room management. This all helps to give them a modern and well-rounded education before heading into the workforce.
In addition to this comprehensive education in hospitality, students also choose a special area of concentration.
They can select from:
Asset management: Students learn to manage the physical assets and product inventories at hospitality facilities.
Beverage management: Graduates are trained to manage beverage programs that cover wine, spirits and coffee.
Hotel/lodging management: Students learn to be masters of the guest experience in all aspects of lodging and dining.
Meeting, Incentive, Convention and Exhibition (MICE): Enrollees get the skills for designing and managing large events.
Restaurant management: Students learn all the nuances of restaurant management, including front of the house, back of the house and financials.
Sports management: The focus is on sports event management, sports marketing and venue management.
Sustainable management in hospitality and tourism: This concentration teaches students to educate facilities and execute sustainable practices.
On-Site Facilities
One of the features that makes Kendall's program stand out as a modern educational institution is the fact that the campus includes "living classrooms." These are actual restaurants, commercial kitchens, a hotel suite, a coffee bar, a banquet space and a wine room all within the walls of the school.
Hospitality students get hands-on experience and an immersive education from experienced faculty members. There aren't a lot of hours spent sitting in a classroom talking about hypotheticals at Kendall.
Enrollees take an active role in their training, which can set them apart from students at other hospitality schools.
Sustainability
The sustainable management in hospitality and tourism focus is the most forward-looking concentration at the college. The preservation of resources is a trend that not only important, it is also here to stay.
By creating the opportunity for the students to be on the leading edge of sustainability standards, the college equips them with training that will be in high demand in the future. Large companies are interested in sustainable practices, and even small businesses are seeking to present a "green" face to consumers.
Graduates with the sustainable management in hospitality and tourism focus can help facilities to improve their bottom line while also resonating with customers and helping the planet.
International Setting
Another important feature of the hospitality management program is the international nature of its enrollees. There are students from countries all over the globe who bring their unique perspective to the campus and their courses.
Also, students at the college have numerous opportunities to travel abroad during their time at the school, depending on which specialty of the hospitality industry they choose to pursue. Since each student must complete two internships, there are many opportunities for them to get a practical education in a foreign country.
The hospitality management program at Kendall College equips students for a career in the industry by offering hands-on learning opportunities, real-life training, and an array of concentrations from which to choose.
This modern approach teaches students the age-old basics of hospitality as well as preparing them for the trends of the future.
Author Bio: Sarah Williams, a freelance writer who enjoys writing about food, the restaurant and hospitality industries, and the tech industry.