The COVID-19 pandemic took a major toll on industries around the world. The travel industry is uniquely and hugely impacted by the virus. As daily new cases continue to increase in the United States, travel restrictions and the cancelation of long-held plans keep people from taking trips this year.
However, Americans still want to travel safely. We'll review three ways Americans adjusted their travel expectations to accommodate the health and safety of themselves and others. Hospitality professionals should align marketing plans with COVID-19 travel trends to accommodate the changing needs and expectations of travelers.
Americans Schedule Road Trips Instead of Flights
This year, Americans are taking road trips rather than traveling via plane. In a recent survey, The Manifest found Americans were very uncomfortable with the idea of flying this summer.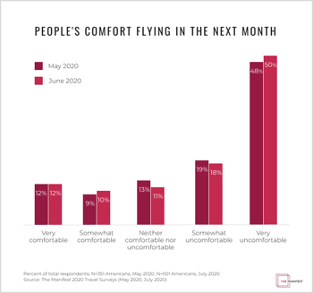 In fact, about 67% of Americans admitted they were at least somewhat uncomfortable flying. Some indicated they'd only fly months after an all-clear signal. Or, until they and other passengers were successfully vaccinated.
American discomfort with air travel doesn't necessarily extend to road trips. While many are nervous about plane travel, only 23% canceled all remaining 2020 travel plans. This indicates people choose to travel in more socially-distanced ways. These include regional road trips, which explains the recent sudden uptick in road travel that exceeded pre-pandemic levels.
There are many things hotels can do in response to COVID-19. Hoteliers and hospitality professionals should note of the new preference for road trips. Instead of investing in marketing efforts that stretch to nationwide audiences, marketing dollars may be best spent through more regionally-targeted advertising.
Americans are eager to travel again, but are still concerned about their health and safety. Many believe road trips and socially-distanced regional outings are the safest way to travel during the pandemic.
Business Travel Hits Major Lows
While family and leisure travel in America has been helped by increases in road trips, business travel continues to decline dramatically. Given the continued threat to the health and safety of employees, companies won't enthusiastically endorse business trips like they were pre-pandemic.
This sentiment is bolstered by the large-scale transition to a remote working environment. Many employees aren't going into an office anymore. Let alone taking business trips. Adara found business travel volume shrunk to 20% from pre-pandemic, according to data from July 28, 2020. Companies are shifting their focus to remote collaboration to promote the safety of employees and stakeholders.
Many business meetings are now being conducted over Zoom or Google Hangouts. Remote engagements are the new normal within the workplace. Organizations that appeal to and serve business travelers should adjust their efforts temporarily to accommodate leisure travelers during the pandemic. There are more severe organizational boundaries preventing business travel than leisure travel during COVID-19. Business travel will continue to experience lows, likely even after leisure travel picks back up again.
COVID-19 Hotspot Residents are Avoiding Travel
Those in COVID-19 hotspot cities are less comfortable flying. They're also more likely to be making make adjustments to their travel plans. According to The Manifest, 67% of those living in the Northeast region of the U.S. were very uncomfortable with the idea of plane travel in May 2020. These high levels of discomfort are a direct response to COVID-19 activity in and around the region.
The Northeast, particularly the New York and New Jersey areas, experienced the most significant surge of COVID-19 cases in the nation throughout the spring. Not surprisingly, this environment deterred people from wanting to travel. It also diminished confidence in safe travel.
However, extreme discomfort decreased in the Northeast region significantly by July 2020. Over the course of two months, those who were very uncomfortable with air travel decreased by 16%. The increase in travel comfortability in the Northeast region comes after many states and cities were successful in flattening the.
In addition to regional marketing, hospitality professionals should actively monitor hotspots in their area. Note the fluctuation of new cases. These fluctuations will serve as an indicator for travel comfort in any given region. Travelers open up to the idea of safe travel as regional hotspots and case surges ease. Explore tips for hospitality marketing during COVID-19 when travel picks back up in your area.
People are Adjusting Travel Plans as a Result of COVID-19
The global pandemic heightened travel concerns across the country. People's anxieties caused them to cancel and adjust planned travel.
Among other significant changes in the travel landscape, people took road trips to substitute vacations requiring a flight. There's been a drastic decrease in business travel following a shift to work-from-home environments.
Lastly, those living in regional COVID-19 hotspots feel a greater sense of risk. They're less likely to feel comfortable traveling. Hospitality professionals can use these trends to strategically shift marketing resources. It's critical to appeal to people seeking comfort in their travel experiences. COVID-19 marketing can be manageable if you reach these folks in an effective way.
Author Bio: Sydney Wess is a content writer & editor at Clutch, focusing on accounting and business services topics.