As worldwide markets continue to feel the pain of COVID-19, companies of every size are suffering from the effects. However, no one understands the consequences more than the travel and hospitality industries. The impact of Coronavirus on restaurants and hotels has been insurmountable. 
This pandemic has forced most companies to reevaluate their financial plans and marketing strategies. From boosting engagement with Twitter marketing to growing your Instagram presence, it's time for your business to kick things up a notch. But where should your marketing dollars go? After all, you don't want to pay for search traffic if no one is actively searching for travel destinations.
Let's focus on steps you can take to market your hotel or restaurant during the coronavirus crisis. There's still an audience out there that will eventually re-engage with your brand; the key is to connect with them.
Evaluate Your Digital Marketing Strategy
Before you can take any steps to change what you are already doing, you must know how you got to where you are. Assess the current impact of coronavirus on your particular business. It's always best to evaluate your key metrics, in the middle of a crisis and during a regular business year. Look at occupancy, ADR, revenue, length of stays and whatever else you can assess to gauge success. 
Then, watch market trends related to your industry and your destination. Beyond that, stay on top of the COVID-19 impact and assess how it's directly affecting travel to your destination. You might not be able to accurately project the impact of coronavirus on your industry, but you can look at past outbreaks for guidance. How did SARs or H1N1 affect tourism and what was the response? With this information in hand, you might be able to predict what's coming next.
Focus on Direct Perks
During this critical time, focus on your most cost-effective channels. On these avenues, make sure the direct perks remain prominently displayed for everyone to see. It's also wise to implement a strong reservation abandonment strategy that allows you to recover most of the direct bookings. 
Some of the top hotel companies are offering elite status extensions and additional points to users. This is one way to promote perks and encourage future reservations. 
Consider Your Employees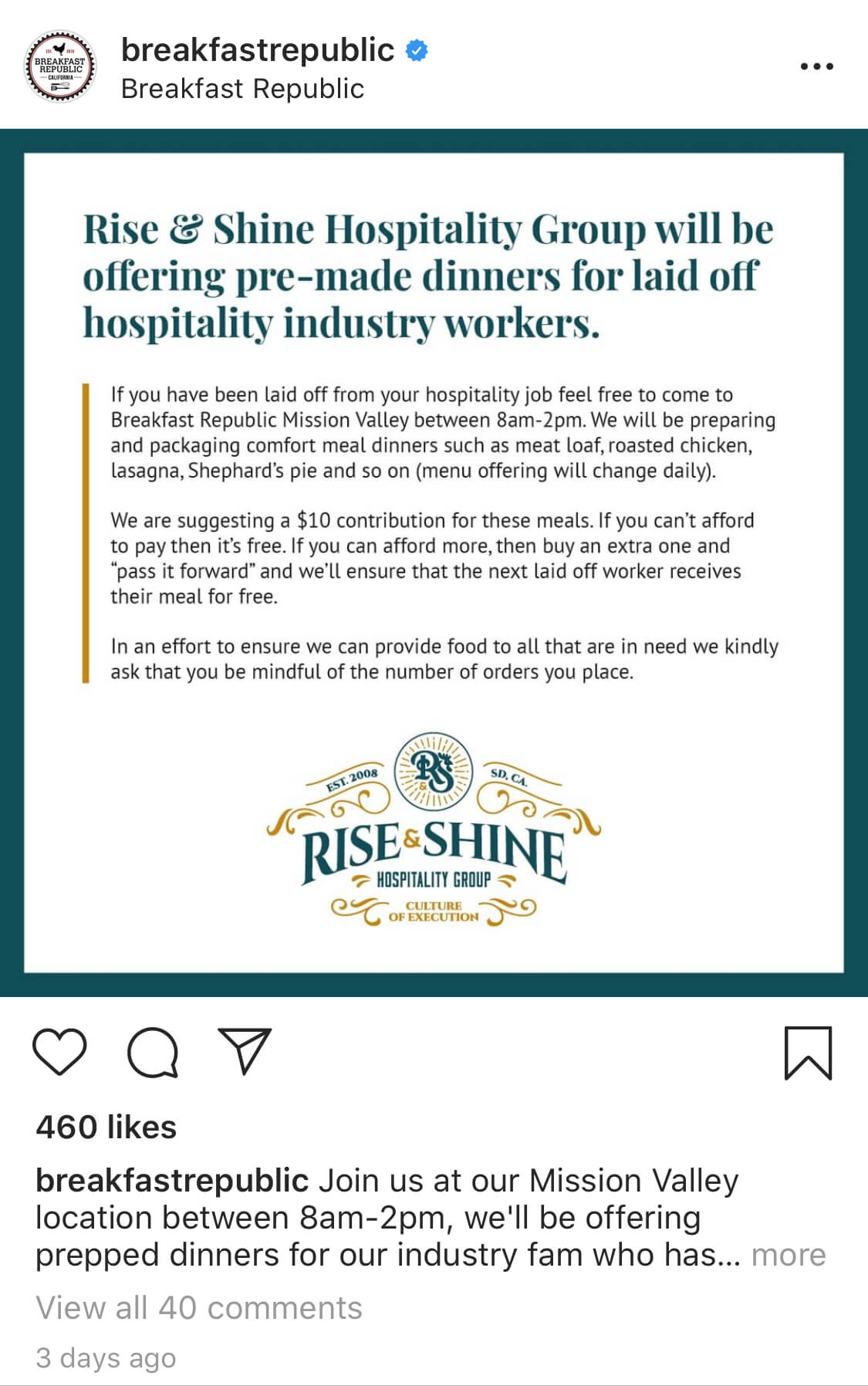 With so many employees out of work, now would be the perfect time to reward their loyalty. Offer them a special deal for a later time. Maybe you already provide them with free rooms or a discounted price, but you can go above and beyond to thank them. Consider upgrades to premium rooms or combine some form of a package deal that's all-inclusive.
Hilton Hotels had to furlough much of its staff and has set up a website for those employees to find work. The Hilton Workforce Resource Center provides an overview of companies that are still hiring.
Restaurants are also pro-actively doing their part to help their own teams, as well as other hospitality industry workers affected by furloughs. For example, Rise & Shine Restaurant Group will provide any laid-off industry worker with a complimentary meal.
Promote Future Meetings 
Many business events and conferences are now canceled. That said, many of these clients will search for deals and offers to re-book their event this fall. Provide special rates, free upgrades, and other perks that help you clinch those reservations.
Develop a flexible operating procedure when everything reopens. You will need staff working around the clock once things turn around. Personally reach out to everyone that canceled an event and present your special offer to them. When you finish with those clients, go beyond current customers and contact new companies in your area. You can reach out through an email blast or personal phone calls. 
Market to Loyal Customers
Your loyal clientele already trusts you. This strong relationship makes it easier to promote what you have to offer. With new customers wary of your establishment during this time, your loyal customers already know what to expect and make for an easier sale. 
To show your thanks, you could offer room upgrades, delightful inclusions, welcome amenities and other surprise perks. In fact, Marriott Bonvoy members who had free nights available were notified and told that these benefits could now be used through January 31, 2021. By reaching out to their customers directly, Marriott is able to drive future business and stay in front of the customers that are most loyal. 
Focus on the Upsell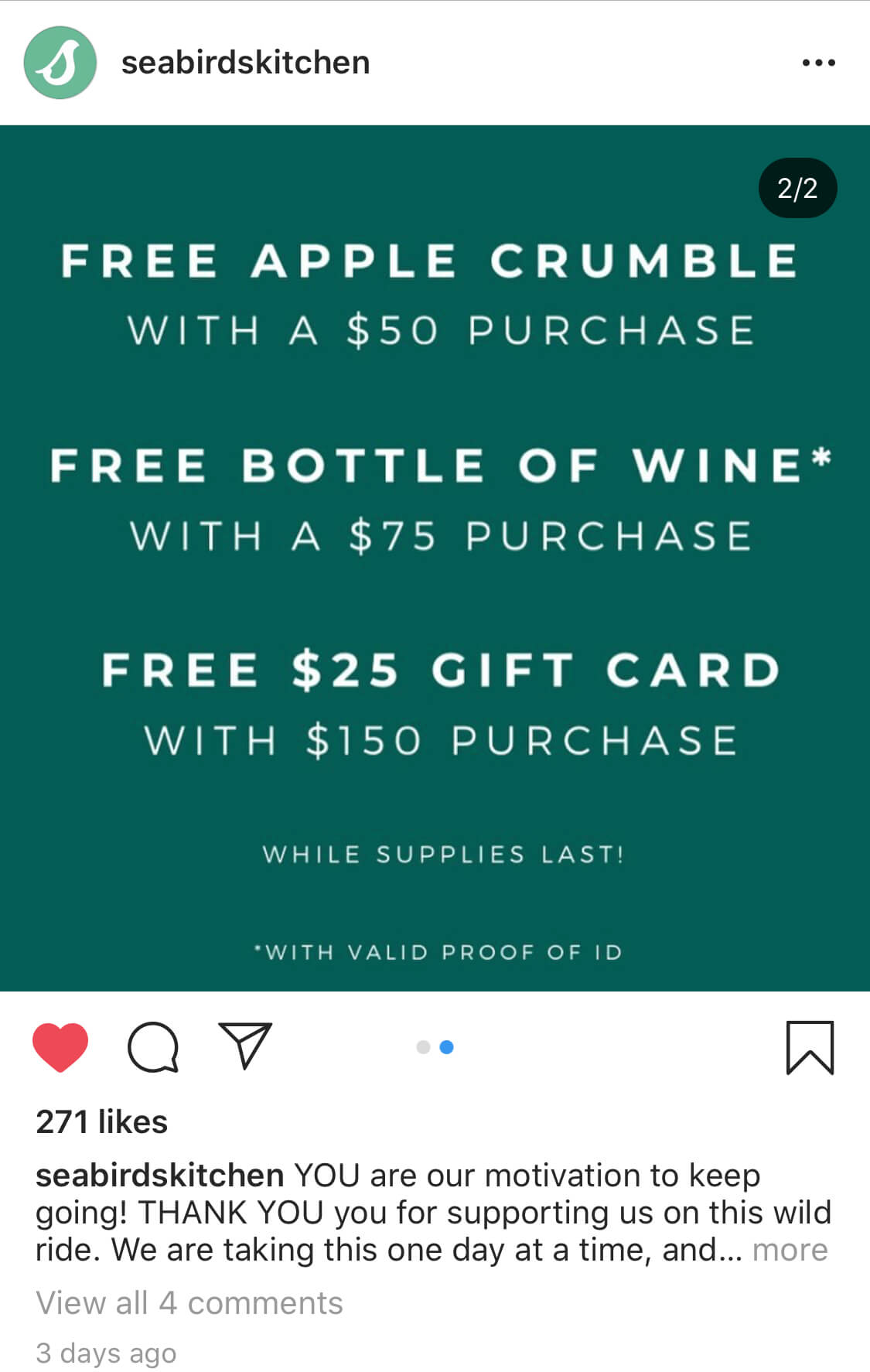 With travel and dine-in demands at a low, your digital strategy must include adding more revenue from each booking or reservation. To do this, add further benefits that customers need and want. You can promote premium rooms or longer stays. Consider implementing a book three nights, get the forth at 25% off. Inspire business travelers to extend their trip for some leisurely downtime.
If you have a spa or dining area, these both offer further revenue opportunities with each booking. Make sure you maximize revenue anywhere possible. For restaurants, a good tactic is to offer an incentive for gift card purchases. Houston restaurants are offering gift card incentives to entice people to come back at a future time once the restaurants re-open. California-based Seabirds Kitchen is offering incentives like wine, desserts, and extra gift cards for those that purchase gift cards now.
Add Personalization 
As with any marketing campaign, you should personalize the message. Personalized marketing campaigns are vital to allowing tour customers to feel important and seen. Whether you reach out to your local clientele for a staycation or hope to rope in some business travelers, send personalized messages for each. With so much changing and up in the air, it can be easy to forget your marketing messaging during such crazy times. With the right strategy in place, you can minimize the impact.
Putting it All Together
Even though Coronavirus has hd tragic effects on the hospitality industry right now, it's critical your marketing strategy includes many channels and avenues. This might be more critical during stressful times, such as these, but it will pay off in the long-term. Evaluate your current plan to see what you can improve. Do you need to implement a new SEO Plan, or will you be able to survive with just some minor tweaks to what you already do? If you play your cards right, you can pull ahead of your competition when things evolve after these constricted times.