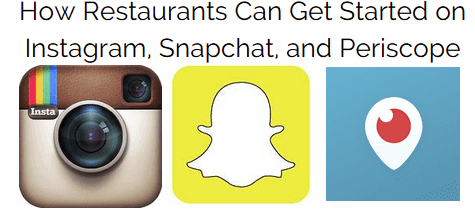 Keeping up with the latest social media platforms can sometimes seem impossible.
There are plenty of networks to choose from, all with their own user base. Most importantly, they all come with distrinct opportunities.
Depending on your target demographic, there are many potential customers you could reach using the new social media platforms.
Snapchat, Periscope, and Instagram are three visual social networks popular among millennials.
Before jumping in, consider whether or not your restaurant is suited for a new platform. As with any marketing strategy, make sure you outline your goals before you start.
Knowing what you want to get out of your marketing efforts will make the below tactics more successful.
Here are a few easy tips to get your restaurant started with Snapchat, Periscope, and Instagram:
Snapchat
Snapchat is a messaging app which allows users to share photos or short videos along with captions to their friends or groups of friends.
It is the fastest growing social network with nearly 100 million daily users watching a staggering 8 billion videos every day. Out of those, over 70% is made up of Millennials.
Snapchat is great for sharing in-the-moment, real experiences at your restaurant. A rule of thumb for using Snapchat is to make sure to keep your content genuine.
Don't be afraid to show personality, customers will appreciate knowing they're engaging with real people and not just another brand.
Marketing tips
Snap a discount voucher or coupon and tell customers to screenshot it and show when ordering to claim.
Create a captioned snap and let your customers fill in the blank (perhaps using Twitter to drive cross-platform engagement) in exchange for a freebie or discount.
Do a day-in-the-life of different employees at your restaurant. Customers will be intrigued to get a sneak peek behind the scenes of your restaurant. Give each of your employees the chance to show your customers their unique talents.
Periscope
Periscope is a video streaming platform which allows users to share live video with real-time interaction.
Periscope boasts an impressive 350,000 hours of video streamed daily.
Around 50% of Persiscopes users are between the ages of 25 and 34.
For your customers, Periscope can be the perfect window into your world.
It's a great tool for sharing the inner workings of your restaurant and showcase the hard work, talent and people that sets you apart from the competition.
Marketing tips
Have a cooking or cocktail making class showing how your signature dish or cocktail is made. Your customers will love the first-hand insight and you get to teach them something in the process.
Behind-the-scenes. Customers love to see behind the scenes and this tool is a great way of giving a sneak peek to new dishes or the preparation required for an event for example.
Engage live with customer for feedback or give them the opportunity to ask your chef or bartender questions related to food and drink.
Instagram
Instagram, the photo (and video) sharing app is the most established platform out of the ones mentioned in this article with 85% of the top brands engaging some of its 300 million monthly active users.
Foodie culture is huge on Instagram. This makes it ideal for restaurants wanting to show off their dishes, but that doesn't mean that's all you can do with it.
Taking advantage of people's love for great food photography, incorporating storytelling, and interacting with your followers will give you an ideal platform for engaging with your customers.
Marketing tips
Ask questions, get feedback on new decor ideas, what your next special should be or what theme to have for the next weekend event.
Instagram is great for competitions. "Like for a chance to win" is a quick and easy contest for your customers to enter. Alternatively, you can ask your customers to take a selfie in your restaurant and tag your business in the photo to be in for a chance to win.
Use Instagram to build a community around your brand. A great way to engage your customers is to set up your own hashtag, encourage them to take photos of their food or drink using your hashtag and feature the best photos shared each week on your Instagram account.
In Conclusion
Make sure that whatever content you create is unique to the platform you using. What's important here is that you're telling a story by engaging and inspiring.
Snapchat, Periscope, and Instagram all have different uses and how you tell your story differs from platform to platform.
Learning to use each of them to their unique strengths will take time but will greatly increase how well your marketing strategy performs.
You'll also want to cross-promote these platforms with your existing social media. An Instagram contest can easily be used to drive traffic to your Facebook page; you could use a Periscope stream to encourage visitors to your website; or ask your Snapchat followers to head over and engage with you on Twitter.
Now head out into the world of the new social, experiment with these tools, create an engaging brand experience, and share your story!
Author Bio: A former chef, Tim Hilton is a web strategist and the founder of Hilton&Co, a digital agency specializing in the hospitality industry. With more than 6 years experience in the digital space, he now spends his time helping restaurants and bars succeed online.