Pokémon Go has taken over everyone's attention spans and news feeds. Pokémon Go is a virtual reality game that allows users to travel between the real world and the virtual world through their smartphones.
Millions of people are wandering the streets with their eyes glued to their phones trying to find the game's characters that pop up in a variety of places.
While some have mixed feelings about the game, there's no question the hospitality industry can benefit from tapping into this popular and vibrant trend, and integrating it into their overall content marketing and social media strategies.
In fact, many restaurants, hotels, attractions, and destinations have already done just that.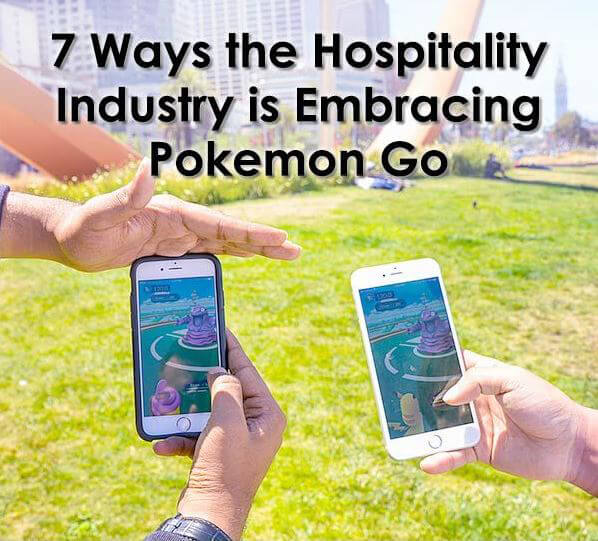 Here are a few examples:
Purchasing Lures
L'iniozio, a pizzeria in Queens, paid the $10 daily fee to purchases lures (items that attract users) to lure a dozen Pokémon characters into their establishment.
The restaurant's manager, Sean Benedetti, told the New York Post that the shop's business spiked by 75% lately as a result.
Beneditti was quick to recognize the value of investing in a timely pop-culture phenomenon and his business was able to benefit as a result.
Additional restaurants are likely to follow suit in the coming weeks as there is strong ROI involved here with a relatively small investment.
Advertising Offline
Other restaurants are advertising their Pokémon incentives on the street to attract wandering trainers that may be exploring nearby.
Mambo's Café, a sandwich shop in Glendale, CA, is one such eatery:
Hopefully, Pokémon hunters don't accidentally run into the sign while wandering around looking at their phones!
Offering Discounts
CitySen Lounge, a bar at City Flats Hotel in Grand Rapids, MI, also set up a street sign promoting their affinity to the game by offering patrons a discount if they're part of one of Pokémon Go's teams.
Consumers are so entranced by businesses embracing the trend, they themselves are spreading the word through their own social networks:
This adds another layer to the social media strategy around this phenomenon in that:
This is non-digital advertising that's organically translating to the online social sphere when users intrinsically deem it share-worthy
The restaurant itself can certainly share to their own social media channels, but the fact that the users are doing it themselves, without being incentivized to share, is a huge victory in the ever-saturated world of brands doing whatever they can to get consumers to share their messages
In shifting from dining establishments to broader locations, tourist landmarks have jumped on the Pokémon bandwagon, too.
Embracing the Trend
One particular attraction is Thomas Jefferson's Monticello, AKA: Thomas Jefferson's home in Charlottesville, VA.
They support the game and posted an image of a character on the grounds on Facebook:
In a few short days, the post has garnered 370 likes, 160 shares, and 40 comments.
Even when someone pokes fun at their embracing of the game, the brand sets a high bar in social media management by responding promptly with good spirit and light humor: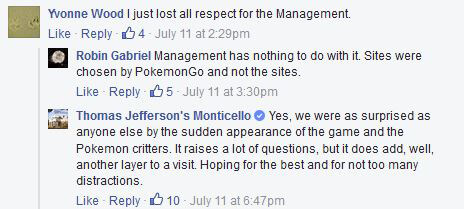 This could be deemed a strategic marketing tactic, too — it may help attract an audience to Monticello that may have otherwise not been as partial to visiting (as sad as that may be).
Advertising Online
Furthermore, the social media team behind The National Mall and Memorial Parks in Washington, DC, took to Facebook to encourage fans to take selfies while they hunt Pokémon around the grounds (thus merging two popular trends).
"Remember to be respectful of the memorials and other visitors, but share your Pokémon victories with a #pokeselfie at the #nationalmall!"
Destination marketing organizations and regional hotel brands are also finding ways to bring Pokémon to the forefront.
Creating Designated Online Collateral
Travel Portland launched a Pokémon-specific website, "Pokémon Go in Portland," advising travelers where to "catch them all" in northwestern city including PokéStops, gyms, Pioneer Square, Tom McCall Waterfront, and many more.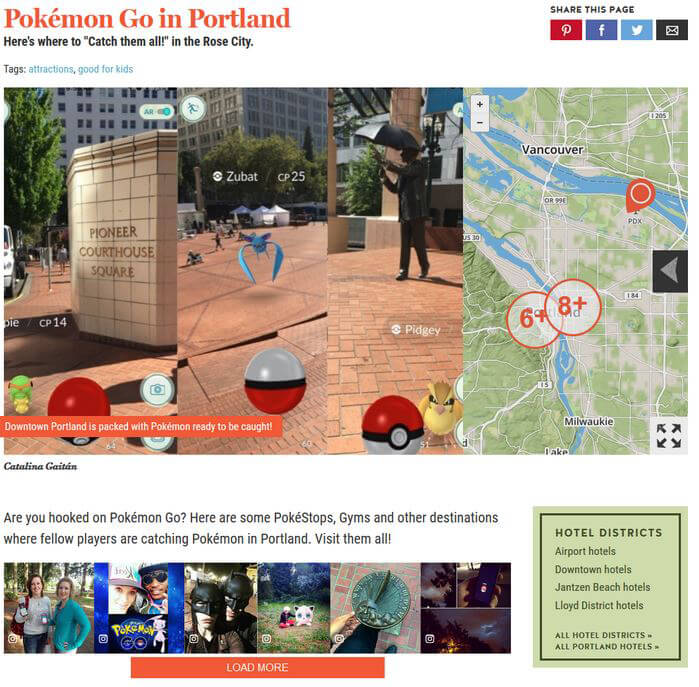 Catching Em All
Starwood Hotels and Resorts in Hawaii decided to "go undercover and begin training to become the next Pokemon Master" themselves when they began noticing numerous guests walking around with their phones, moving from side to side, in deep concentration.
They chronicled their "training" in a blog post, "PokémonGo Fans: Can You "Catch 'Em All?" which showcases a range of characters setting up shop in various Waikiki hotels.
Contrarily to how Monticello is using Facebook to leverage Pokémon Go to attract new guests, Starwood noticed the opportunity to leverage the interests of current guests and tap into additional opportunities to create customer loyalty.
Since Pokémon Go is still in its infancy, there's no doubt we'll continue to see an array of unique integrations by the hospitality industry.
What other businesses have you noticed integrating Pokémon Go?