Hotels, motels and other hospitality services used to have a simple purpose: provide a safe place for customers to sleep. The evolution of tech in the 21st century changed the game. Now, merging technologies help empower hotels to increase customer interactions. It also offers a more personalized experience to visitors with voice search and AI devices.
The hospitality industry integrated virtual assistants at a very large scale.Hotel guests can ask a digital assistant for room service or to lower the blinds in their room with simple voice commands.
Voice search in the hospitality industry took off so much so, Amazon's Alexa announced a new platform, Alexa for Hospitality.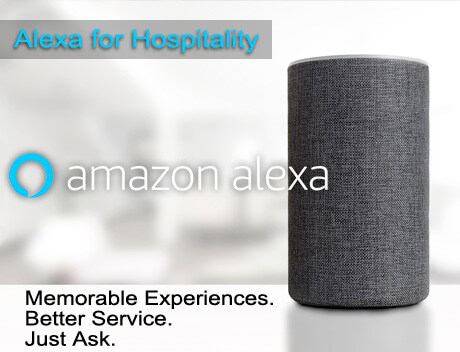 The new artificial intelligence device creates memorable experiences and provides better service.Here's how…
The new AI assistant in hotels can be programed to include key guest information, like check-out time or wake-up calls. There is also an element of enhanced sales, too. If you make it easier for customers to contact you for room service or other amenities, sales will increase. Customer data can be stored and personalization to each guest can be enhanced. Machine learning can be implemented here. Hotels can build profiles on what their clients likes and dislikes, thus enhancing the customer experience.
Voice Search & Alexa: Your New Digital Concierge
People today turn to AI-powered voice assistants because they provide correct answers in real-time. Remember when you had to stop to get directions from a gas station? Or ask locals for restaurant recommendations? It was definitely hit-or-miss.Those days are now long gone.
When your customers can get fast answers directly from your their hotel rooms because you installed digital assistant like the Amazon Echo, it can help the customer journey. It allows travelers to easily access the information they need via voice search queries, and it doesn't stop there. Guests can now instantly book online and perform other tasks automatically with AI.
Everyone is familiar with the phrases, "Hey Google" for Google Home or "Hey Alexa…" for Amazon Echo. When one says these phrases, their device then performs all sorts of everyday tasks or requests. So, give patrons the same functionality direct from their hotel room. Not only does this provide better customer, but it also provides familiar elements of home. Guests can play their own playlists from their Amazon accounts or listen to a favorite audiobook from Audible. All of this combined offers a more memorable experience with your hotel brand.
How does Artificial intelligence Improve the Guest Experience?
Atificial intelligence to improve guest experiences. Here is a list of interactions (AI) in a typical hotel stay visit. It's broken up into "Personalizing the Customer Experience" and "Enhancing Customer Care."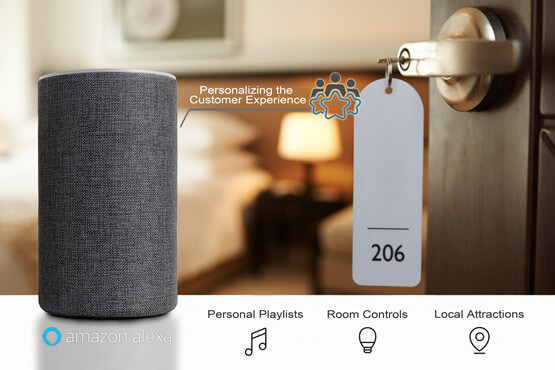 Personalizing the Customer Experience:
Play personal music playlists
Play Audiobooks from your account
Control In Room Devices
Make a personal call to home
Create a Vacation Itinerary
Find local businesses of interest
Look up local attractions
Personalized options and recommendations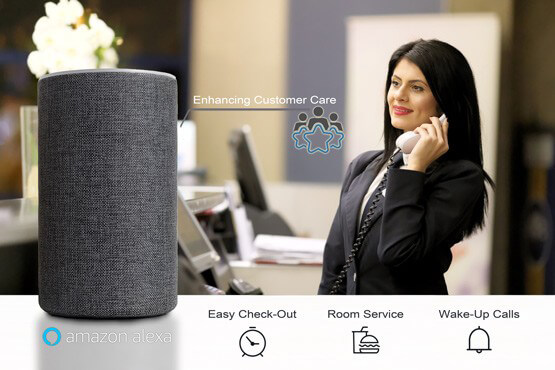 Enhancing Customer Care:
Order room service
Ask for extra amenities (towels, soap, pillows, blankets etc.)
Ask for Front Desk
Help with checkout
Find the gym
Book a massage
Get pool hours
Ask for room to get cleaned
Guests can ask Alexa to help them remember their boarding pass so they don't miss their flight. All of these tasks are more seamless with the help of voice assistant technology. You can get started as a Hotelier by setting up your Amazon business account.
Google's Assistant is Getting a Little Too Smart
Earlier this year, Google announced hotel booking with google assistant is now a thing. Not only can the google assistant book hotels and flights, but it will come native to the new iPhone. Google hopes to kill off Siri and be a part of everyone's lives.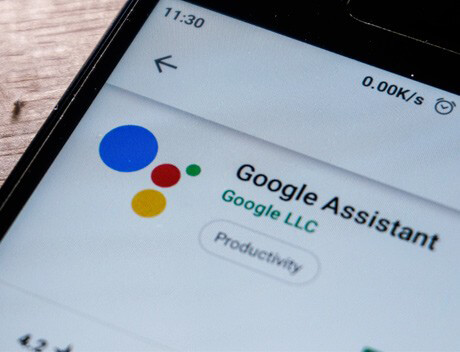 The switch may come as surprise to some iPhone users, but it's easy to understand Apple's logic to team up with Google. It will make more sense when you see the new AI assistant in action. It's really advanced. The Google Assistant sounds so human that no one will know that it's making reservations on your behalf. Check it out:
Google Assistant making calls on your behalf. #GoogleIO pic.twitter.com/ah4T37SJVE

— Nate the Future Billionaire (@mynameisnado) May 8, 2018
At their annual developer conference Google I/O, Google CEO Sundar Pichai said, "at the heart of our products today… you will find artificial intelligence, designed to make people more connected." The Google Assistant is no exception. It uses Google Duplex AI to sound very human and convincing. It's not as robotic as in the past.
What does this Mean for Hotel Owners?
Travelers now have new ways to book rooms and flights. Google is dominant in every industry of commerce. In fact, Google flights landed in hot water by aggressively placing itself more prominently between the direct consumer and many airline booking sites.
Did you know American Airlines sued Google? American Airlines is long protective of its intellectual property. The airline accused Google of selling search terms that involve American's name. They claimed Google used their trademarks in ads without permission. With both industries, hotels and airlines, Google laid out a certain set of rules.
Travelers can book hotels with the "Book on Google" integration. Voice assistant searches can be specific such as, "Hey Google, I'd like to book the Cambria Hotel in New York on January 12th," or more general, such as "Hey Google, check hotels near New York." In both cases, Google Assistant will display availability and prices from both online travel agency partners and the brand itself, if it is a partner.
Final Thoughts: Data Sharing and Privacy
It's great to live in a world with this type of advanced AI technology. But, there are data sharing and privacy issues. Many articles dance lightly around it. A google search of "privacy issues with alexa in hotels" brings up more articles on the topic of privacy. For example, do we want microphones listening to us in a hotel room? Maybe…
It depends on if we know our data is safe and we know devices don't listen to our conversations. Most mention, as long as there's a way to turn off the devices, there's no need to worry. But, it would be smart for each hotel to setup consent and data sharing policies at the time of check-in. That way, guests understand the risks or what and how data is used for personalization.
Ultimately, it would be wise to outright give guests the option of a "smart room" or "non-smart room." It's similar to asking a customers' preference for smoking or non, Some people embrace new smart devices and what they do. Others, not so much. Some may have to warm up to the idea for a few years before they feel comfortable sending voice commands for pizza over the internet.
Author Bio: Chris Labbate is the Head of Marketing at WaveDirect.net and runs a digital agency part-time called SEOBANK. He mainly writes about IoT systems, Hosting & Internet, Digital Marketing and runs a private AI Facebook group on new tech.