User-generated content (UGC) is a powerful tool that should be present every marketer's arsenal. Afterall, growth is a primary goal of marketing. You're missing an opportunity if you don't take advantage of the reviews, photos, posts, and other content your customers produce. In this post, we'll cover the main benefits of user-generated content, along with some specific examples.
1. Build Credibility, Trust & Influence Decisions
Customer feedback is a goldmine. Customer opinions have an impact on the purchasing decisions of others. When in doubt, people tend to research the testimonials of those who've shared something about their previous experience.
Add UGC to your website (landing pages, About Us, portfolios, product pages, etc), put it in your mailers, and mention it on your social media channels. Turn to an experienced team of professional developers for help if you want to showcase customized reviews and UGC.
The official BHLDN website demonstrates how client reviews can help potential customers make up their minds. The product page of this Jenny wedding dress displays the ratings given by shoppers.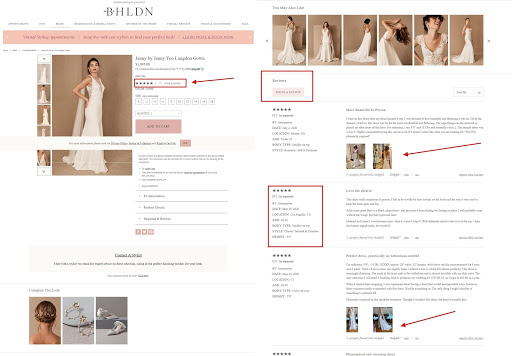 The large "Reviews" section occupies about half of the page. People may add pictures of themselves wearing the product. They can also comment on the material, and share their opinions. It's risky for a bride to buy a wedding dress without a prior fitting. The information in the reviews section on the commenter's size, fit, age, and other parameters are appropriate.
2. Saturate Your Content Plan by Cross-linking
It's tricky to create a content plan. Grow your online presence by cross-linking user-generated content. This isn't just about your website. Cross-link in your email blasts, drip campaigns, and social pages, too.
Facebook, Instagram, LinkedIn, Twitter… No matter which platforms you use, adding UGC to the mix will variegate and bring more value to your content. Share customer reviews, impressions, repost pictures of your customers, interview extracts, whatever you find suitable. Importantly, ask for permission to post the content that was created by your users. This is especially relevant when it comes to other people's photos.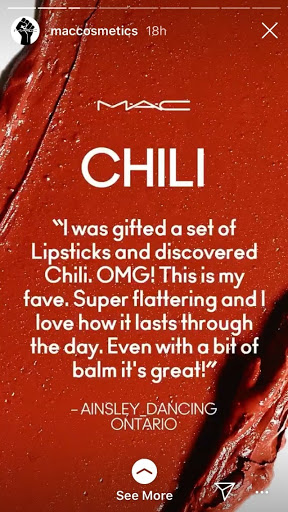 For example, check out the MAC Cosmetics Instagram account. MAC made Stories out of customer testimonials they got in a corresponding Stories-survey. A two-in-one survey+feedback tactic allows you to collect opinions of real followers. It also makes the content on your official social media channels more interactive. It's perfect for further use (such as in the "Testimonials" section of Story Highlights).
If you don't have a designer to build the UGC look of your website or social media efforts, there are tools available. Canva is a great one. Canva provides many free templates suitable for different kinds of social platforms. The templates are easy to craft due to drag-and-drop solutions.
3. Engage Your Audience
User-generated content is a great strategy for audience involvement. Whether you hold contests, run giveaways, or simply collect a gallery of client photos, the content is influential and may be mutually beneficial.
Encourage users to share how they use the products you sell. Take a look at the catalog page of the Maybelline New York website. This UGC section motivates users to create posts, mention @MAYBELLINE, and add the #MNYITLOOK hashtag to be featured in this section of the site.
You can build stronger relationships when you give your customers the green light to be creative. They like to know their opinions and input matters. Customer retention is important for all businesses. Therefore, offer something to your customers for their initiative. For instance, many eCommerce companies present shoppers with discount coupons for leaving reviews on items they purchased.
4. Create Brand Desire & Trends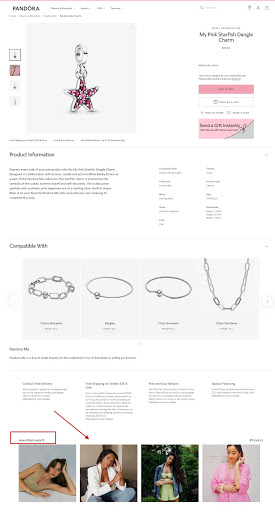 Being desirable is a tough task for marketers. If your company doesn't have a budget for influencer marketing, UGC is the next best thing. Look at the user-generated content on the Pandora website. The "How others wear it" carousel can give occasion to "I want this too" behavior. This can ultimately lead to additional sales.
On another note, keep an eye on trends. If your target audience is engaged in something, like a fun challenge or a humanitarian activity, this can be your time to shine, too. For example, during the devastating Australia fires in early 2020, several companies donated to koala aid and wildlife organizations. Such gestures also received media coverage by marketers. Plus, brands launched contests that involved the creativity of users in support.
5. Grow Brand Loyalty & Followers
Finally, UGC is capable of inspiring brand loyalty. When customers showcase their favorite looks or items associated with your brand, or leave happy reviews, take action to show that you care. This attention can turn first-time customers into regulars. Illuminating these users is a win/win — they get a shoutout from a legitimate brand, and you get to showcase real people using your products. Check out Puma's "As worn by you" UGC section on as an example.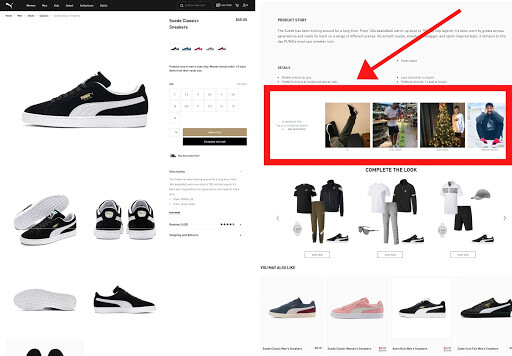 UGC is also beneficial for growing the number of followers on your company's official social media channels. It's not just about the quantity and additional people who'll follow your accounts. It's also about your fans recommending you to others, as well as about the potential increase in your website traffic.
This is twice as relevant for eCommerce stores that have an official Facebook, Pinterest, or Instagram Shops "tied" to their official website's product catalog. These platforms allow you to sell more, and should be taken seriously.
Final Say
Don't overlook UGC! User-generated content is a great resource. It's influential, unique, and useful in many ways. Don't underestimate the value it can bring to your marketing strategy.
Author Bio: Alex Husar is the CTO at Onilab. He ha 8+ years of experience in Magento and Salesforce development services. He graduated from the Czech Technical University and obtained a bachelor's degree in Computer Software Engineering. Alex's expertise includes both full-stack dev skills and a strong ability to provide project-critical guidance to the whole team.