Segerstrom Center for the Arts showcases a wide variety of the most significant national and international productions of music, dance and theater to the people of Southern California.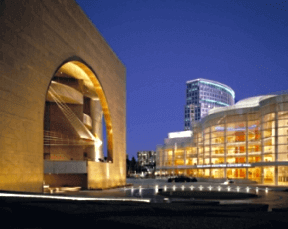 The Center presents a broad range of programming each season for audiences of all ages including international ballet and dance, national tours of top Broadway shows, intimate performances of jazz and cabaret, contemporary artists, classical music performed by renowned chamber orchestras and ensembles, family-friendly programming, free performances open to the public from outdoor movie screenings to dancing on the plaza and many other special events.
Social Media for the Arts
They've done a phenomenal job of keeping fans up-to-date via social media: Their Facebook page has over 17,000 fans; their Twitter account has over 3,000 followers; their YouTube channel has nearly 300,000 total upload views; their Flickr account has over 90 sets of photos; and their blog boasts regular behind-the-scenes incite to show rehearsals and more.
As a subscriber, I recently received their latest brochure in the mail with information on the upcoming season.
What caught my attention as I first started flipping through was the inclusion of QR Codes throughout. I hadn't before seen them in this capacity and found it fascinating that a venue of this magnitude would note the value of using QR Codes mobile marketing.
How to Use QR Codes
QR Codes are basically barcodes that people are able to scan very easily from their cellphones. They're typically square, and take users to a specific website of their choosing.
There are various mobile applications that scan QR Codes, including many free options. As soon as you open the app, it knows if/when it's looking at a QR Code and begins reading it accordingly.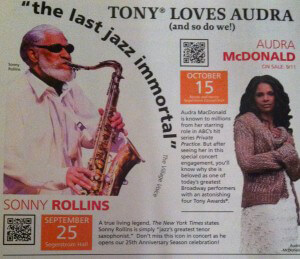 The purpose is to simplify the process of visiting a website from a mobile device. Rather than having to open a browser and find the desired website, a user can simply scan the barcode and be directly taken to a relevant page.
Here, for the arts venue, when you click on the corresponding codes, it takes you to a YouTube channel featuring a trailer of the corresponding show or performance.
This is awesome in that fans can learn more about artists they may not know about and/or get a sample of a Broadway show they may be considering. Because it's a printed brochure, people may not be sitting at their computers while sifting through it, and thus being able to grab their phone (rather than the computer) and swiftly scan the code simplifies the "research" process.
Have you seen any other venues using QR Codes in creative ways?