With the success of Pinterest as a multi-functional tool, it's becoming increasingly integral for brands to have a presence here in addition to other social media mainstays like Twitter and Facebook. Subsequently, Pinterest contests are on the rise.
Since the platform is still very new, there's still a level of ambiguity about how to conduct promotions, as far as barrier to entry, monitoring, etc. For example, if you simply ask people to create a board, how do you go about tracking everyone that has done so? Do you measure success by likes? Comments?
Nevertheless, when done efficiently, it can be a great way to draw in your audience for a visually-oriented initiative.
Visit Santa Barbara just completed a "Pin It to Win It" contest over the holidays. For an organization such as this, that relies on so many other hospitality components, this was a great way to tie various entities together and promote both them individually as well as the destination as a whole.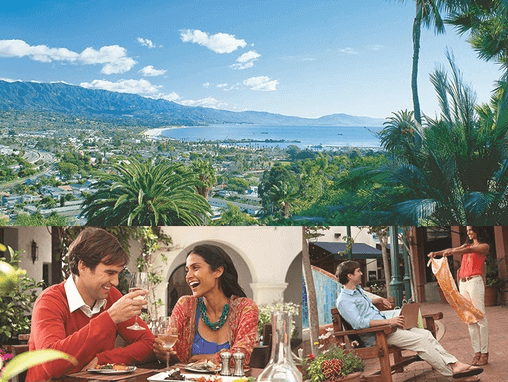 Santa Barbara's destination marketing organization is no stranger to social and technological innovation. Their mobile app released earlier this year set a high bar in making vacation planning to the central coast city incredibly easy to do.
"Pin It to Win It" asked entrants to follow the brand's Pinterest page; create a board entitled "My Santa Barbara Holiday Getaway"; re-pin the contest announcement; add a pin for a variety of categories including lodging, dining, shopping, wine, culture, outdoors and holiday; use the #SantaBarbaraHoliday hashtag; then submit their boards to a website. The winner received a two-night stay at Bacara Resort & Spa; a $100 gift card to the Paseo Nuevo shopping center; plus $100 to Olio e Limone Ristorante.
This package is definitely a legitimate enough incentive to get someone pumped to participate to win. It covers several bases – hotel, dining, shopping – that make a vacation exciting and memorable.
They also addressed several of the hurdles in running a Pinterest contest. First, by asking people to re-pin the contest announcement, they can track the notifications they received on the re-pinners. Asking them to submit it at the end allows them to track who actually completed the assignment (versus just re-pinning the original announcement).
Second, the hashtag inclusion allows them to easily assess the quantity and value of entries on an ongoing basis. By searching the hashtag, they  are able to get an idea of how things were going with the contest as it progresses, as well as how people perceive the Santa Barbara destination and what they most look forward to when traveling there. This is excellent research as well to tie in perhaps to larger marketing initiatives in the future.
Since hashtags are also widely used on Twitter, it allows the hashtag to trend there also, and effortlessly helps spread the word, and creates a lot of buzz around Santa Barbara being an ideal destination for the holiday season.
Next, asking people to pin from various categories is a brilliant idea that serves many purposes. It gets people visiting Santa Barbara's Pinterest page and sharing their content. Even if others haven't entered the contest, those images being shared at a higher rate create the exponentially higher chance of them being individually spread further. The SEO value here is innumerable. Not to mention, most of the images are probably linked to their website, thereby bringing more traffic there, too.
The numerous categories also probably drives people to visit the website in additional to Pinterest. This is obviously an ideal thing as it brings people to the website, and forces them to surf it. Creating an intimate association between a brand and consumer can be difficult, but this is an easy way to strike down that barrier and make potential visitors passionate about the brand and the proposition of visiting it.
They also used their other social networks like Twitter and Facebook to regularly post reminders and keep the contest on top of people's minds. This pro-active approach was clearly successful, as if you do a search on Pinterest for #SantaBarbaraHoliday, it's simple to note the abundant about of participants.
Santa Barbara did a fantastic job executing this promotion. What other brands have you seen run a successful Pinterest promotion?