ChowNow, the social, mobile and web-based online ordering platform for restaurants, recently received an influx of capital that will be used to launch new products and expand national operations.
Big players like Dominos and Chipotle have seen a big boom in users and profitability through online ordering over the past year. But for smaller restaurants, online ordering that doesn't send customers to a third party website (GrubHub, Seamless) was a confusing and unattainable proposition.
ChowNow is helping level the playing field for smaller restaurants through innovation. As the pioneer of Facebook ordering, ChowNow has created opportunity for all types of restaurants by integrating online ordering into social, mobile and viral spaces.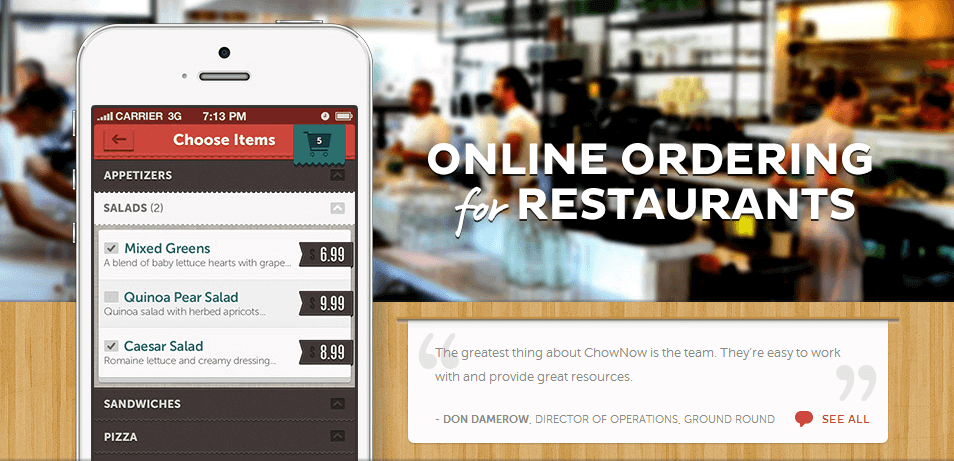 Removing the middleman:
For many restaurants, removing the middleman and keeping customers on their own website or Facebook page was the impetus for buying ChowNow. "If a restaurant sends a customer to a portal (GrubHub, etc.), it would be like Delta sending customers to Kayak or Priceline to buy tickets," said Webb. "The vast majority of to-go orders come from repeat customers so it's not logical to pay 15% to a portal if someone was going to order from the restaurant anyway."
Burgeoning client base:
ChowNow's diverse and burgeoning client base is a result of high demand, fast setup, affordability and ease of use. After launching in May 2012, ChowNow is already used by hundreds of restaurants including large chains like CiCi's Pizza and Ground Round, and smaller
local mom and pop restaurants. This winter ChowNow is powering mobile food ordering at two ski resorts, Mammoth Mountain and Homewood Mountain Resort, so that skiers and snowboarders can order meals before they ski down the slopes.
Upcoming expansion and innovations:
Much of the new funding will be used to launch new products and expand national operations, with an anticipated 1,000 new restaurants in the first half of 2013. Always evolving, ChowNow has three new features soon to be announced: catering (currently in beta), expanded CRM capabilities and marketing enhancements like push notifications.
Series A Funding Announcement:
ChowNow has raised $3 million in Series A funding. The round was led by returning investor GRP Partners along with Daher Capital, Double M Capital, Karlin Ventures, and Velos Partners. From Steven Dietz, Partner at GRP: "GRP works with entrepreneurs solving important challenges for many people. ChowNow has the potential to significantly improve the way restaurants communicate with their customers. This is a large opportunity and the innovative team at ChowNow has already begun delivering on their promises to restaurants and their customers. There is an exciting future ahead for this company."
Christopher Webb, Co-Founder and CEO of ChowNow comments: "We're excited to have a mix of returning and new investors. It's an honor to have such a distinguished group of names backing us, and we're excited about what this funding will allow in terms of our innovations pipeline. We're always looking for new ways to help restaurants grow."