Swiss-based Treovi.com, the first truly 100% no commissions online hotel reservation system, has launched a new beta of its website.
Five months after its successful launch, the team has had time to study the feedback and usage data Treovi's early adopters users, allowing them to help make reserving hotels convenient and fast.
Hotel search listings and the front page has been completely revamped, with increased support for mobile devices.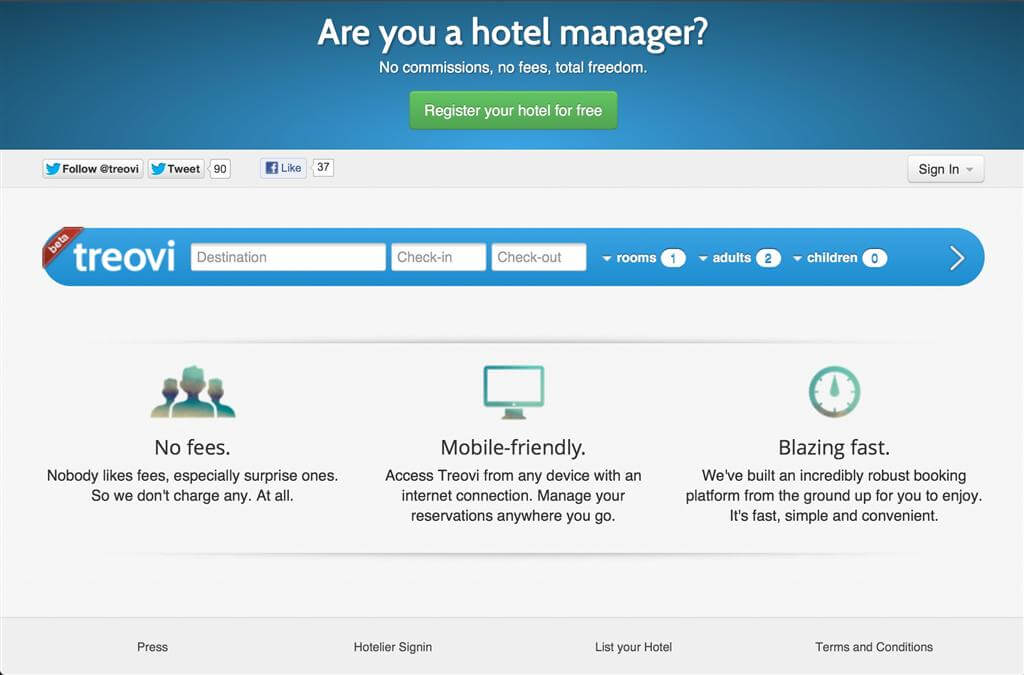 The main highlights of this new version are:
A sleeker and more consistent design, with even greater emphasis on the functions that are used most.
Greater optimisation for mobile devices – the website now incorporates a design that is responsive to lower resolutions seen on mobile devices. Touchfriendly buttons are also rendered automatically. Treovi's future will revolve around developing a balance between aesthetics and functionality for all resolutions, including mobiles, tablets and PCs.
Hotel Favorites – users signed into a Treovi account can now "favorite" hotels. Favorited hotels will appear in there account for easy reference in the future.
 User accounts – users can now see all their reservations in one place, view their dates in one calendar and see favourited hotels. This paves the way for greater personal account integration with social networking sites.
"We are really pleased to introduce these changes" said Michal Wrobel, cofounder. "A website optimized for all possible screen resolutions is paramount. We continue to carefully study our own design and those of others to build an unmatched user interface that users will look forward to using. These new aesthetics are combined with our new user account functionality, that will allow us to create game-changing tools and offers for registered users. Next in line is Facebook integration, of course."
Founded early 2012, Treovi is a Swiss travel startup that provides hoteliers and guests with a totally free booking channel online. This bright new concept in online travel booking will lead the way to a new era of better travel and a major change in the hospitality industry.