With detailed reports on audience growth, audience geography, engagement and the ability to identify tags that are relevant to their products and services and influencing contributors posting on them, brands now have a unique platform to professionally fine-tune their content and engagement strategy on Instagram.
If you've been wondering how to track on Instagram, you're now in luck! Nitrogram, the all-in-one Instagram marketing suite, just got an update that makes it even easier to leverage Instagram for business.
The platform allows brands to boost Instagram community management by engaging in meaningful ways with fans, as a result of improved analytics and engagement capabilities.
The importance of user generated content that can help increase brands' presence on Instagram is central to Nitrogram.
For example, an analysis of the #chanel hashtag with Nitrogram identifies Kim Kardashian as the author of #chanel's most liked photos, all featuring their jewelry and bags.
As the third most-followed user on Instagram, Kardashian has a great reach on the photo sharing network. But she isn't alone, as other influential bloggers and individuals take to sharing about their favorite products on Instagram.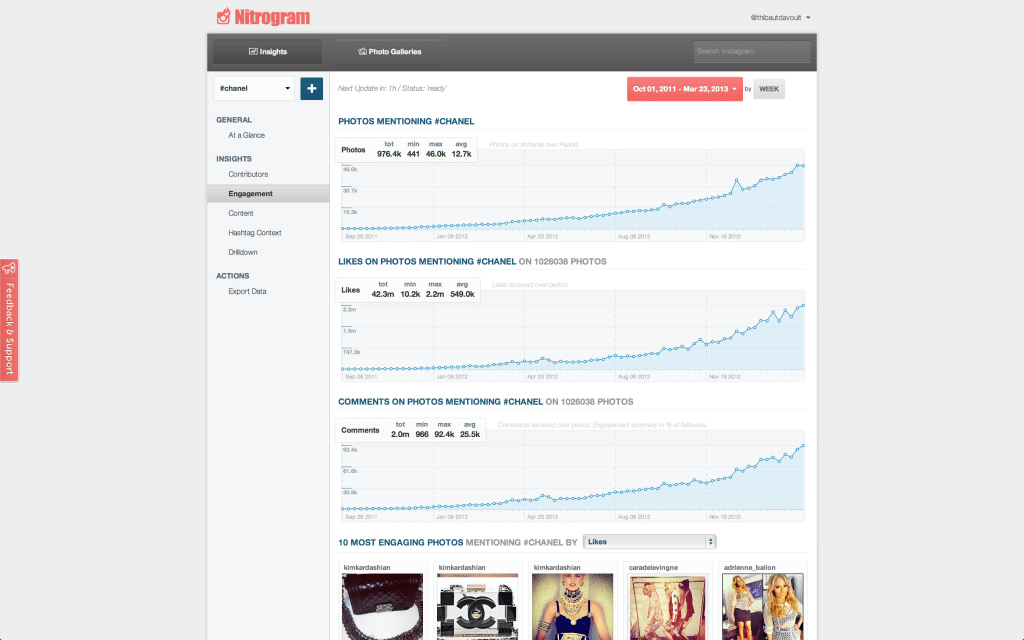 Even though Chanel has yet to officially join the platform, 150k photos were posted over the past month with the #chanel hashtag, totaling 7.4 million likes. It's Instagram communities like these that Nitrogram's reports can help uncover and better reach out to.
Brands have started leveraging this opportunity in earned media through photo contests, up to 50 of which are launched daily on Instagram. Nitrogram also helps brands manage their contests from start to finish, keeping track of submissions and analysing their impact.
After having reached the important milestone of 100 million active users in February 2013, Instagram is confirming its importance as a stand-alone platform that brands and digital professionals need to pay attention to. Nitrogram helps them make sense of and better leverage the millions of photos shared on the social network everyday.
What do you think may be the biggest benefit to having this kind of insight to your users?