The hospitality industry makes on average $425 billion a year, with $255 billion of that annual revenue influenced by review forums.
According to the following infographic on the hospitality industry, 60% of consumers consult some type of customer review forum prior to making a purchase. Many are extremely likely check out reviews on sites such as Google, TripAdvisor, and Orbitz for the following factors:
How many stars does the hotel have?
What sort of rooms are available?
What amenities are included in the room?
Travis Tillotson, Managing Director at Surgo Group notes: the "consumer impact phenomenon" has been rapidly shifting over the past 5 years, and now the direct correlation between purchasing and consumer reviews is no longer just an assumption but an actual measurable statistic, varying from industry to industry. Review Forums come in all shapes and sizes, however, brands need to take more of an active stance on trying to "control the conversation" if they want to compete.
In a recent study by Paragon Poll, 60% of consumers consult some type of review forum prior to making a purchase. Mr. Tillotson states that there are a myriad of ways to accomplish this feat, and they vary from industry to industry; but the bottom line is it seems brands need to be proactive about this industry shift, as no amount of positive "press" can outweigh the voices of the masses. The study done by Paragon Poll shows that 82% of the Hospitality industry is trying their luck with online conversation in review forums.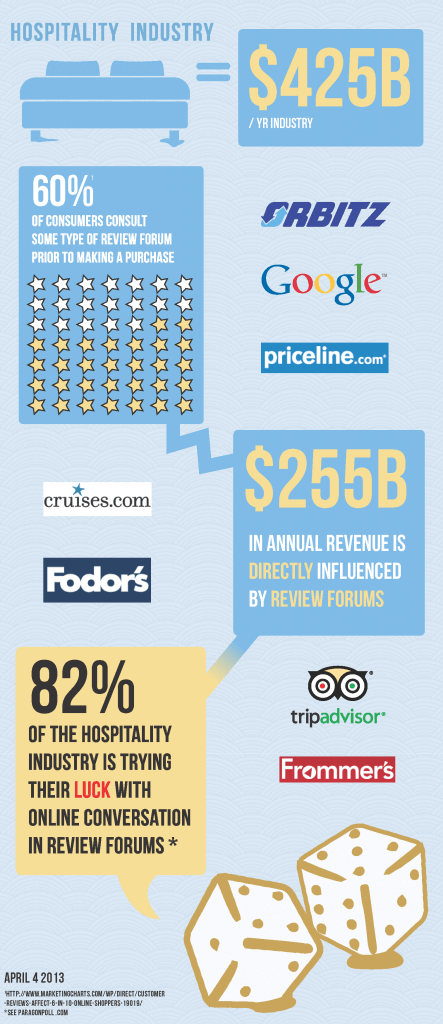 —
This post was contributed by KJ Mason. KJ is a freelance writer, blogger, social media whiz, and contributor to the Growing Social Media blog. Mason enjoys writing and blogging about news on social media platforms, current social trends, plus  technology and gadgets. He takes to being involved in communities across social media and finding new blog circles.