How can you target your advertising to people who have visited your website but left without booking? Remarketing is the latest online marketing buzzword that addresses this goal. For marketers of hotels, tours, and travel services, it is an effective way to get a second chance to convert valuable traffic.
Travel remarketing can be applied to text and banner ads as well as email campaigns and social media sites. Regardless of medium, it is the redisplay of your marketing message to warm leads after they have left your website. When you cannot convince a travel consumer to book right away, leverage online marketing techniques to remind them to look and book at a later date.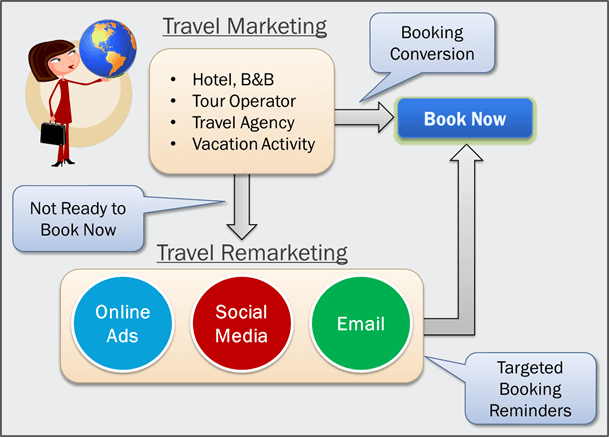 Should Travel Marketers Do Remarketing With Google AdWords?
The first place travel marketers may choose to add remarketing is via Google AdWords. The remarketing (sometimes called retargeting) feature allows you to configure campaigns to automatically re-display your ads according to defined rules. Of course the more time your ads are displayed and clicked, the more it costs. The expectation is that visitors who were browsing your travel site have shown some interest; therefore they are more likely to be receptive to your now familiar ad.
In practice, it requires thoughtful configuration and testing to get results. For example, you must determine how to identity those people that have shown enough interest based on their browsing behavior. Are you prepared to pay-per-click for repeat traffic with the hope that visitors to your site are more likely to book travel the next time? Also keep in mind that you must be targeting the Google Display Network to deploy this type of travel remarketing.
Can Travel Remarketing be done on Social Media Networks?
Employing social media sharing for indirect remarketing is another approach. If your travel agency or tour information website publishes useful destination content, you likely already include a variety of share-type buttons. When clicked these widgets offer a plethora of icons to instantly share trip ideas on Facebook, Pinterest, Twitter, and too many others to mention in this article.
Since your travel content will be shared publicly, it can be seen again by your target and also by friends and social media connections of your target.  Social sharing is also sticky since it remains visible on those social streams now and in the future. By reproducing your content and booking links on social media networks, you are in fact remarketing to a wider audience.
What is Travel Remarketing With Email Booking Reminders?
The third way to add remarketing to your travel website is via email. When a visitor is interested in your travel products but not ready to make a booking, offer to remind them to return via a one-time personal email message. The advantages of offering an email reminder are clear. First it is an automated way for your visitors to remember to come back and continue planning their trip. At the same time it gives your travel business an opportunity to retarget warm leads to encourage more bookings.
Adding email remarketing to your travel site can be done in one of several ways. Choose the option that works best based on your booking conversion process, website platform, and level of technical expertise. Regardless of technology, the email opt-in option should appear on those pages where visitors have to make a decision to book or browse elsewhere.  For example on your tour itinerary page, your hotel rates page, or next to an offer for a holiday package. These pages will commonly be listed as exit pages in your Google Analytics reports.
1. Contact Form
A simple email contact form is an easy option if you are comfortable coding html on your site. On those pages that describe your travel products and have a booking call-to-action, add a small html form. It can appear at the bottom of the page or in the sidebar.  Keep it simple by only including an email address textbox and submit button.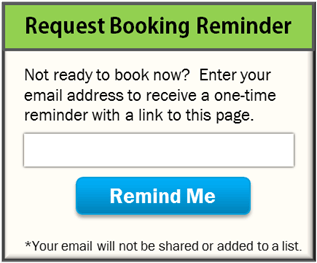 To make the form function, code in a server side method that accepts the posted information and sends out a pre-formatted email message.  Alternatively you can make use of off-the shelf components. Have the form submit the contents to an internal email address. Next configure an auto-responder to email the visitor with your remarketing message and clickable link to book later.
2. Email List Sign-up Form
For those who already offer an email newsletter, you can leverage that technology to engage in travel remarketing. Set up a remarketing list at your email service provider that only requires the email address field. Add the link or sign-up form widget to your site as before.  When visitors "sign-up" for the travel remarketing list, it automatically sends out your reminder message which includes a link to return and resume booking later.
To prevent abuse, delete all subscribers on a regular basis and make sure to never to send subsequent email to this one-time only list.  This option also requires that you are able to create an email list that does not require double opt-in as that would trigger a second unwanted message.
3. Remarketing Technology
Deploying a pre-built remarketing widget to your travel website is the most effective and powerful option since it is designed for conversion optimization.  Many major marketing automation systems offer remarketing tools, however they can be very expensive and are not optimized for hotels, tour operators, and sellers of travel services.
The Book Later Button is a simple and low-cost option for getting more bookings later.  The widget is placed near the "Book Now" button to capture visitors that are not ready to book right away.  The travel remarketing dashboard allows you to customize the button, configure remarketing settings, edit the reminder email reminder text, and track the results.
Summary
Instead of telling your visitors to "Book Now" or else, leverage remarketing to capture warm leads and get a chance to convert the undecided. Using Google AdWords remarketing is a first step since it can likely be done without any changes to your website. Offering social media sharing widgets is worth doing since it costs nothing and many visitors prefer to share with friends and social connections. Employing email remarketing technology is effective because email is still the highest converting marketing channel for travel.
Consider deploying all three travel remarketing techniques to get your message repeated on search, social, and email. Booking travel is oftentimes a major decision for consumers. Re-marketing is an essential way to sell your hotel, tour, travel agency, or vacation activity after visitors leave your site.
About the Author
This post was contributed by Scott Petoff. Scott shares his passion for optimizing the online booking experience on the BookingCounts.com blog. Published for the independent hotel, B&B, tour operator, travel agency, and vacation activity site, it offers website self-help advice to get more bookings. As founder of this travel software business, he led the development of the Book Later Button (widget + app) for email remarketing.