Contemporary hotel guests are a lot different from guests of a few decades ago. Nowadays, guests who travel abroad don't expect their chosen hotels to offer them just comfortable rooms, sitting areas where they can chat or browse the web, pools where they can relax, or restaurants where they can eat while having a drink.
They also expect to be entertained and offered numerous other opportunities for activities that will make their stay more exciting.
Hotels that understand modern guests thus often provide various brochures for different activities – some of which they carry out by themselves while others are offered through outsourced partners.
A still common problem is that these activities brochures are often available only in the hotel's native language (and sometimes in English as an additional language if the native language is different).
Therefore, this sometimes prevent foreign guests from taking advantage of special services such as going to a sauna, renting a bicycle, taking a guided tour or playing tennis in a nearby tennis court.
Although finding options online is common, it may be the case that leisure travelers are hoping to not be glued to their technology while they're away, so subsequently offering brochures with information can be universally appealing.
Here are three key reasons why hotels should translate printed activities brochures.
To increase foreign guests' satisfaction and sense of excitement
Many who travel abroad do so with the hopes of experiencing as much of the destination as possible. Foreign guests have travelled far to stay at a certain hotel and have probably spent a reasonable amount of money for their trip, so they hope to be pampered.
Unfortunately, they often can't understand the offered activities brochures properly, therefore feeling lost and, in the end, also dissatisfied at what the hotel has to offer as they are very likely to skip those additional activities and seek excitement elsewhere.
While finding information online is one option, hotels that offer activities brochures in various languages have a much greater chance to fully satisfy their foreign guests' needs and give their stay at the hotel an additional sense of excitement.
And, an excited guest is not only a guest that is likely to return to the hotel; an excited guest is also a guest that will recommend the hotel to others when sharing about it via social media.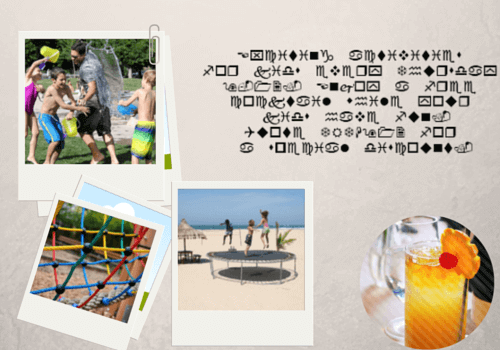 In this brochure, you may get an idea that they offer some sort of activities and there are some cocktails involved, but do you know when, where or how much? No. Which means you may miss a great opportunity to unwind and relax.
The text says: "Exciting activities for kids every Thursday 9-12. Enjoy a free cocktail while your kids have fun. Quote TRTH912 for a special discount." If it'd been translated, guests would know exactly what was being offered.
To increase revenue
Simple, right? Certainly! But the increase of revenue can be quite substantial if hotels broaden their customer base by providing activity brochures that foreign guests can also understand.
Additional activities for guests bring in a lot of additional money, especially from foreign guests who want to experience all that can be experienced and are willing to pay for it, too.
In case of brochures that offer activities provided by the hotel itself, the logic is pretty straightforward. The hotel has to make a small starting investment to translate those brochures into various languages, thus increasing the possibility of guests using these additional services and bringing in additional revenue.
But often, even translating brochures that are advertising outsourced partners brings in a lot of additional revenue. If hotels cooperate with outsourced activities providers through revenue share deals or commissions for each reservation made through the hotel, the initial investment into translation soon repays itself if a hotel has enough foreign guests, and all the additional revenue is pure profit.
The choice of languages, as well as the right variant should be based on the hotel's visitors- if most of your guests are from China and Brazil, you'd want to translate them into Mandarin Chinese and Brazilian Portuguese; it does not help if you have translated them into French, German and Italian.
Sometimes you need more than translation, you should localize your materials.
Translation is a small investment compared to the potential increase in profits.  If done right, of course.
To improve relationships with the hotel's outsourced partners
How to increase revenue from deals with outsourced partners should not be the only concern of hotels.
Nowadays, considering how competitive the accommodation industry is, hotels need to fight to maintain great relationships with the best outsourced service providers who offer hotel guests additional activities that bring added value and are worth investing guests' money into.
By translating activities brochures and increasing the percentage of guests who decide to take advantage of these activities, hotels can create stable and profitable deals with their outsourced partners who offer quality services and, going back to the pure financial aspect, this may even lead  to increased commissions or better revenue-share deals.
But don't stop there
Why have them available in printed format only? Put them online so that potential customers can find them while searching and planning for the holiday of their dreams – this may just give you an advantage over your competition.
Gamify!
Did they just   complete a tennis course or participated in 3 exciting activities you recommended? Give them a certificate or badge they can share online.
This is an ego booster and a constant reminder of their stayand they will be more likely to recommend you or return the next time they are looking for a great experience. And if the certificate or badge is in their language too, you've won their heart.
—
This post was contributed by Alina Cincan, a former teacher, translator and interpreter with over 10 years' experience, total language geek, avid reader. She is the Managing Director of Inbox Translation (UK), a provider of language services for the hospitality industry (and others). She has a soft spot for sushi, books, shoes and make-up.