Email marketing is a substantial part of marketing for hotels. It allows properties to contact past, present, or potential guests and keep them informed of offers that may be relevant.
Aside from having an email signup form on your website, social media can be an effective tool for capturing your social-savvy audience.
Here are four ways to use social media to grow your email database.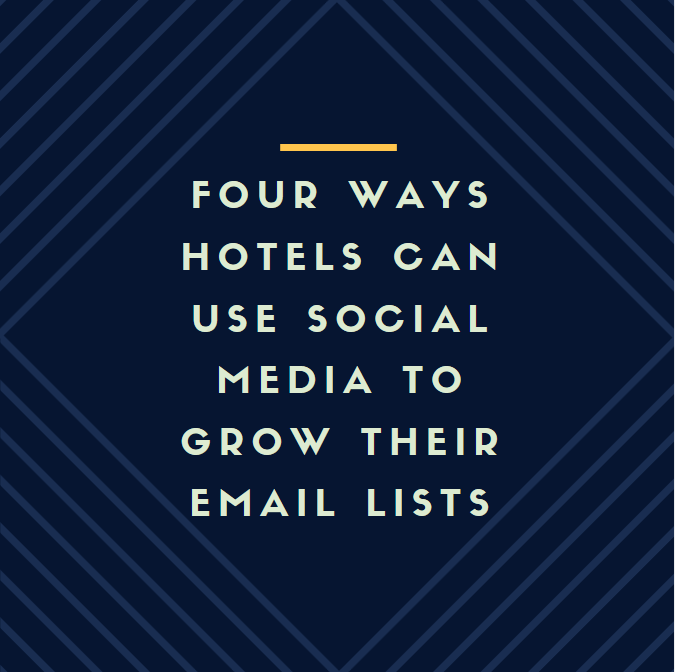 Create Enticing Social Media Contests
Social media contests are probably the easiest way to capture email addresses.
When executing a campaign on any social network, always make submitting an email address mandatory.
Granted, it's important to receive consent from a user to opt-in to receiving your emails, but if you make that step part of the barrier to entry, the process becomes effortless.
For example, Starwood Hotels Hawaii executed a "Share Your Aloha" contest last fall that was promoted primarily via social media.

Entrants were asked to share their own unique interpretation of aloha or any special memories of their experience in Hawaii in addition to providing their name and email address.
This allowed Starwood to be able to capture contact information from interested travelers while offering those travelers an enticing incentive to provide it.
Add a Facebook Call-to-Action
Facebook business pages have a "Call to Action" button next to the "Like" button and (since it's one of the few free features available on Facebook) it's wise to take advantage of it!
Designed to bring a business' most important objective to the forefront of its Facebook presence, call-to-action buttons link to any destination on or off Facebook that aligns with a business's goals.
There are various CTAs available such as "Contact Us," "Book Now," and "Sign Up."
Most hotels and resorts opt to use the "Book Now" button for obvious reasons.
However, if there is a specific, current need to grow your email database, it could be a good idea to experiment with adjusting the button to "Sign Up" to attract email signups.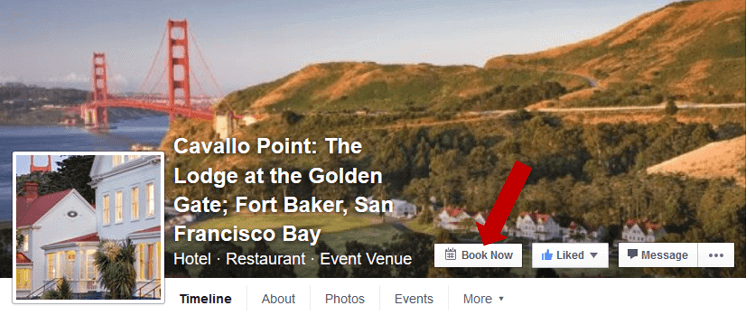 The great thing about Facebook is that they provide an array of valuable insights to make it easy to monitor and track how many people are clicking on the button.
Plus, the button can be promoted similar to a Facebook ad or boosted post, so if you're trying to grow the audience for a particular segment, you can target the email signup campaign to that distinct group.
For example, you're trying to grow the database for your spa, you can target local women who are interested in massages, facials, or similar spa-related services.
If you're trying to grow your meetings and event contacts, you can target meeting planners.
Use a Signup Form
Did you know you can add a custom signup form on your Facebook page? It's relatively easy to add and set up via Facebook apps.
Facebook's default apps are categories like "Photos" and "Events." Brands also have the ability to add custom apps which can be anything they'd like.
The apps can also be organized in any order, so, depending on how many you have, you can make the eclub signup prominent among your top four page links, otherwise it'd be findable under the "More" menu on the right.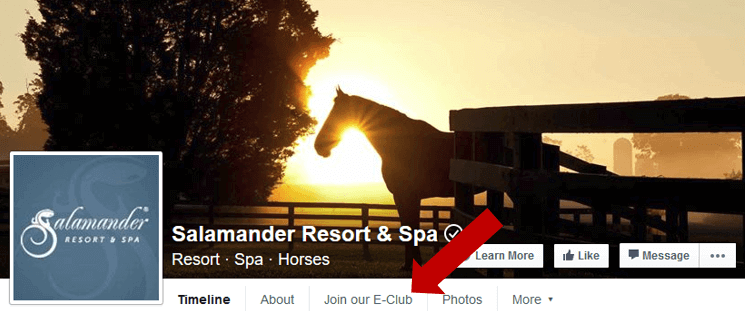 Adding an email signup form directly to Facebook makes it easy for Facebook fans to sign up for your email list without having to leave the social network.
The form can seamlessly be branded, too.
Many email distribution platforms like Constant Contact, Mail Chimp, iContact, etc., will provide the code to you to simply drop into the Facebook app you create.
Or, if you worth with an agency, they can provide the embed code as well.
Twitter Lead Generation Cards
Now that we've covered some ideas for Facebook, let's shift to Twitter.
Twitter's Lead Generation Cards are essentially promoted tweets that allow businesses to capture a name, Twitter handle, and the email address associated with a Twitter account for those who opt in.
Using Twitter Lead Generation Cards makes it easy for people to express interest in your hotel or restaurant without having to fill out a form or leave Twitter.
With a few clicks, users can share their contact information.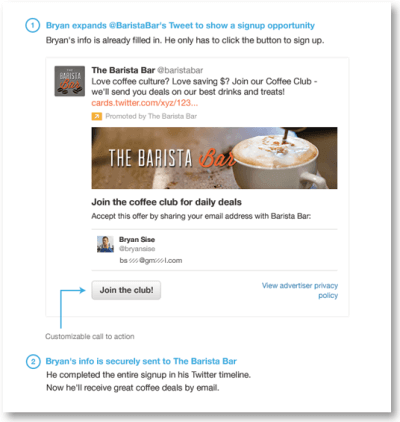 Granted, this option is potentially more expensive than others, but if your Twitter audience is active and well suited, the ROI may be worth it.
Tapping into your social media-active audience has an array of benefits, so utilizing these strategies to attract these users is an effective way to grow your email list as well as future business.
Have any additional tips you've successfully used in the past? Share them in the comments.