There are many challenges in hospitality marketing. In the era of rapid tech advances and ever-so-demanding travelers, it's even more difficult to know how to use social media in the best way.
However, there are some social media strategies that can maximize customer outreach for your hotel or restaurant.
For example, launching a profile on Facebook, Twitter, or Pinterest is free, and has the potential of reaching millions of prospects… emphasis on potential – but it's how you use it that matters.
Here are six tips on how to use social media in an effective way.
Create Visual portfolios on Instagram and Pinterest
When creating your portfolio on Instagram, think in terms of a style that will set you apart. Choose photos that will effectively show the basic details of what you offer. The quality of the images you present to audiences is crucial, but feel free to add amusing captions or brief but intriguing stories as well, as these are what engage people to interact with you.
Pinterest is ideal for sharing more details on what takes place at your business, such as delectable chef creations and smiling, attentive staff. One example of a brand doing it right is Four Seasons Hotels and Resorts. Their Pinterest presence is not meant to generate quick sales, but define who they are as a brand in a way that inspires viewers.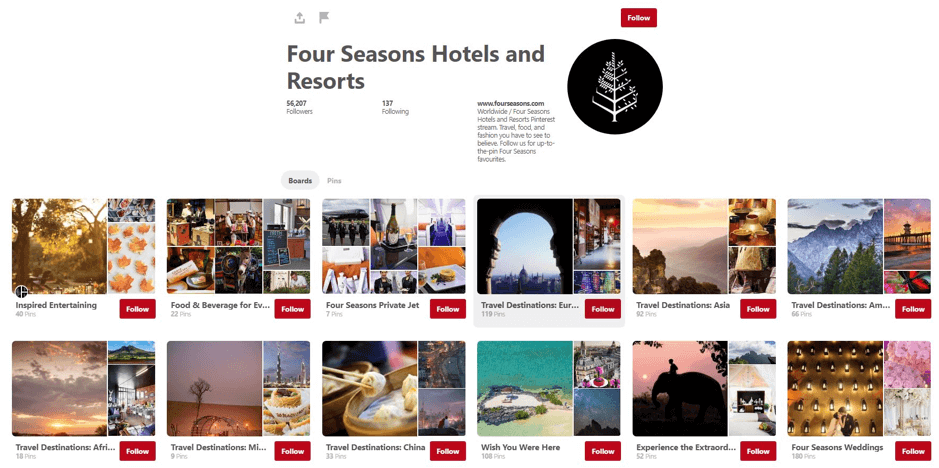 Photo Credit: Four Seasons Hotels and Resorts Pinterest profile
Provide Customer Service
Superior service is also a strong marketing point that can be exercised over social media. It's about providing the answers people want.
Twitter is a convenient platform for answering questions and responding to complaints. Customers expect their issues to be resolved promptly, so it's critical that the solutions you provide are quick and effective.
A single Tweet can be re-tweeted thousands of times, so what really matters is that you respond ASAP. Make amends, explain your position, or simply apologize, but customer issues should not be ignored.
People may abandon a company based solely on the quality of the service they receive. Successful companies know how to make social media part of that service. Learning how to deal with the good and the bad on social media inevitably enhances your brand.
Gain Attention with Video
Using video to communicate your story can be much more effective than plain text. Some suggest that information presented in a visual format stays in the mind longer than text. The result? Consumers who don't need your services now will retain a positive association and may seek you out later.
If finances are not an issue, by all means, go for a lavish production if that is what you want. You may have seen the Shangri-La Hotels and Resorts "It's in our nature" ads. These express a philosophy of welcoming customers like family, helping to make them a global leader in the luxury hotel business.
However, doing wonders with humble amounts is also very much possible if you have a good idea. As far as video quality is concerned – think about it – even some smartphones around today take better footage than video cameras of a generation ago. You could also have your employees or customers contribute, hold a contest to find the best video or combine everyone's perspectives of your business.
It doesn't have to be self-promoting content or even literal as long as it helps viewers engage with your brand.
Make Booking as Easy as Possible
Provide users the easy booking experience they want, without surprises or complex interfaces. Users who encounter problems may feel discouraged and abandon the effort.
In the hospitality industry, the user experience begins with the booking process. The simplest way to get someone started is to place a big, bright button on your Facebook page below your cover image where visitors can't miss it.
To provide a pleasant user experience, the booking process should be as fast and seamless as possible, not weighed down with slow page loads or long forms to fill out. Be sure to test the process thoroughly to eliminate glitches.
Use Blogging to Add Value
Start a blog on your site. It's a great place to consistently add new content. It provides a wealth of information to your users, and you can easily link to it from your social media accounts. You could also promote it by partnering with other industry sites.
Write about upcoming promotions or events, local landmarks, or the unique inspiration for your menu. You can provide dining and travel tips, or get your employees to add their own insights.
There are different options for producing blog articles, too. If you don't have bandwidth on staff, you can explore unique angles like hiring a civilian to be your blogger in residence.
Use world-of-mouth to let people know you're open to submissions. This includes your own employees. Ask them to write about community traditions and your brand's principles. It could be beneficial to highlight a variety of perspectives.
Another option is to find professional writers that work remotely. Discussing topics and seeing work on your blog will be a satisfying experience for aspiring writers.
Leverage Social Proof
The value of online reviews can't be over-stressed. Another user's recommendation may be the factor that convinces visitors to book a room or attend an event. These testimonials, or social proof, are referenced by almost 98 percent of customers making travel plans.
As an example of the power of online reviews, one experimenter created a fictitious London restaurant on TripAdvisor and began supplying his own positive feedback. In six months, the non-existent "Shed" reached TripAdvisor's number one ranking spot.
Even negative reviews can be turned into advantage. In fact, the more scathing the review, the more opportunity you have to defuse it, and entertain followers, by making a humorous response.
In Conclusion
Social media is invaluable for promotion within the hospitality industry. Utilize striking images, useful information, and positive reviews to draw visitors. If you back these up with a good customer experience, you'll find your following growing steadily. So, what are you waiting for?
Author Bio: Jasmine Williams covers the good and the bad of today's business and marketing. When she's not being all serious and busy, she's usually hunched over a book or dancing in the kitchen, trying hard to maintain rhythm, and delivering some fine cooking (her family says so).