A journey of a thousand miles begins with a single step. In this case, that crucial single step is your website.
There's no better way to showcase your hotel and its amenities than with a well-designed, informative website with a seamless and frictionless checkout process.
A research study shows the shopping cart abandonment rate is extremely high in the travel industry. 81% of shoppers bounce without completing their bookings.
Polish your website and zero in on UX to attract potential guests and encourage them to book a room.
How to Improve UX
Your website is a make-it-or-break-it factor when it comes to conversions.
Pay attention to these factors:
Mobile optimization. More than 52% of people use their smartphones and tablets to browse the internet. Plus, 49% of direct online bookings are made on mobile devices. It's critical to optimize your hotel for mobile, make sure it loads quickly, and prevent potential glitches and bugs.
Stunning visuals. The effectiveness of any website relies on its visual appeal, and more so for hotel websites. High-quality pictures are a must. Present your property in the best light, but don't get carried away. Doctored photos lead to disappointment and distrust. Similarly, one minute of video is said to be worth 1.8 million words which makes it effective to entice your visitors to explore your website further and convert. 84% of people decide to purchase after watching a video.
Site usability. Your website should contain all the relevant information about your hotel. To highlight your offers, opt for a clean, decluttered layout. This allows you to accentuate the important facts. Also, navigation should be simple and intuitive so your visitors can easily browse and find what they're looking for. Come up with a catchy USP and make your CTA stand out from the rest of the page. Functionalities like the price comparison option, additional details about rooms, or special deals can speed up your visitors' decision-making process.
Chatbots. These smart algorithms are now popular because they are available 24/7. They can thus answer your prospects' questions and help them find the information right away at any hour. Chatbots are online concierges that can provide hyper-personalized recommendations based on guests' previous behavior. They also simplify the booking process. These are all essential for building loyalty.
Social proof. Top off your persuasive copy and appealing visuals with customer testimonials and recommendations. Feedback from customers is 12 times more trustworthy than descriptions provided by hotels. Your happy customers are your best PR! Include their reviews on your website and eliminate buyer's remorse.
There are many details to consider when you create and optimize an effective, high-converting hotel website. If you need help, contact a seasoned web designer who knows how to attract and keep potential guests.
Here are some examples of great hotel websites:
1. Casa Angelina, the Amalfi Coast, Italy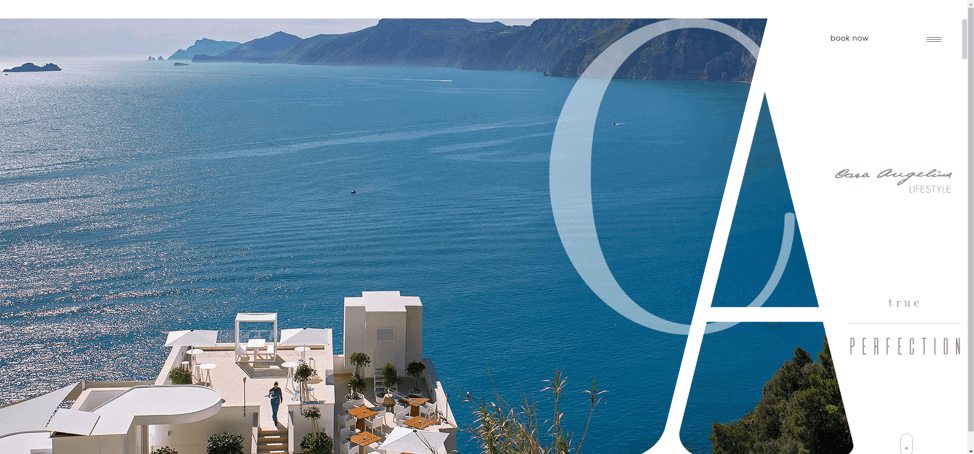 Sleek and elegant, this website features attention-grabbing imagery, simple but immersive animations, and intuitive navigation.
The images and uncluttered design with a lot of white space perfectly paint the picture of a serene cliff-top property. It also contributes to creating an overall superb customer experience.
The images convey minimalism. The unobtrusive, clear, and legible typography, the hamburger menu, and the Parallax effect drives visitors' attention toward the important sections of the website.
The whole process for a guest to explore the site and make reservations is completely effortless. Guests are ushered into the hotel's relaxed, "dolce vita" atmosphere.
2. Harbor Suites, Piraeus, Greece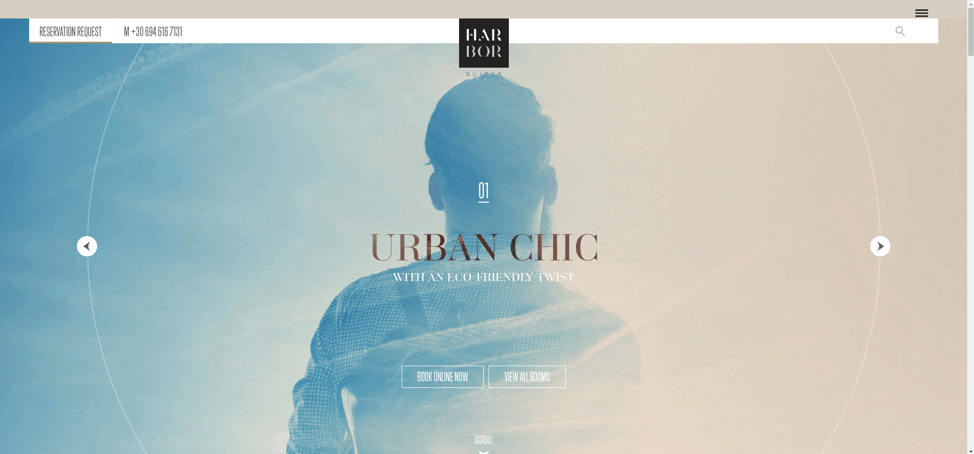 This interesting website features an enticing hero image. It drags visitors into the sunbathed comfort of the coastal residence it showcases.
It's optimized for mobile and keeps the CTA on visitors' radar all the time. A visible navigation menu allows guests to find their way around and explore the website easily and conveniently.
Visitors can get the feel of this eco-friendly, urban-chic inspired retreat, right away. It's easy to understand what to expect when they click the "book now" button.
3. Dedeman Hotels & Resorts International, Istanbul, Turkey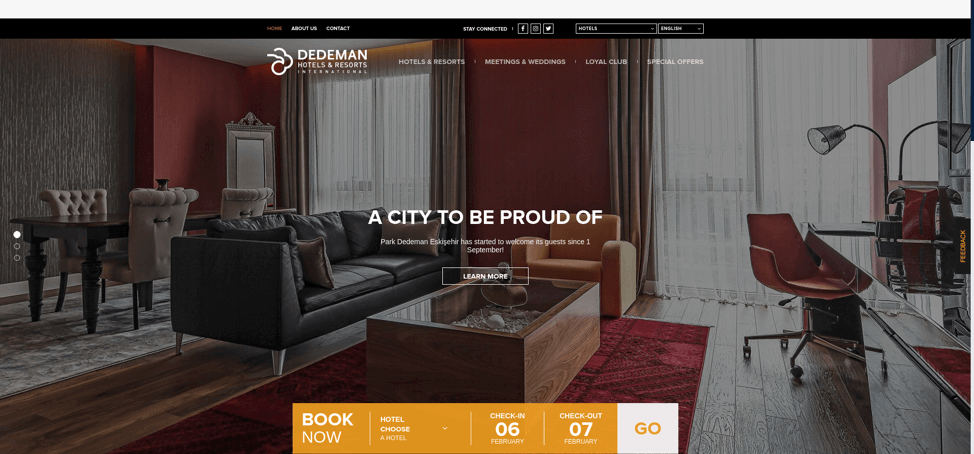 The above-the-fold section of this website is reserved for high-resolution images. Many depict Instanbul's skyline and the extravagant establishment's lavish hotel rooms.
Darker tones put an air of mystery which is characteristic of oriental destinations. These tones also highlight the luxury and grandeur of the whole experience. In contrast, brightly-colored call-to-actions stand out, captures visitors' attention, and prompts them to convert.
4. Turneffe Island Resort, Belize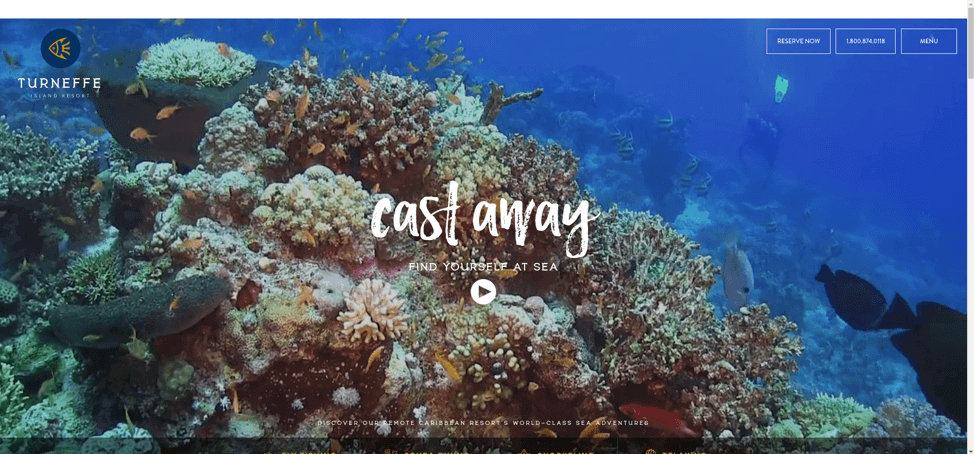 "Find yourself at sea" reads the tagline on the home page. It immediately lures visitors to imagine how wonderful it would be to take a dip in those sparkling, turquoise waters shown in the video.
There's very little text as the strong visuals say pretty much everything that travelers need to know – this private island is a fishing, snorkeling, and sunbathing paradise.
All the necessary information about the island life, temperature, flight schedules, plus numerous amenities and attractions can be found below the fold.
A transparent but clearly visible CTA, placed at the top-right corner of the page, is repeated two more times with slightly different copy – "dive in" and "go fish" to appeal to the visitors interested in these activities.
Don't go over-the-top when it comes to visuals or bombard your potential guests with tons of information. You can usually achieve more with a minimalistic but smart website design. These examples prove this point. Take a cue from them to significantly increase your conversion rates.
Author Bio: Nina Ritz is a technical researcher & writer with DesignRush, a B2B marketplace connecting brands with agencies. She loves to share her experiences and meaningful content to educate and inspire people. In her free time, she likes to do yoga and ride bikes.