Coronavirus forced everyone to re-adjust their marketing strategies for 2020. If you're still able to acquire prospects, even amidst the COVID crisis, you're lucky. Hundreds of thousands of people lost their jobs, and many businesses closed for good.
Different industries have been affected in different ways. The hospitality industry was hit incredibly hard, yet there were still a lot of positive stories of hospitality during the pandemic. For those industries that remained open, many adjustments had to be made.
Marketing during Coronavirus is tricky, and everyone is struggling to find the right balance. To help you stay afloat, here are a few clever, practical digital marketing strategies to help now and later.
1. Build Relevant Campaigns 
Campaigns you planned earlier in the year may no longer fit. Sadly, you have to to figure out a way to make them relevant to the coronavirus crisis, or start over. 
Otherwise, you risk losing the attention of your followers and clients. The pandemic also works as clickbait. Even if articles aren't validated, people will still click on them. Therefore, your content should address the problem without misleading. If you're struggling to build a COVID-centered content, here are a few ways to do it:
If your business offers services, provide how-to videos, tips, content regarding the situation, best home-office practices to boost productivity, how to keep the team connected together, etc.
In terms of retail businesses, many clothing brands changed their strategy to offer a gift "a free mask" with purchase. It's not a lot, but it shows some support. Also, there was a period when masks were literally sold out. So, that was definitely good motivation to make people convert. Also, if it works for your brand, prioritize elements that can be used at home.
2. Pausing or Postponing New Projects
Whether it's an entirely new project or campaign, consider the pausing it. If the concept doesn't revolve around the crisis, it might be less effective if executed right now. People's lives were drastically changed when the virus started spreading across continents, countries, and cities. 
People cut back on spending money on things they don't need. This is specifically true for luxury goods and services. While examining your present marketing strategies, you may spot something with potential. When you do, grasp the moment, and prioritize or pivot it.
In these days of uncertainty, it's important to remain calm when getting your message across. When you're a brand with a ton of followers, be careful. Of course, everyone is worried to some extent, but spreading panic will not help anything. Nor will it provide jobs and income for families and businesses that are struggling the most. 
Also, show people that you care about them, that they matter, and that they are not alone. One of the first principles in marketing is that we always choose to work with people we know, like, and trust. We also buy from brands that inspire us. Be one of those brands!
3. Prepare for the Post-Quarantine Moment
Eventually, the world will evolve to the new "normal." Of course, it might take a few months or more. Think about ways to boost your sales and acquire new customers when the pandemic is over.
On the bright side, though, you have much more time to plan or brainstorm ideas about the business, and work on new post-quarantine strategies. Prepare your business for the future and think about the content you'll need. What will your post-quarantine message sound like? You have to be impactful, sensitive, and relevant. 
Don't assume people will start buying things like crazy when the quarantine is over. They might try to go back to their normal lives, like hosting dinner parties, traveling with friends, etc.; however, many will be scared to socialize in large groups again. 
So, when preparing for the post-quarantine world, take this fear mindset into consideration. Also, be careful about how you address the pandemic. For instance, you shouldn't pandemic-related words, like COVID, virus, death, fright, etc., on social media. 
4. Mind Your Tone & Imagery On Social Media 
Visual communication has always been a powerful way to make people notice you. Therefore, your imagery and tone at this time must correspond to what's going on in the real world. For instance, it will not be okay to use images of crowds and people dancing or just being too close to one another. This also includes images of people in an office-like atmosphere or social gatherings.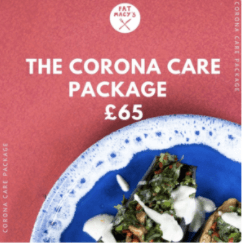 If you notice visuals that don't work in the current climate, save them for the post-quarantine period and get new ones. Furthermore, mind your marketing language when altering your present social media campaigns, blogs, emails, videos, etc. Avoid showing anything that could be categorized as "tragic" or "hateful." 
For example, if your buttons are "get in touch" or you've shared things like "work hand in hand," you should change them. Such messages, encouraging connection in some form, may seem insensitive right now.
5. Say How Your Brand Can Help During This Time
Companies are built to provide value. It doesn't matter whether you're a clothing brand or a restaurant. You can still provide value to society. Stand up for your beliefs and engage people with positivity. You've got a voice, use it for a good cause. Here are a few ways to do it: 
Always communicate your benefits.
Are you a restaurant, a coffee shop or a clothing line? Offer free lunch for people over 60+ or free hot drink until noon. You could even provide free protective clothing, such as masks and gloves. There are many ways to show some support as a brand or a company. Your customers will remember the gesture and how you reacted during these hard times. 
Share helpful content.
Even if your business doesn't directly help people fight off the illness, you can still provide useful information. For instance, educate or entertain people while they're stuck at home 24/7. But, do it intelligently. Don't speculate about the pandemic. Share real, practical tips on how to wash your hands properly, clean houses, clothes, electronic devices, etc. This will get you exposure, and it's an excellent way to attract more people who might be your new customers. 
Conclusion
The COVID crisis has drastically changed our lives. Even though it's not a pleasant time, it's an opportunity to stay positive and proactive. The transition will come sooner or later, and it's important to be ready for it.
Author Bio: Andriu Barreto is a full-stack digital marketer who is originally from Venezuela. For the past 5 years, he has freelanced on everything from PPC to copywriting to SEO. Now he writes his insights, guides, and tutorials on Internet Marketing Bro.