Email marketing is useful to connect your brand with genuine leads. It also allows you to nurture them into a conversion funnel and transform the relationship from prospects to customers.
The following is an overview of what email marketing is and how it functions as a tool for lead gen.
What is Email Marketing?
Email marketing is result-centric and effective. It involves sending emails to a mass audience, prospects, and existing clients. If done well, email marketing campaigns will convert leads into customers. It can even transform a one-time buyer into a consistent and loyal one.
Why is Email Marketing Important?
1. Email is a strong form of communication: It's a great way to communicate with people directly. 99% of people check their inboxes on a daily basis.
2. You control your list: With email marketing, no one can control your campaign or account other than you. There are many ways to build an organic email list.
3. Email is fast to convert prospects: Customers purchase products and services 138 percent more times than the ones who do not receive any email offers. Furthermore, email marketing has an ROI of 4400%.
How to Get Started with Email Marketing
Email marketing campaigns can be broken into several stages. More than 73% of millennials show interest in email as their preferred means of business communication.
Here's how to be successful with email marketing:
1. Begin with a list
Start by collecting leads and creating a list. An email list is crucial for a successful email marketing campaign. The list should have details like full name, gender, demographic location, preferences, job title, industry type, telephone number, email address, postal address, and more.  Once you build an email list, you are ready to go to the next stage.
2. Leverage an email service provider
Depending on your goals, locate an email service provider that aligns with your needs. There are many affordable options.
3. Expand your email list
To expand your email list, captivate your audience with an attractive website. Then, create compelling offers as a lead magnet.
What is The Role of a Lead Magnet in Email Marketing?
A lead magnet is a compelling and attractive offer given to the audience. If you want to expand your email list, a lead magnet works best. It's almost like a bribe; something you offer your audience in exchange for their email addresses. Generally, lead magnets are digital materials like PDFs, Videos, MP3 audios, or related materials.
A good lead magnet should be: 
Actionable: The lead magnet should provide an actionable tool, skillset, or insightful details so the audience takes an interest.
Easy to Understand: The lead magnet should be substantial and ad value.
Relevant: If your audience does not find the lead magnet giveaway relevant, it's flat. Make sure it resonates with prospects.
Instantly Available: People prefer instant offers. Once someone fills out the call-to-action form, the offers should then be offered.
What are Different Lead Magnets?
There are various types of lead magnets that can be used for email list creation. Such as:
Webinars
White papers
Case studies
EBooks
Coupons
Self-assessment surveys
Free samples
And more
This image above from OptinMonster is an exemplary example of a lead magnet. It shows how you can ask your site's visitors to provide their email addresses in exchange for a downloadable resource.
Now that you have created an expanded version of the email list, you are all set to launch an email campaign.
What are the Crucial Elements to Create an Email Marketing Campaign?
Incorporate the following email marketing campaign tips for successful campaigns:
Use a Crisp and Catchy Subject Line: Nobody opens an email if the subject line is too lengthy and tedious. Be crisp and effective in tone. Your subject line should be compelling enough for the prospect to open the email. Your subject line should not exceed 6-10 words to receive a maximum open rate. Keep it captivating and brief.
Be Customer-Centric: The most common error marketers make is they send emails that revolve around business plans and objectives. These tend to fall flat in the customer's inbox. No one wants to read about the business until it has something to offer to them, too. Therefore, keep your tone engaging enough to entice customers. Keep your customers' behavior patterns, transactional patterns, and, most importantly, the financial aspects in mind.
Opt for Personalized Emails: When possible, send personalized emails that contain the name of the recipient. Great customer experience begins by feeling seen. This usually results in higher open rates. A personalized email receives a 26 percent more open rate than a general email does.
Think about Timing: Timing plays a crucial role. A recipient can get annoyed by too many emails. Or, they may forget you if you lack consistency. Therefore, aim to be consistent and send emails at the right times. Seek an occasion to send an email with an offer. Also, choose the days of the week that receive the best engagement rate.
Know Your Goals: Lastly, know your email marketing goals. Then, work toward them. Keep your goal at the center to stay focused on it.
What are The Benefits of Email Marketing?
Email marketing benefits include increased ROI, the gradual yet consistent growth of client engagement, more effective and long term customer relationships, and spiked sales. It's also a great way to voice your brand, too.
Check out these interesting email marketing stats:
The response of Email Marketing by Industry
Every industry receives different open rates based on their email marketing campaigns.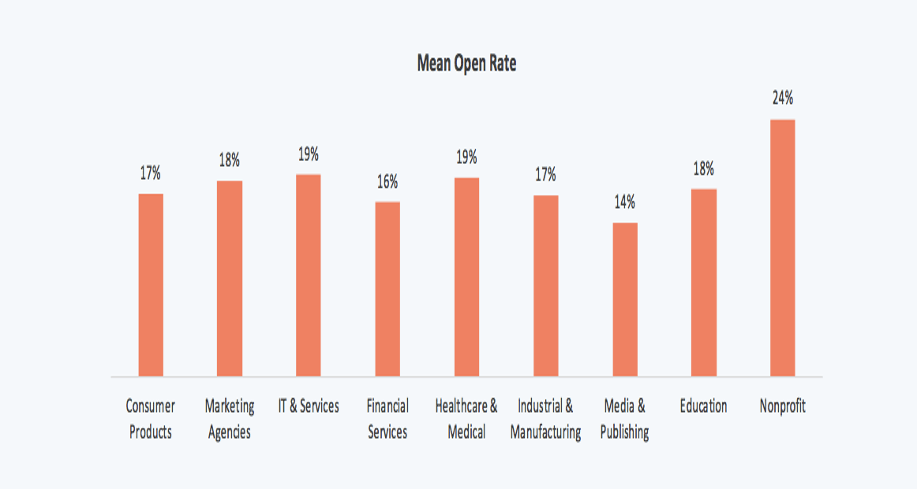 Email marketing has been beneficial for all industries. Here are some results from different market sectors:
Email Marketing For B2B (Business to Business):
In the B2B sector, 86 percent of marketers choose email communication as best suited.
More than 60 percent of marketers show belief in email marketing as it delivers enhanced ROI.
For the B2B industry, email marketing has shown a click-through rate of 47 percent  than for the B2C industry.
Email Marketing for e-commerce:
A well-segmented email list generates 58 percent of the company revenue
About 86 percent clients choose to receive emails for promotions from brands at least once a month.
Email Marketing for Real Estate:
Conclusion
Email marketing is one of the mot trusted and credible methods of marketing. To attain maximum results, you need a great strategy flawless execution. Measure your email campaign performance and KPI (key performance indicators) to access the success rate.
Author Bio: Diana Morris heads the marketing team at BizInfor, a B2B database solution firm providing various services like email appending, data appending, lead generation email lists, etc.