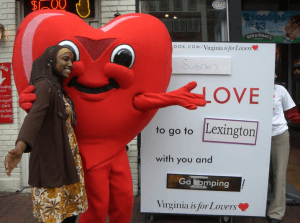 The Virginia Tourism Corporation is out to prove that love is at the heart of every Virginia vacation.
In July, they unveiled oversized LOVE artwork at several Welcome Centers across the state. Then, the local tourism offices jumped into the fun with the Virginia Tourism "Bring LOVE to Your Town" event.
Earlier this month, 21 localities vied for the chance to have LOVE on display in September. Each one nominated a local park or destination to display the LOVE, in hopes of turning the area into a viral tourism sensation through social media.
The contendors included:
Abingdon – Barter Theatre Green
Alleghany Highlands – Humpback Bridge
Bedford – Bedford Area Welcome Center
Chesapeake – Great Bridge Lock Park
Fauquier County – Barrel Oak Winery
Franklin – EVB Bank
Fredericksburg – Riverfront Park
Gloucester – Gloucester County Visitor Center
Kilmarnock – Kilmarnock Town Centre
Lexington – First Catch Market
Lynchburg – Blackwater Creek Trail
Mathews County – Mathews Court Green
Newport News – Visitor Center
Norfolk – Visitor Information Center
Rappahannock County -Visitors Center
Roanoke – Gateway to Downtown Roanoke
Smithfield – Windsor Castle Park
South Hill – in front of the train depot
Virginia Beach – Visitor Information Center
Warm Springs – in front of the Jefferson Pools and Visitor Gazebo
Waynesboro – Constitution Park
The winning location, Abingdon, was chosen by hundreds of excited Facebook fans last week.
The state tourism office will install the artwork in the city on August 31 and it will be on display through September. The LOVE artwork is approximately 16 feet wide and eight feet tall.  The artwork is part of the Virginia is for Lovers brand and the state's tourism marketing campaign which promotes Virginia as an ideal destination for families.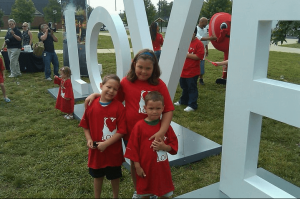 Visitors will be encouraged to take a family picture in front of the artwork and share it on the Virginia is for Lovers Facebook page or on Twitter, using the special hashtag #LOVEVA.
"Our iconic Virginia is for Lovers brand is about love – pure and simple, and has been for more than 40 years," said Alisa Bailey, president and CEO of the Virginia Tourism Corporation. "The LOVE artwork has great social media buzz and will reach out to more travelers and promote the message that love is at the heart of every Virginia vacation."
Kudos to Virginia Tourism for taking such a unique branding opportunity and tying in their Facebook fans to participate. This was a great destination marketing campaign in that it was free to implement, re-enforced the state's specific identity, educated locals and travelers alike of VA's various cities and corresponding parks, etc., and stimulated a lot of buzz online.
LOVE what you're doing, Virginia! 😉