Step inside Il Fornaio Authentic Italian Restaurants and take a culinary journey through Italy.
Early mornings bring rustic, crisp crusted bread hot from the oven accompanied by the scent of fresh brewed espresso.
During lunch and dinner hours, pastas and flavorful sauces simmer while meats and vegetables roast over hot coals.
Bottles of wine from small, regional wineries are uncorked to complement the dishes, which have been crafted in the custom of Italy's chefs, bakers and homemakers.
Founded in Italy in 1972, Il Fornaio has broadened to include 22 full-service restaurants in the US. Each serves creatively prepared, premium-quality Italian cuisine based on authentic regional Italian recipes.
Il Fornaio "Cucina Italiana e Panetteria" (restaurants and retail bakeries) provide in-house dining, as well as a retail market, offering Il Fornaio's unique baked goods, prepared foods, and a variety of Il Fornaio-brand products.
The company also operates two "Panificios" (wholesale bakeries) that produce fresh, handmade breads, pastries, and other baked goods for sale in Il Fornaio locations, as well as in high-quality grocery stores, coffee retailers, hotels, and other fine restaurants.
In conjunction with the restaurant and bakeries, Il Fornaio also operates catering facilities at such prestigious locations as The Hotel St. Claire and The Garden Court Hotel in Palo Alto.
They also have two other concepts: Canaletto is a restaurant focusing on the food and wine of the Veneto region of Italy, located in Las Vegas, NV (The Venetian Hotel) and Newport Beach, CA (Fashion Island), while Risotteria is a quick service restaurant featuring a selection of risotto, pasta, and gnocchi priced under $10 located in Seattle.
Diners of Canaletto are invited to enjoy their monthly culinary expedition through the diverse regions of Italy, sampling the various types of food found in each unique area.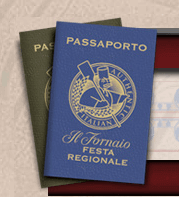 One of their Chefs, often a native of the region, crafts a menu spotlighting the authentic Italian food and wine that is typically found in that part of Italy. They refer to this as "Festa Regionale."
The Festa Regionale menu is available the first two weeks of each month. Diners who participate are eligible to receive a Passport to be stamped during each visit, and will also receive a gift. Sample all six regions and receive a hand-painted, imported ceramic plate, and one lucky completed Passport holder will receive the ultimate in authenticity: a trip to Italy!
This is an awesome marketing campaign in that it really thrives on the roots of the restaurant. Everything ties in to the concept of traveling through Italy (via the physical passport you receive), which also serves to encourage return visitors. The incentives like the custom plate also add to the allure, not to mention the ability to sample a variety of Italian fare.