Ramon DeLeon, a popular social media figure via his sweet and human approach on behalf of Dominos, checked into Walgreens yesterday.
His checkin included a note and photo relaying that with every Foursquare or Facebook places checkin, a Walgreens flu shot voucher will be donated to someone in need through their Way to Well program.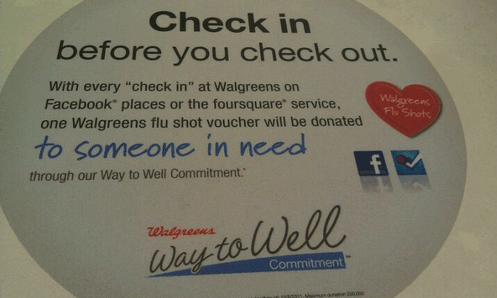 The Walgreens Way to Well Commitment is focused on improving peoples' everyday health through the prevention and early detection of today's leading diseases — heart disease, cancer and diabetes.
They're working with some of the nation's top health organizations – – American Heart Association, American Cancer Society, Susan G. Komen for the Cure, American Diabetes Association, and Juvenile Diabetes Research Foundation — to help reduce the incidences of heart disease, cancer and diabetes.
This social media initiative is an awesome way for people to help those in need with very little effort.
It also demonstrates good will from Walgreens, in addition to being a wise marketing tactic — if people are going to get a flu shot (somewhere), they may feel more inclined to go to Walgreens so that they may be able to help someone else get one as well.
Have you gotten your flu shot yet?