Column Five Media, an infographic design and marketing agency, put together a project to allow people to share the love for two important staples at their company: caffeine consumption and data visualization.
As someone also in the digital marketing space, I think it's pretty safe to say these two loves are shared by many!
Column Five is releasing 500 prints of an interactive coffee poster, which provides a canvas to track the data of your caffeine consumption over the course of a month.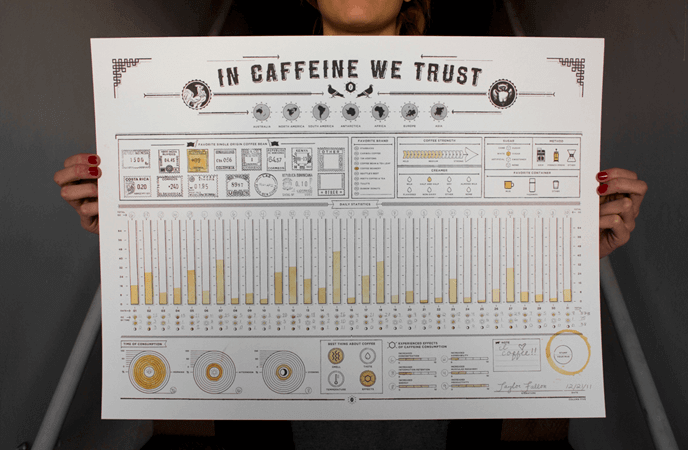 Included is a set of instructions which outline a few calculations to analyze personal consumption trends. Once monthly tracking is complete, the drinker can use their coffee (or a stronger version thereof) to 'paint' their data onto the poster to complete the visualization.
The poster is offset printed on 18×24 Strathmore 140 lb. acid-free heavy weight cold press watercolor paper with black ink. While it's been geared toward their clients so far, the 500 limited prints are available for purchase ($29.95).
Column Five's ultimate goal is "to create beautifully designed pieces of data visualization that can be enjoyed in many different mediums: whether print, online, or a personal poster." They also wanted to create something with which users could interact and have a personalized experience.
Would you be interested in literally being able to visualize your habits?