Pinterest is emerging as a platform to watch as more and more coverage pertaining Pinterest for Business circulates the web.
My first thought upon learning about businesses trying Pinterest was that it's a perfect platform for travel marketing since there are so many components people consider when planning a vacation.
A few brands have begun testing the waters and seem to be doing well, setting excellent examples for other organizations that may be curious.
One stand-out is Visit Savannah, Savannah's destination marketing organization (DMO) that is responsible for marketing the Savannah area for leisure tourism, meetings and conventions. They began using Pinterest in November as an experiment, and, in just two months, have attracted more than 11,500 followers.
The DMO has a variety of boards, including staples like hotels, dining, beautiful architecture and shopping, along with other themes like "haunted Savannah," "let your hair down" (featuring  nightlife spots and libations), "Southernisms" plus one dedicated to St. Patrick's Day, a major happening that includes an annual parade and various other major local festivities.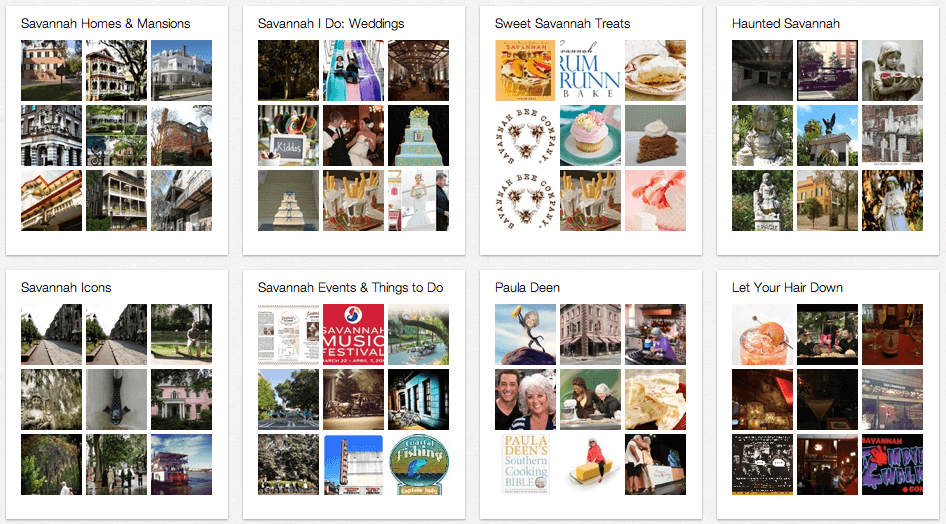 By including this variety of visual content, Visit Savannah is allowing people to literally visualize various elements of the city and what may be of their vacation. The appearance of pinboards is bright and cheery, and resonates positive vibes simply by glancing at them, which is something from which any business can benefit.
While you may be thinking that an organization like this, one wide in scope with many angles to address, has an easier job creating and populating boards than a smaller organization or business might, please reconsider. This is an opportunity to get creative. A "bigger" entity may have lot of "smaller" topics to cover (like Savannah does), but, it can easily go the other way, too — i.e. "smaller" players can just as easily create boards for "bigger" aspects…
For example, Pacific Fins Resort & Marina (a single resort) in Guatemala is a much smaller entity than an entire destination such as Savannah. Nevertheless, they've begun creating pinboards for the larger topics (Guatemala, fishing, etc.) related to what they provide; things that would also be relevant to someone considering visiting their resort.
The same can be applied to other hotels, restaurants, spas, entertainment venues and more. There are many associations to any business, big or small, that can be leveraged to appeal to your (new and/or expanding) Pinterest audience. Think about who you are trying to attract and what kinds of topics are related to you that they may enjoy, then brainstorm and compose your boards from those ideas.
What topics will you have on your pinboards?