Social media is a great way to get people to visit your website. From there, the goal is to turn them into customers. Today, many will purchase a product after a recommendation from a social media influencer.
There's a huge opportunity to draw huge amounts of visitors to your website from social media. But you can't just get them to your website. You also need to hook them so they'll come back and buy your products or services.
From delivering on promises to using analytics to give your visitors what they want, here are tips on how to get your social media visitors hooked on your website.
Deliver on promises
A basic principle of marketing is you need to deliver on your promises. If you don't, people will notice. Then they may tell their peers your business isn't trustworthy. Set your site up as a reliable source of content. Your users will then trust your brand to deliver what they expect when they read from your social media channels.
Sometimes a headline will promise one thing, but then force the user to click through what seems like a never-ending series of pages to get there. Make sure the content on your website meets the expectations. It should align succinctly with your social media positioning.
Give your site visitors scannable information
People consume different content in different ways. They also have varied expectations of how content looks. Some prefer a lot of text. Some prefer their web content to feature UX elements that break up the copy. Most like social media content to be scannable.
Your visitors find a snippet of your content via their social media channels then visit your website to get the full picture. Give them content that's scannable so you can grab their attention, keep it, and hook them.
The scannable information on your social media channels is simple. If you're sharing a blog post, for example, post a catchy headline and crisp summary of what the article is about. This is the principle you should follow with your website. Top-load your content so visitors get valuable information as soon as they read it.
There are additional features you can include on your web pages, too:
Bullet points: these give your users an easy way to digest the highlights of the page and see what its unique selling points are
Call to actions: these make people stay on your website by clicking through to another web page
This example from Ecommerce Platforms is a good illustration: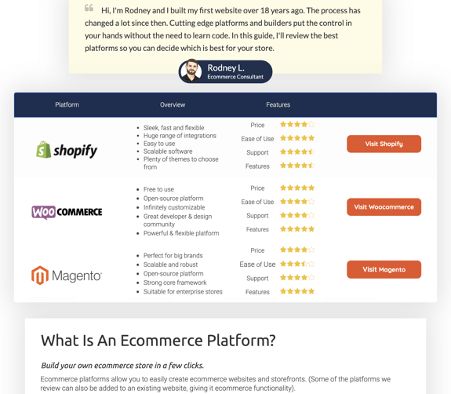 This page builds trust and authority and explains what you can expect from the content. It then gives scannable information by offering an overview and the features (including a star rating) of key ecommerce platforms, along with a quick description of what they are. This is a great resource if you're building an ecommerce site.
How you present the information on your website depends on both your users and your business. Follow these basic principles to give your visitors content that's easily scannable and UX-rich. Layouts like this hook your users and give them a reason to come back.
Use analytics to give visitors what want
Your website could deliver on its promises. It could give your visitors snackable content that looks gorgeous. But these things don't matter if it doesn't give them what they want. Namely, content that highlights their pain points and offers solutions to their problems. Analytics helps with this.
Analytics gives insight on which webpages people view and how long people spend on them. It stands to reason that if your uses aren't checking out your content and/or don't stay long, they aren't getting what they want. The reverse is also true.
Facebook and Twitter both come with built-in analytics. Here are some of the key metrics:
Facebook
Page Previews: when someone hovers over your page to preview it
Page Likes: the number of likes your Facebook page has
Post reach: people who see your posts appear in their timeline
Recommendations: the Facebook users who recommended your page
Post engagement: shares, comments, likes, and other Facebook engagements
Twitter
Tweet performance: an average of your shares, retweet, and like numbers
Audience type: the demographics of your Twitter audience
Engagement type: a range of factors, such as post replies, follows and link clicks
Brand growth: how many followers you have and how quickly your numbers increase
Hashtag figures: how the hashtags you use are performing
These metrics help you to find out what content is popular on your social media channels. This tells you what topics your users like, as you can track the content that's driving social media visitors to your website. This is a critical component if you're trying to boost brand engagement on social media. But you need to go deeper than this to get them hooked on your site.
To get valuable information on your site visitors and your site traffic, you need to pair your site with Google Analytics. This allows you to see how your users behave and how long they stay on your pages. You can then use this information to upgrade your existing pages and develop new ones that are more focused on the issues your visitors care about.
In conclusion
Deliver on your promises, provide snackable content, and use analytics to give your users what they want. These are three simple ways to keep your social media visitors hooked on your site.
However, even if you get all of these things right, there's one thing that will turn off your visitors — low-quality content. Always create high-quality content that offers real value to your site visitors.