Google+ opened up the floor brand pages today and it's great to stay ahead of the curve and get your page up and running. This new template allows for businesses, brands and places to make personalized pages as an additional platform to spread information. If nothing else, having a page is a great SEO benefit as it creates an additional space on the web that lists your information.
Filling out the profile isn't much unlike filling out a Facebook page, and all the fields are relatively straightforward.
There are a few tips to get the most out of your page and make sure people know about it and are able to find you.
As Google suggests, it's a great idea to begin cross-promoting your page amongst your other social channels. These networks are where your social-savvy audience resides, and so it's important they know that you're also now present in this new space.
Google also makes it really simple to add a widget to your website allowing your site visitors, who may not be present in other social spaces, to know you're now on G+. It's very clean and Google provides the code for you to use with your specific link. I added mine in with my Twitter one which was incredibly easy and ties right in.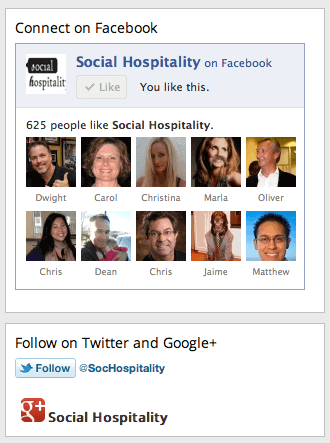 You'll also be provided the link to your page which allows for the easy cross promotion noted in step one of the above list. Keep this link handy, as you'll probably want to refer to it easily in the future without having to fuss to find it each time.
Next, build your circles! This is where the "social" aspect will tie into the Google+ experience: in order for you to follow other brand to eventually interact with them, you want to follow (or, here, "circle") them so you can keep up on what they're posting. From there, you can +1 (the G+ equivalent to "liking" something on Facebook) a post or leave a comment on it.
Create different circles for different types of profiles based on whatever niches are relevant to your brand. For example, I focus on hospitality-related content mainly so I made circles for different hospitality genres: hotels, restaurants and retail. Then, since I love keeping up with the latest news, both broad and related to technology and social media, I made corresponding circles for those as well.

This is beneficial for several reasons:
It shows support for other businesses. And if you scratch their back, when it comes time, they'll scratch yours in return. If you come across information you find useful, acknowledge that to its provider. Everyone enjoys knowing they've helped out someone else.
It spreads the word about YOUR page. I'll use Search Engine Land (SEL) as an example. Say you go and +1 SEL's post. Just as with Facebook, visitors to SEL's page will now spot your name on the post in which you +1ed or commented. You've just subtly, and inadvertently, in a way, advertised yourself, and your presence on Google+.
If shows that you're active; that you "get it." There are many companies that set up pages and then simply stream autofeeds, robot posts or traditional, spammy information solely about their brand and nothing else. This is not social marketing. Actual social media marketing practices involve being social.

Google's also just introduced a new feature called "Direct Connect" making it easy for users to locate their favorite brands on Google+.

While this is a new feature that's still limited and in the testing phases, it should really simplify things once it becomes more mainstream.
Keep in mind, too, when maintaining your Google+ profile, that you want to make your posts public. There are a lot of concerns about privacy online but the point of business pages, unlike personal ones, is that they're accessible. Since you're using it as a promotional tool, there's no reason to limit it to a narrow scope of people.
That being said, do keep me mind it may sometimes be suitable to tailor certain posts to certain audiences. Alluding to my circles above, say I've just written a new post specifically pertaining to hotels that doesn't really apply to the retail or dining audience. I can post that article specifically to my 'hotel' followers, to the specific audience it's designated for, so it's not bugging those to which that particular content may not be relevant. It's kind of a pay-it-by-ear situation depending on what your particular brand is about and how defined your following is, as to whether you should always go public vs. occasionally more centered, but just keep both sides in mind and assess which route is best on a case-by-case basis.
Is there anything else you're nervous about regarding getting started on Google+?