Pinterest launched in 2010, even though it took off the start of last year. Now, the website has over 11 million users and is still growing, with some of the most popular pin boards including holiday destinations, interiors inspiration and recipes – perfect for those in the hospitality industry. Pinterest for business us here to stay.
While businesses like fashion brands and home decor stockists do do very well on Pinterest, there's a place for those in the hotel, bed and breakfast and restaurant industry too, provided you go about it strategically.
A Picture Says a Thousand Words
Pinterest is a very visual social network. Images are the main focus, with just enough room for a clever caption and none at all for status updates and messages to friends. This makes it a fantastic tool for the hospitality sector where beautiful, high quality images of premises, food and surroundings are rife.If you're still uploading lower quality pictures, the best thing to do is invest in a good camera. It doesn't even have to be an SLR as compact digital cameras are being increasingly manufactured to produce better quality images for less. You'd be surprised by the difference a professional looking photograph can make to a potential customer.
Pinterest users love sharing images that capture not just their eye but their imagination, and are the ones most likely to be shared by their own followers too, therefore being passed on to a much wider audience and increasing the original pinner's visibility.
Variety is the Spice of Life
Although Pinterest does differ from other social networks in a few ways, the key best practices of not being too salesy. To succeed on Pinterest, mix up your content to cater to different tastes. Visit Savannah does this well.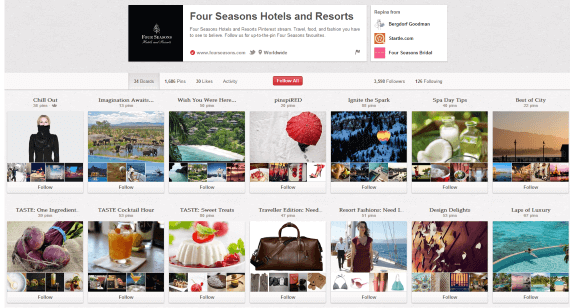 For a decent variety, for each board you create to showcase your business, create another that showcases inspiration for the same subject. For example, when creating a board full of images of your beautiful rooms start an additional one named something like 'Hotel room inspiration.' The same goes for things like the food you cook and recipe inspiration, and your business' location or what to do there and your own dream holiday destinations.
You could even create a board that reveals what goes on behind the scenes at your establishment and is full of images of your chefs hard at work, your guests enjoying a mouth-watering breakfast or even a few snaps from a staff day out.
One of the most effective boards to create though – provided you also function as a wedding or reception venue – is for wedding inspiration. It's one of the most popular categories on Pinterest and, if you mix in lovely pins of what you think the perfect wedding could involve with a few images of your own venue, the board is sure to capture the imagination of users and show them you'll be able to make their dream day a reality.
Another popular category is 'DIY & Crafts' which, if you approach it creatively, is a great one for users in the hospitality industry to exploit. If you're able to take advantage of the wedding theme you could repin tutorials for DIY bouquet arrangements or even create one yourself! And if not, try tutorials for making your own table arrangements, folding napkins creatively or even how to make your own face masks to leave in guests' bathrooms.
As a little extra tactic, you could also try to pin images seasonally, posting lovely shots of your Christmas lights and decorations during the festive period, pinning recipes for the perfect autumn meal and even images of spring flowers popping up around your premises. You just need to think outside the box!
Traffic Control
Pinterest is a great source of website traffic, and if you pin according to the previous guidelines and offer equally as interesting and engaging content on your website, the probability of turning that traffic into business becomes even greater.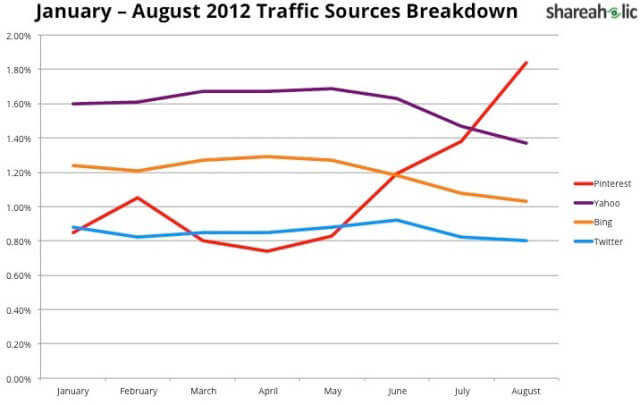 But how exactly do you get them to your site from Pinterest? Well, first you need to download the 'Pin It' button from the 'About' section of your Pinterest homepage.
Once you've done that, use it to pin (attractive and relevant) images from your website to your chosen board, and when users click that image on Pinterest they'll be taken straight to the page that you pinned it from.
Blog posts are perfect, establishing you as an industry authority and creating a sense of trust among potential customers, nurturing them towards making a booking. It's also good practice to post links, where relevant, in your image captions and profile bio to increase site awareness in a low friction way, letting users make the choice to click through when they feel like it.
Social media users also love contests, and you can really get creative when using Pinterest. Visit Santa Barbara recently ran an effective Pinterest content tying in various aspects of the city.
Sharing is Caring
For all Pinterest's subtle differences to other social networks, it's still a social network and requires you to interact with other users for it to really work. You should be liking, repinning and commenting on content regularly to raise awareness of your business and build up relationships with other users, proving to them that you aren't just about the sale; you're about the actual customer too.
Another great way to get involved is by joining community boards. These are boards that multiple users can pin to and can be identified by the little symbol of three people next to where it says '[x number] pins' on the board in question. They're also a great way to develop relationships with other users as you'll need to send a nice email or leave a comment requesting to be added, preferably telling the board's owner that you love the content that's on there.
Community boards are also a great way for hospitality businesses just starting out on Pinterest to quickly pick up followers, provided you don't spam the board with irrelevant pins and get kicked off that is!
Pinterest can be an incredibly valuable tool in your marketing efforts for your hotel, restaurant, destination or venue, if you do it right. The key thing to remember is that the businesses that succeed are those who really get involved with what's going on and use the platform as much more than just another sales pitch.
Remember: show your human side, give something back to users, don't forget to have fun and, most importantly, bear in mind the simple rules of Pinterest etiquette – be respectful, be authentic, credit your sources and run promotions in the correct manner.
Author Bio: This post was contributed by Michelle Pegg, a true social media advocate who enjoys reading and blogging about the hospitality industry, textiles and linens.