Food & Beverage is an ever-growing sector in China as the country boasts some of the world's greatest cuisine.
However, many Chinese food brands face challenges in their efforts to satisfy the population's dietary needs.
Besides the rising number of food-related scandals and growing concern over food safety, marketing is one of the industry's biggest challenges.
While many brands are stuck in the last century when it comes to marketing, industry leaders in China are using various methods and tools to build their online presence and market their foods to consumers.
Social Media Marketing
Many are using social media platforms such as WeChat, RenRen, Weibo, Youku Tudou,DianPing, DouBan to reach more customers.
Customers are interacting with various brands through these platforms, so businesses know having a commanding presence on the web and a strong social media marketing plan is key to reaching those consumers.
Many restaurants join relevant social media groups in the food sector. They become valued members by offering support and advice.
This helps to establish the brand as an expert in their field, ultimately building their reputation and increasing sales.
Others create free-to-join groups for prospects and customers to get help or support with a problem related to the foods they are selling.
Yurun, the flagship brand of Yurun Group Ltd, is one such Chinese food brand using social media sites to increase sales and boost brand awareness. They even joined LinkedIn.
Press Releases
Every time a brand does something newsworthy, such as introducing new cuisines into the market, those companies distrubute a press release to make sure target customers learn about it.
A press release is a powerful media tool for generating publicity.
There are several websites to distribute press releases such as China Newswire, Asian Press Release Distribution, China Press Release Distribution, PR Newswire Asia, and several other free press release submission sites.
Bright Food is a multinational Chinese food brand that has used various news agencies and press release sites to give information on particular matters.
For instance, the company revealed their plans to list all foreign assets in an effort to raise brand awareness overseas.
Marketing with Video
Marketing with video is also effective.
Marketing with video brings instant results because 70% of visitors will watch a website video, compared to 30% who prefer to read content on the same page.
Companies know they have plenty of information they can cover in videos.
They also make sure their videos are short and above the fold for easier viewing without having to scroll down to see it.
For instance, Smithfield which is a flagship brand of Shuanghui Group has published several videos on YouTube to show their commitment to quality and a promise of flavor.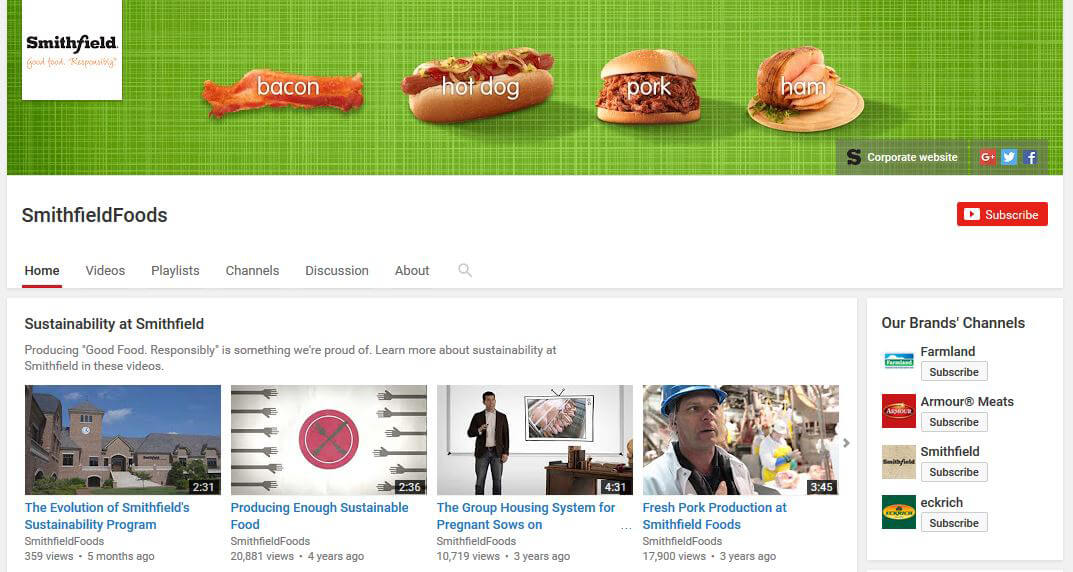 Optimize Websites for Search Engines

Search Engine Optimization (SEO) and Search Engine Optimization (SEM) cannot be underestimated in the world of regular Googling.
Chinese food brands have realized the importance of SEO and SEM and they are actively utilizing them to increase website traffic, brand awareness, and to generate leads and sales.
McCormick is one of the Chinese food brands investing in both SEO and SEM.
A quick search on Google about "top food brand in China" offers out 76,100,000 search results and McCormick ranks relatively high.
The company is ranked 689,474 globally by Alexa rank, which means it is getting good traffic.
Online Review Sites
Top Chinese food brands also know that having a strong online presence is the key to establishing and maintaining a competitive edge.
They make sure to be listed on various online review sites. This is important not just for attracting traffic and increasing sales, but for protecting their online reputations.
Many hire experts to respond to comments. If there are negative comments, those experts respond quickly to address the issues.
Some of the top three online review sites in China include Baidu Tieba, Yoka, and Kimiss. These sites have the biggest online community comprising of million daily users.
Blogging
Another way Chinese food brands market themselves is through blogging.
Opportunities like guest blogging have transformed startups and improved many businesses.
Companies contribute guest posts to well-known blogging sites as part of their online marketing strategy.
Besides guest blogging, they also partner with several complementary businesses to co-sponsor contests.
To extend the reach of their contests, they submit them to popular sweepstakes sites.
This gives them access to each others' audiences, maximizing sales.
Google Business Pages
Setting up a Google "My Business" page is another strategy Chinese food brands employ.
This listing help gets their businesses on Google Search, Google+, and Google Maps.
It also enables customers to post food reviews and ratings.
Food companies target local business reviews because these reviews help the brand to rank highly in the search results, thereby increasing sales and brand reputation.
Effective Copywriting
Coming up with effective content is probably the most important of all Internet marketing strategies.
Direct mail marketing, blogs, and video scripts all require strategic copywriting.
When they want to promote their cuisine, Chinese food brands think of a typical customer and write content as if they are talking to the reader or viewer over coffee.
Join Online Forums and Contribute
Most niches have communities online where anyone can join and get involved.
This is true with the food niche, too. Various Chinese food brands join relevant sites where they actively contribute and build a good rapport with their target customers.
That said, signing up for a forum and contributing  may not bring instant results.
Many therefore passively promote themselves by putting a link in their signature or mentioning the link only when the context is appropriate.
What other ways have Chinese food brands elevated their marketing strategies? Let us know in the comments!
Author Bio: Jennifer Brown is a certified food enthusiast and photographer from Ohio. She shares recipes and photos on her blog, I'm Addicted to Cooking.