The wedding industry is a large business driver for hotels. Using social media to leverage this opportunity is becoming incredibly common. Pinterest, specifically, has become a hub for women to map out details of their big day, so utilizing Pinterest is especially relevant. While hotels can use Pinterest in a variety of ways, it can certainly be useful to narrow in on specific initiatives as well.
For example, Four Season Hotels and Resorts, who has always set a high bar in regard to their social media presence, partnered with BridalGuide.com for a wedding-focused Pinterest contest.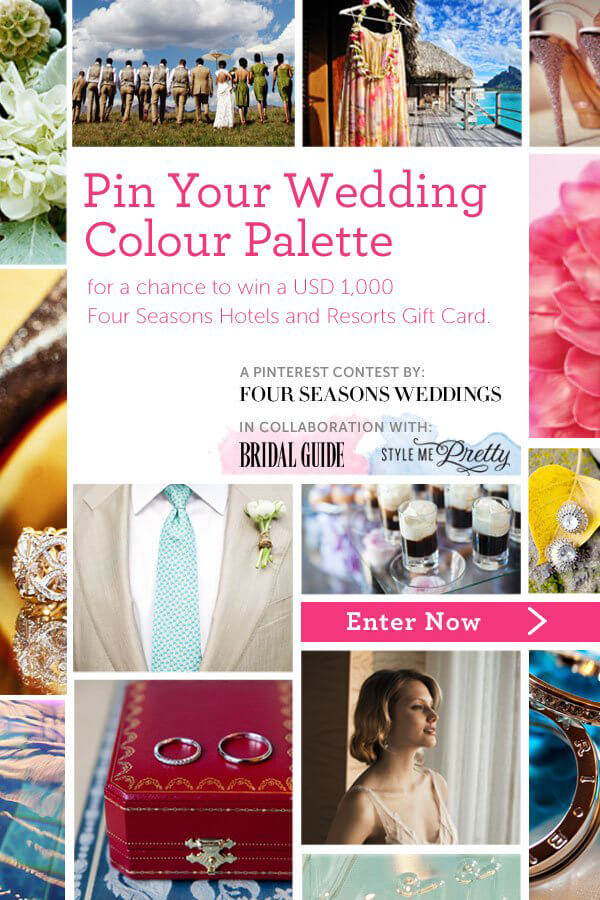 Color (or lack thereof) is a key component of creating a spectacular wedding design. To help hone in on their vision, users were asked to decide which shades they don't care for, so as to eliminates the color combinations they wouldn't want to use on their big day. From aquamarine to royal purple to sunny yellow, Bridal Guide is always scouting new wedding ideas in every color of the rainbow.
After users selected their color palettes, they were asked to literally show on Pinterest how they're bringing their color palette to life on the big day! The prize was a $1,000 gift card to any of Four Seasons location worldwide (perfect toward a Honeymoon!).
Four Seasons received so many submissions they had to delay selecting a winner, and they also created a Pinterest board on their own page that served as an example of a Wedding Palette Example Board. This board has over 136,000 followers and continues to drive awareness to the brand as an ideal hotel for weddings.
Furthermore, the luxury hospitality brand actually also has accounts specifically for weddings. In addition to the wedding board on their primarily Four Seasons Pinterest account, the Four Season Bridal Pinterest accounts serves strictly as a resource for couples planning their wedding. With nearly 30 different boards featuring everything from bouquets to nails to dining, this definitely serves as an excellent resource.
Four Seasons also has a distinct Four Seasons Bridal Twitter account as well as a magazine, that an be viewed easily via desktop or mobile device, that is wedding focused.
Although we usually look at social media channels from their bigger-picture angles, narrowing down specific niches and categories within a particular industry can be imperative as well.
What other brands have you seen succeed with specific Pinterest-based promotions?